Obama: "Mixed Success" With Putin
"I've encouraged Mr. Putin to think forwards as opposed to backwards with mixed success."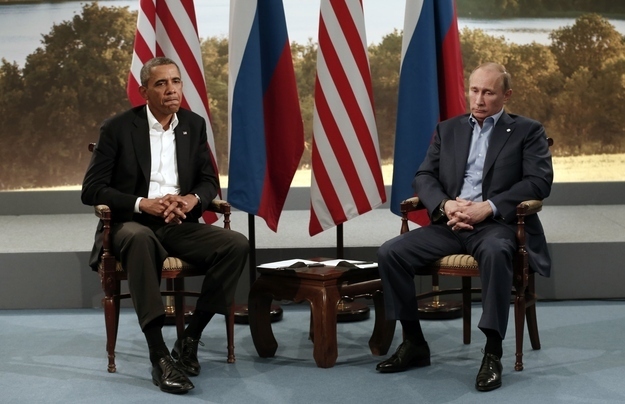 WASHINGTON — The U.S.-Russia relationship has become frostier since Vladimir Putin regained control of the country, President Obama said on Friday, acknowledging that while he doesn't have a "bad" relationship with Putin, it remains rocky.
Since Putin took office again after the end of Dmitri Medvedev's term, "I think we saw more rhetoric on the Russian side that was anti-American and played into some of the old stereotypes about the Cold War," Obama said in a press conference.
"I've encouraged Mr. Putin to think forward as opposed to backwards with mixed success," Obama said.
He named a number of issues on which the U.S. had been more successful in working with Russia during Medvedev's term, like Iran sanctions and supplying troops in Afghanistan.
Tensions between the U.S. and Russia are running high after Moscow's decision to grant asylum to Edward Snowden. President Obama will no longer attend a planned meeting with Putin in Moscow ahead of the G20 meeting in St. Petersburg.
Obama said the Snowden incident was not the only reason he had pulled out of the meeting.
"The latest episode is just one more in a number of emerging differences we've seen in last several months around Syria, around human rights issues, where it is probably appropriate for us to take a pause, reassess where it is that Russia going, what our core interests are, and calibrate the relationship so we're doing things that are good for the United States and hopefully good for Russia too," Obama said.
Obama pointed out that he will still attend the G20 summit in St. Petersburg.
He rejected the idea that he and Putin don't get along on a personal level.
"I don't have a bad personal relationship with Putin," Obama said. "I know the press likes to focus on body language, and he's got that kind of slouch, looking like the bored kid in the back of the classroom."
More From Obama's News Conference: