Obama Chides Israelis For Settlements, Calls For Palestinian State
Settlements are "counterproductive to the cause of peace," Obama says.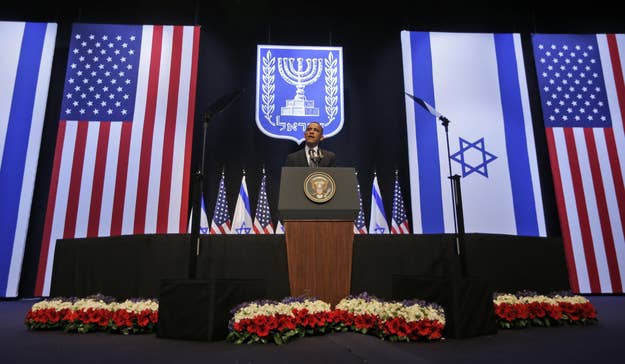 President Obama called for Israel to halt its settlement activity and work harder towards an independent Palestinian state in a speech to students in Jerusalem on Thursday.
"Israelis must recognize that continued settlement activity is counterproductive to the cause of peace, and that an independent Palestine must be viable — that real borders will have to be drawn," Obama said to an enthusiastic crowd. "I've suggested principles on territory and security that I believe can be the basis for talks. But for the moment, put aside the plans and process. I ask you, instead, to think about what can be done to build trust between people."
The speech at times levied implicit criticism at Israeli Prime Minister Benjamin Netanyahu, though Obama is trying to bolster his relationship with him during this visit.
"Speaking as a politician, I can promise you this: political leaders will not take risks if the people do not demand that they do," Obama told the crowd. "You must create the change that you want to see."
Obama brought up Israel's increasing isolation in the international community.
"Given the demographics west of the Jordan River, the only way for Israel to endure and thrive as a Jewish and democratic state is through the realization of an independent and viable Palestine," he said. "Given the frustration in the international community, Israel must reverse an undertow of isolation. And given the march of technology, the only way to truly protect the Israeli people is through the absence of war – because no wall is high enough, and no Iron Dome is strong enough, to stop every enemy from inflicting harm."
"The Palestinian people's right to self-determination and justice must also be recognized," Obama said. "Put yourself in their shoes, look at the world through their eyes. It is not fair that a Palestinian child cannot grow up in a state of her own, and lives with the presence of a foreign army that controls the movements of her parents every single day. It is not just when settler violence against Palestinians goes unpunished."
Though Obama was at one point during the speech heckled by a young Arab-Israeli student in the audience, his words were more frequently met with cheers from the young crowd.
CORRECTION: An earlier version of this story misstated the heckler's identity. (3/22/2013)