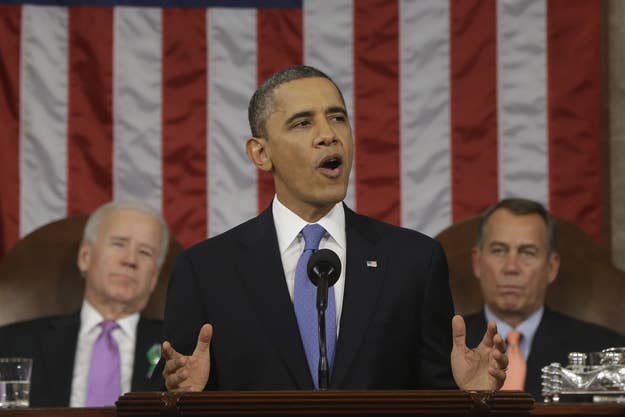 WASHINGTON –– President Obama announced that the U.S. will launch trade talks with the European Union during his State of the Union address on Tuesday. His speech devoted a considerable amount of space to foreign policy, ranging on topics from Afghanistan to Iran to global poverty and AIDS.
"To boost American exports, support American jobs, and level the playing field in the growing markets of Asia, we intend to complete negotiations on a Trans-Pacific Partnership," Obama said, according to a prepared copy of the speech. "And tonight, I am announcing that we will launch talks on a comprehensive Transatlantic Trade and Investment Partnership with the European Union – because trade that is free and fair across the Atlantic supports millions of good-paying American jobs."
Reuters reported on Monday that the president was expected to call for the talks to begin.
Obama also directly addressed the nuclear test that North Korea conducted on Tuesday.
"The regime in North Korea must know that they will only achieve security and prosperity by meeting their international obligations," Obama said. "Provocations of the sort we saw last night will only isolate them further, as we stand by our allies, strengthen our own missile defense, and lead the world in taking firm action in response to these threats."
The passage of the speech dealing with North Korea served as segue into Iran, which Obama said, "must recognize that now is the time for a diplomatic solution, because a coalition stands united in demanding that they meet their obligations, and we will do what is necessary to prevent them from getting a nuclear weapon." He called on Russia to help the U.S. reduce nuclear arsenals around the world.
Obama avoided any firm stances on Syria, saying, "We will keep the pressure on a
Syrian regime that has murdered its own people, and support opposition leaders that respect the rights of every Syrian."
Obama announced a partial troop drawdown in Afghanistan, calling for half of the U.S. forces to return by next year.
The president also drew attention to less front-burner foreign policy issues, like climate change: "Four years ago, other countries dominated the clean energy market and the jobs that came with it. We've begun to change that. . . As long as countries like China keep going all-in on clean energy, so must we."
Additionally, Obama addressed poverty, AIDS, and women's rights – issues that became more prominent and pressing diplomatic issues during Hillary Clinton's tenure as Secretary of State: "The United States will join with our allies to eradicate such extreme poverty in the next two decades: by connecting more people to the global economy and empowering women; by giving our young and brightest minds new opportunities to serve and helping communities to feed, power, and educate themselves; by saving the world's children from preventable deaths; and by realizing the promise of an AIDS-free generation."