Obama Adviser Calls Romney's Foreign Trip An "Embarrassing Disaster"
Obama campaign advisers slam Mitt Romney's trip abroad as an utter failure.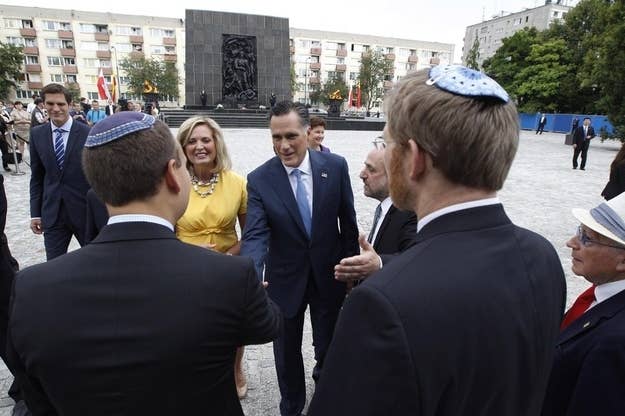 The Obama campaign took advantage of a series of missteps to call Mitt Romney's trip overseas as a disaster for the candidate, using stronger language than they had prior to his departure back to the United States.
"It is clear that the opportunity to credential his beliefs with the American voters was nothing short for Mitt Romney of an embarrassing disaster on this trip," Obama senior adviser Robert Gibbs told reporters on a conference call.
Earlier in the call, Gibbs said that the trip "Certainly didn't prove to anyone that [Romney] passed the commander-in-chief test" and that "Particularly alongside the trip Senator Obama took in 2008, there's simply no comparison."
Gibbs also attacked Romney for not taking questions from the press; he only took three questions over the course of his trip, all at his first stop in London. Gibbs noted that Obama took over 25 questions during his trip.
"News coverage at a national and local level was not surprisingly awful for the Romney campaign," Gibbs said.
Romney's trip to Great Britain, Israel, and Poland was characterized by a handful of gaffes, including a perceived criticism of London's readiness for the Olympics, a remark that was deemed insensitive to Palestinians, and an incident in which Romney's traveling press secretary Rick Gorka told reporters to "kiss my ass."
For Gibbs, all this shows that Romney "may not have the discipline to handle" diplomatic situations, he said.
Colin Kahl, former Deputy Assistant Secretary of Defense for the Middle East, said that Romney's trip should have been easy.
"He struck out playing tee ball," Kahl said.
Kahl noted that Israel, the U.K. and Poland are all friendly towards the U.S., and said that Romney "couldn't even handle the low bar that he and his campaign set for him."
"What's going to happen when he has to deal with our enemies?" he asked.
Kahl also said that Romney, in talking about Israel and Iran, was "describing our foreign policy masquerading as criticism of the president."
Taking a fourth question from reporters, press secretary Ben LaBolt joked that they were taking "one more question than Governor Romney took in seven days."
UPDATE: Romney campaign spokesman Ryan Williams sent a statement to reporters responding to the Obama campaign call:
"Mitt Romney will be a president who unapologetically stands up for America and the enduring values of freedom. President Obama has weakened America's position in the world and frayed relationships with our closest allies – all while earning effusive praise from the likes of Hugo Chavez. Governor Romney has laid out a foreign policy that will strengthen our interests, ensure our security, and let our friends know they have a partner in the White House."