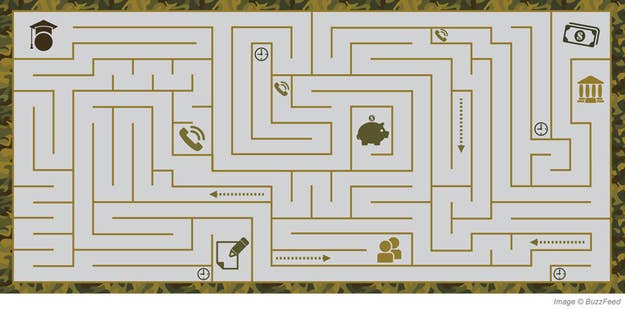 The Department of Veterans Affairs has promised to rush student veterans tuition and rent payments promised under the Post-9/11 G.I. Bill after BuzzFeed reported last week that severe bureaucratic delays had pushed young veterans toward bankruptcy and eviction.
The VA said in a statement that it would get veterans their backlogged benefits within 7 to 10 business days.
"VA apologizes for any delay or hardship for student Veterans, and we are taking immediate corrective actions," the director of education services at the VA, Keith Wilson, said in a statement. "We are increasing the use of overtime and adding additional resources to provide payments to these Veterans."
Many of the delays in processing claims are at the VAs Buffalo processing center, one of four regional offices that handles educational benefits. According to VA spokesman Josh Taylor, 17,000 student veterans' claims remained unprocessed claims as of March 8, though school administrators had been told higher figures. The VA says something fewer than 40,000 claims remain unpaid, out of about 400,000 enrollments for G.I. Bill educational benefits this spring.
"We have heard from some Veterans who are experiencing delays in receiving their benefits for the spring term," Wilson said in the statement, adding that veterans "who have an urgent and immediate financial need because they are due education benefits that have not yet been paid" should contact the administration through its website.
Despite the scope of complaints — BuzzFeed spoke to veterans from Ohio to Texas — the Administration downplayed the scale of the problem.
."This is not a nationwide issue," Wilson said, laying the blame on a single regional office that has faced "more enrollments than we had anticipated."
Updated at 8:44 p.m. with information from the Department of Veterans Affairs.