Obama Administration Doesn't Want To Extend ISIS Campaign To Syria, Despite Criticisms
Obama strikes ISIS in Iraq — but so far shows no signs of wanting to do the same in Syria.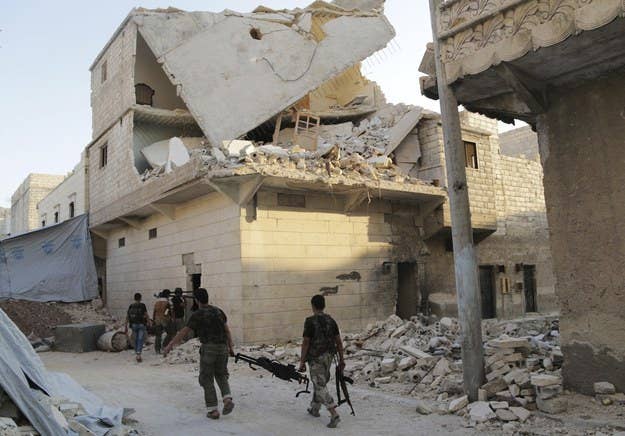 WASHINGTON — The Obama administration has already indicated its bombing campaign in Iraq will not change its policy of avoiding deep involvement in Syria, despite increased calls to fight ISIS there as well.
The jihadi group has gradually gained strength in Syria since the early stages of the country's civil war, fighting the regime of Bashar al-Assad as well as moderate Syrian rebel groups who have the official backing of the United States. Since the terrorist army has become such a major figure in the Syrian conflict, some, including the Syrian opposition, are asking why the administration refuses to take some kind of action against them in Syria as well as in Iraq — even just by stepping up support to the Free Syrian Army. Critics have argued that ISIS's unchecked rise is at least partially a result of the U.S. and the international community's reluctance to help in Syria earlier. But the administration says it does not intend to get involved militarily in any wider conflicts across the region.
Moderate Syrian rebels argue that, in order to challenge ISIS in Iraq, it would be necessary to tackle them in Syria too. "To protect [the Iraqi city of] Irbil from ISIS, you need to hit ISIS hard in the Euphrates river valley in Syria," said Oubai Shahbandar, spokesman for the opposition Syrian National Coalition. "Stopping ISIS expansion requires a ground game. U.S. needs to coordinate with the tribes and the Free Syrian Army that have been fighting ISIS since January."
"Airstrikes won't deny ISIS territorial gain," Shahbandar said. "U.S. needs to support those forces like FSA and tribes in Syria already on the ground fighting ISIS."
Sens. John McCain and Lindsey Graham, who both supported intervening in Syria much earlier in the conflict, released a joint statement on Thursday calling for Obama to help the moderate Syrian rebels fight ISIS.
"We need to get beyond a policy of half measures," McCain and Graham said. "The president needs to devise a comprehensive strategy to degrade ISIS. This should include the provision of military and other assistance to our Kurdish, Iraqi, and Syrian partners who are fighting ISIS. It should include U.S. airstrikes against ISIS leaders, forces, and positions both in Iraq and Syria. It should include support to Sunni Iraqis who seek to resist ISIS. And none of this should be contingent on the formation of a new government in Baghdad."
But the administration says it does not intend to extend its campaign against ISIS in Iraq — which has already begun with a humanitarian airdrop to members of the Yazidi religious minority trapped on a mountaintop, and continued on Friday morning with airstrikes against ISIS artillery — to Syria or anywhere else.
"We have not taken action to address every humanitarian challenge that is faced across the region with our military," a senior administration official told reporters on Thursday. "So in Syria, for instance, we've provided a significant amount of humanitarian aid but we have not seen a viable military option that is as clear and distinct as what we're doing to assist the Yazidis today and going forward in the days ahead."
The air campaign against ISIS in Iraq could potentially extend to other areas of the country if U.S. personnel are threatened by the group, officials said. But even this acknowledgement that strikes could be carried out elsewhere in Iraq does not extend to neighboring Syria.
"The missions that the president specified are geographically limited to Iraq," the official said. "This is not the authorization of a broad-based counterterrorism campaign against ISIL."
And Obama stressed that the missions will be limited to two: save the Yazidis, and protect U.S. personnel. Part of Obama's appeal to voters was a promise to extract the U.S. from conflicts in the Middle East, a fact he acknowledged on Thursday night while announcing the authorization of airstrikes. "I ran for office in part to end our war in Iraq and welcome our troops home," Obama said.
"Obama did not announce that he was intervening to 'fix' Iraq, just to do two very discrete things: rescue 40,000 Yazidis beseiged by ISIS on Jabal Sinjar and prevent ISIS from overruning the Kurdish capital at Erbil," Ken Pollack, a senior fellow at the Brookings Institution's Saban Center and former CIA analyst, said in an email. "In both cases, these are missions well within U.S. military capacity, with a very low risk that they will suck the U.S. into the wider war. And in both cases they are clear military missions, which, if the U.S. did not undertake them, there would be a high risk of the mass slaughter of civilians."
Pollack said that though he himself advocates for the U.S. becoming more involved in Syria, "I just do not see a similar parallel" there. "So I think Obama still can defend this intervention on its own terms, including against people like me who want to see the U.S. more engaged in addressing these conflicts."
Obama is also insulating himself against criticism of a potential slippery slope — even anti-war progressives are holding their fire for now, swayed by the administration's explanation that a possible genocide of the Yazidis must be prevented.