NSA Chief: Reports Of Spying On France And Spain "Completely False"
General Keith Alexander addressed a hearing of the House Permanent Select Committee on Intelligence on Tuesday.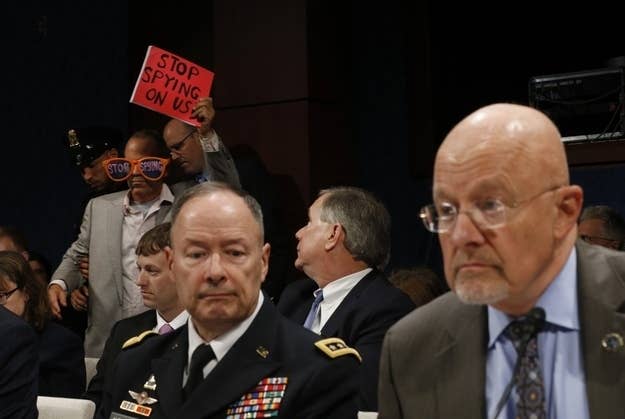 WASHINGTON — Reports that the U.S. spied on millions of citizens of European countries are "completely false," NSA director General Keith Alexander told the House Permanent Select Committee on Intelligence on Tuesday.
Articles in French and Spanish media based on disclosures by NSA whistleblower Edward Snowden "that the NSA collected tens of millions of phone calls are completely false," Alexander said in a hearing on potential changes to the Foreign Intelligence Surveillance Act.
The stories used screenshots of a "web tool used for data management purposes" as evidence of large scale collection, Alexander said, adding that the reporters who wrote the stories and "the person who stole the classified data do not understand what they're looking at."
"Those screenshots that show or lead people to believe that we the NSA, or the U.S., collect that information is false," Alexander said.
U.S. officials have pushed back on the reports, telling the Wall Street Journal that the data swept up in France and Spain was collected by those countries' intelligence services and not by the National Security Agency. According to WSJ, the records were then shared with the NSA.
Rep. Mike Rogers, chairman of the committee, blasted the reporting on the subject as "inaccurate" and said it "demonized" the intelligence community. The reports, co-authored by Guardian journalist Glenn Greenwald, appeared in France's Le Monde and Spain's El Mundo.
The intelligence officials testifying before the committee were also called upon to defend spying on foreign leaders, an issue that has gotten the U.S. in hot water with Germany recently.
"Leadership intention," said Director of National Intelligence James Clapper, is a "basic tenet" of what the intelligence world does.
"It's one of the first things I learned in intel school in 1963," Clapper said. "It's a fundamental given in the intelligence business."
The outcry by foreign leaders over the surveillance "reminds me of the classic movie Casablanca," Clapper said, and then quoted the famous "I'm shocked to find there is gambling in this establishment" line.
Allies "absolutely" spy on the U.S., Clapper said.
Clapper hedged when asked by Rep. Adam Schiff if the NSA complies with requirements to disclose certain activities to Congress when it comes to spying on foreign leaders, saying "In the context of what we try to keep the Congress informed on in the totality of, what we're required to do in the National Intelligence Priorities Framework and what we submit in congressional justification books, we think we by and large complied with the spirit and the intent of the law."