Nonexistent Occupations Competing For Command Tents
Occupations can win tents and laptops, even if they have nowhere to put them.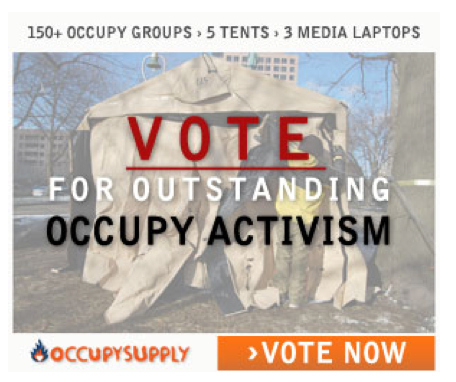 Firedoglake's Occupy Supply arm is holding a contest in which occupations across the country will compete for votes to win a large military-style command post tent, or a laptop with a webcam. The contest is being held despite the fact that only one large-scale physical occupation still exists, in Washington, D.C. DC.
Touted as a "A List for Journalists Who Think That Occupy is 'Dead,'" the list of occupations from which online voters can choose includes descriptions of their achievements. Occupy Atlanta "stopped eviction of Pittman family"; Occupy Charlotte "Protested at Bank of America"; Occupy Monterey "Organized weekly food drop," and so on. Five winners will be selected based on the number of votes and presented with their tent or laptop by Lt. Dan Choi, the Don't Ask Don't Tell activist.
What they'll do with the tents considering the dearth of actual occupations remains to be seen.