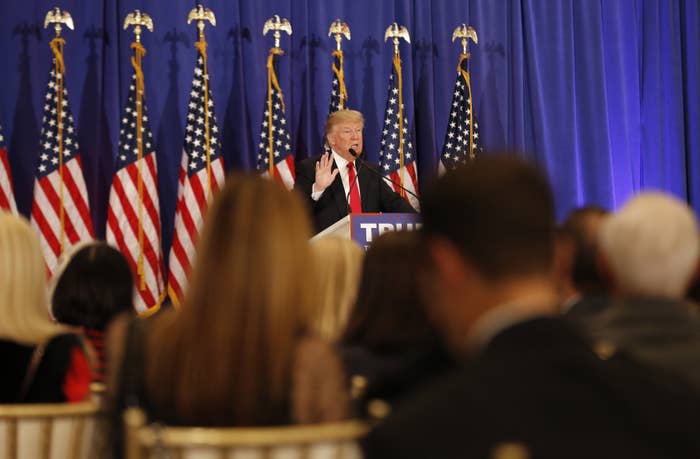 MIAMI — CNN asked Donald Trump tough questions on Thursday night about violence at his rallies and whether he has a responsibility to tone it down. But the network did not press or even bring up Trump's own campaign manager allegedly acting violently towards a journalist this week.
At a Trump press conference in Jupiter, Florida on Tuesday night, Breitbart News reporter Michelle Fields tried to ask Trump a question after the press conference and said she was roughly grabbed by Trump campaign manager Corey Lewandowski, something another journalist said he witnessed as well. On Thursday, Fields tweeted a picture of her bruises that resulted from the encounter.
There weren't any questions about the specific incident, however, during the debate on Tuesday night.

The Trump campaign has denied that the incident happened and impugned Fields. Trump's spokesperson put out a statement earlier on Thursday saying "We leave to others whether this is part of a larger pattern of exaggerating incidents, but on multiple occasions [Fields] has become part of the news story as opposed to reporting it," and Lewandowski himself called Fields an "attention seeker" on Twitter and tweeted an article by banned-from-Twitter provocateur Charles C. Johnson attacking her.

Politico obtained an audio recording of the incident which aligns with Fields' version of events.

Following the debate, Trump told CNN's Dylan Byers that he did not believe the incident happened:
When reporters asked Trump about the incident after the debate, Trump said that "the Secret Service said nothing happened."
Tapper and a CNN spokesperson did not immediately respond to requests for comment about why the incident did not come up as a question in the debate.

Fields tweeted after the debate:
Later, following the debate, Lewandowski tweeted at Fields that she was "delusional":
CNN anchor Jake Tapper did press Trump on statements he has made that appear to incite violence towards protesters at his rallies. Tapper mentioned a Trump supporter who sucker-punched a protester at a Trump rally, in a video that made the rounds this week.

"Some of your critics point to quotes you've made at these debates -- at these rallies including Feb. 23, 'I'd like to punch him in the face,' referring to a protesters. Feb. 27, 'in the good ol' days, they'd have ripped him out of that seat so fast.' Feb. 1, 'knock the crap out of him, would, you? Seriously, OK, just knock the hell. I promise you I will pay for the legal fees, I promise, I promise.'"
In response, Trump claimed that his rallies attract "protesters who are bad dudes, they have done bad things. They are swinging, they are really dangerous and they get in there and they start hitting people. And we had a couple big, strong, powerful guys doing damage to people, not only the loudness, the loudness I don't mind. But doing serious damage. And if they've got to be taken out, to be honest, I mean, we have to run something."