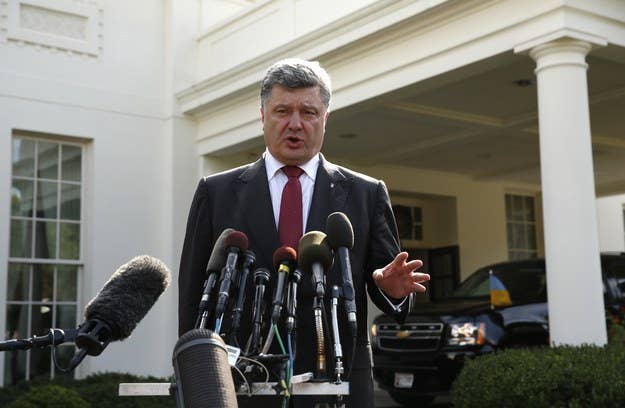 WASHINGTON — Public relations and lobbying firm BGR is working with the new Ukrainian government, according to multiple sources.
According to four sources with knowledge of the situation, including an adviser to the Ukrainian government, BGR, which has three affiliates in the United States and a company called BGR Gabara in London and in the past represented the former Georgian government of Bidzina Ivanishvili, is working with the new Ukrainian government led by President Petro Poroshenko. It is unclear whether the two parties have signed a formal contract yet, as there are none filed with the Department of Justice under the Foreign Agent Registration Act, nor with the Senate or House under the Lobbying Disclosure Act.
A spokesperson for BGR did not return multiple requests for comment. BGR Public Relations' president Jeffrey Birnbaum also did not return a request for comment. A spokesperson for Poroshenko did not return requests for comment.
BGR would be the first Western firm to work with Poroshenko on his outreach in the West post-Maidan revolution and in the midst of the slow-motion Russian invasion. The Russians, on the other hand, have a robust lobbying presence in the West and have employed major firms like Ketchum and GPlus for some time. The Ukrainians need the help; they have been asking the West to help them fight the Russians for months, and have also been pushing for heavier sanctions. Poroshenko recently came to Washington and addressed Congress, where he gave a speech heavy on American-friendly themes like Israel, Abraham Lincoln, and JFK. Meanwhile, the Obama administration has resisted providing military support to the Ukrainians in favor of a series of sanctions that have not appeared to slow Russian advances.
The Ukrainians are being advised in a different way by the Open Society Foundations, billionaire George Soros' worldwide grant-making organization. The organization runs a branch called the International Renaissance Foundation in Kiev, which was founded after the fall of the Soviet Union, and is planning to build three branch offices elsewhere in Ukraine, according to Leonard Benardo, the Open Society Foundations' regional director for Eurasia.
Benardo said that while the Open Society Foundations' focus is on supporting reforms within Ukraine, they do "encourage the government in Kiev to work productively with the U.S. and others."
"Where those reform efforts need support with other bilateral donors, the U.S. government being one of them, we definitely try to encourage leveraging our support with others," he said. "We try to advance collaborative funds of programs."
Max Seddon contributed to this report