New Report On Chemical Weapons Use In Syria Draws No Response From U.S. Government
Two weeks after it delivered a new report on alleged use of chlorine in attacks on civilians in Syria, the Syrian American Medical Society says various agencies have failed to respond.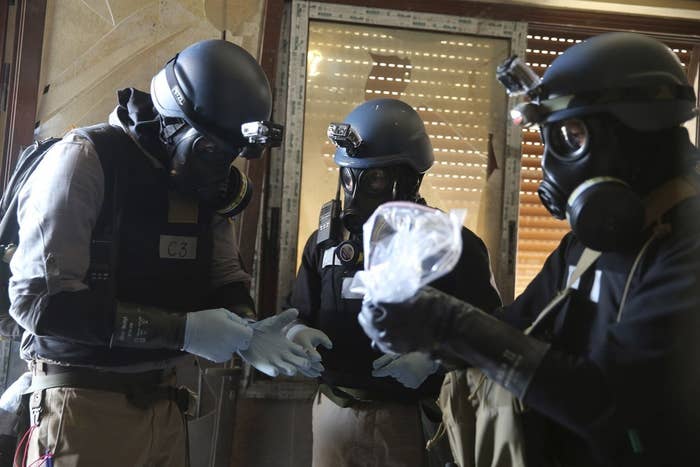 WASHINGTON — A report detailing the Syrian regime's alleged use of chlorine gas against civilians has not elicited a substantive response from the U.S. government agencies to whom the medical group behind the research sent it two weeks ago.
Dr. Zaher Sahloul, a Chicago-based critical care specialist and native of the Syrian city of Homs who is the president of the Syrian American Medical Society, said that he had sent a report prepared by the group based on its research on alleged chemical weapons attacks in April to the National Security Council, the State Department, and the office of U.S. Ambassador to the United Nations Samantha Power. Two weeks later, he says he has received little reaction.
"They clearly were interested but I haven't got any reaction or response or plans for what to do next, or even questions if we can provide more information or samples," Sahloul said.
"I don't know why there's not much response in public," Sahloul said. "Maybe there's something going on we don't know about."
Spokespeople for the State Department and for Power did not immediately comment. National Security Council spokesperson Bernadette Meehan declined to comment, saying "We do not comment on correspondence."
Sahloul, who returned from his latest trip to Syria four weeks ago, testified on Capitol Hill on Wednesday before the House Foreign Affairs Subcommittee on the Middle East and North Africa about the humanitarian situation in Syria. He and members of his team conducted research there about a string of alleged attacks on civilians in April, including the large chlorine gas attack on the town of Kafr Zita on April 11 in which the U.S. has said it believes may have been carried out by the regime.
The team's report found that Kafr Zita "was exposed to a series of four attacks in one week" and that the village of Talmins, in the suburbs of Idleb, was attacked on April 21 by "an unusual toxic gas." It was compiled using interviews with physicians, witnesses and victims, field visits, and examinations of the victims' hospital records, and drafted on May 4.
Sahloul said that more than 100 people showed symptoms after the April 11 attack, which resulted in three deaths.
Chlorine "has been used at least 10 times that we documented since early April," he said.
"I'm a physician," Sahloul said. "And our organization tracks these attacks because we're trying to help the Syrian doctors manage these patients. When you have people admitted to the hospital with these similar symptoms it raises a red flag about chemical weapons."
"We share it with our policymakers because we feel it's very important for staff to know," Sahloul said. "This is one of the red lines that President Obama put earlier in the conflict, that chemical weapons should not be used."
Reports that the Syrian regime has again deployed chemical weapons against its own people, as it did with sarin gas in August, are awkward for the Obama administration, which has touted its deal to remove Assad's chemical weapons as a key foreign policy success. The Pentagon said on Tuesday that the regime had begun to move its remaining stock of chemical weapons.
Sahloul, who noted that his organization is officially neutral on the conflict, said there is little question that the regime carried out the April attacks and not the rebels, as the regime has alleged.
"We heard from eyewitnesses that it's always, in these attacks, it's helicopters throwing bombs, yellow gas coming out of bombs," he said. "As far as I know, none of the opposition parties have helicopters."
Sahloul, who has been in Syria three times during the conflict to help doctors who face increasingly difficult circumstances, said, "The situation is horrible and everybody's expecting this to continue and get worse."
The Syrian American Medical Society's report:
The sub-headline of this story originally misstated the name of the Syrian American Medical Society.