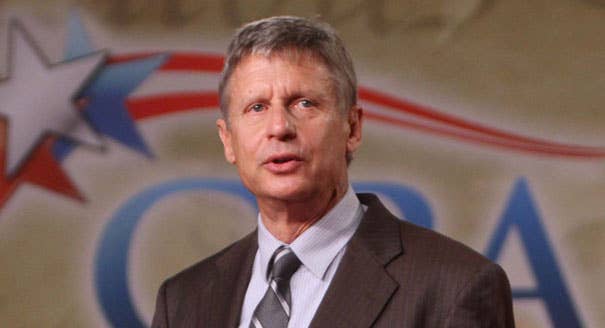 Former New Mexico Governor Gary Johnson officially became the Libertarian Party's nominee for President on Saturday with 70 percent of the vote, and one of his first acts as an official candidate was to issue a strong indictment of the Republicans for the situation surrounding Mitt Romney's gay former foreign policy spokesman.
"I believe the majority of americans are fiscally responsible and socially tolerant," Johnson told BuzzFeed in a phone interview. "I believe the majority of Americans could care less about whether or not there is a gay individual working in the Romney campaign." Romney's newly hired foreign policy spokesman Richard Grenell was openly gay, a fact that raised the ire of social conservatives, whose reaction resulted in Grenell's leaving the campaign.
"It speaks volumes to the intolerance that continues to be present in the Republican Party," Johnson said. He said he doesn't attach that intolerance to the majority of Republicans but to "the activists driving that agenda."
"That intolerance is why the world vilifies Republicans," Johnson continued. "It's why I have never worn a Republican t-shirt in my life. There is a certain Republican dogma I just cannot defend. Homophobia is one of those issues."
The Romney campaign tried to persuade Grenell to stay after criticism both of his intemperate tweets and his sexuality, and Romney's aides -- who knew Grenell was gay when they hired him -- heatedly deny conservative attacks marginalized him internally.
Johnson said the only reason he's never been a registered Libertarian is because "I have a notion of governing and winning," and "I have a lot of Republican friends who have just had it with the Republican Party."
Johnson described his plans for the kickoff of his general election campaign, saying he's planning a New York trip to "take advantage of the fact that there's a lot of media there."
He also said he thinks that Ron Paul's staying in the Republican race will benefit him, saying "I think a buzz within the Ron Paul support movement is there's an alternative." Johnson assessed his chances at getting on the debate stage as "not an expectation that you can say categorically is not going to happen."