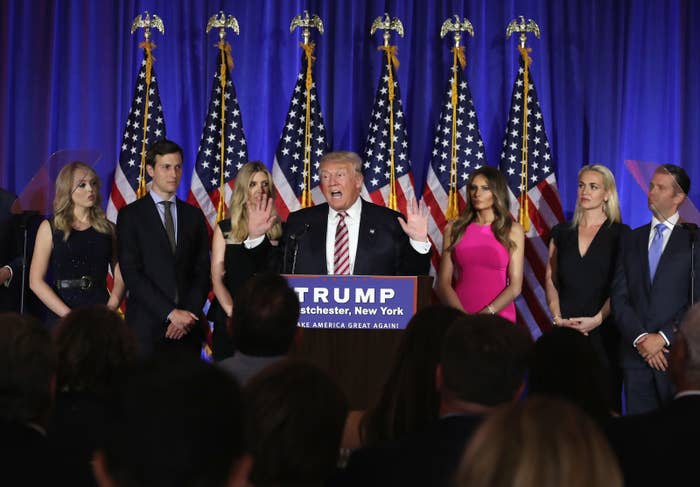 WASHINGTON — First, anti-Trump Republicans thought they could beat Donald Trump outright in the primary.
Then they thought they could hold him under the required threshold number of delegates and beat him in a floor fight at the convention.
After that went out the window, some of the most ardent Trump opponents floated the idea of a third-party conservative option. But the only person who seemed like he really might do it, National Review writer David French, bowed out before it could become a reality. It seemed as though the never-Trump crowd was finally out of options.
However, this week, there has been renewed talk of stopping Trump at the convention — but it's a very, very tall order.
"Everyone is looking at options available right now," said one anti-Trump Republican strategist. "The momentum seems to be on the side of fixing this in Cleveland. The last three days has been active, based on the past three weeks of what it's like for him to be presumptive nominee."
One of the principal ideas being discussed would be to find a way to make delegates free to vote for whomever they choose. The RNC's Rules Committee, which has 112 members, meets before the convention starts, and it could in theory hold a vote to unbind the delegates.
"The RNC Rules Committee should amend the rules to allow each delegate to make an objection of conscience to Trump on the first ballot," Tim Miller, former Jeb Bush spokesman and adviser to the anti-Trump Our Principles PAC, tweeted on Tuesday.
"I definitely think the conversation is resurfacing," Miller said in an email. "The change needed would be, while obviously extremely significant, simple to accomplish. The Rules Committee would need to only add a single line giving the delegates some kind of freedom."
Even conservative talk radio host Hugh Hewitt, who remained neutral throughout the primary, blasted Trump on his radio show on Wednesday and called for the party to find a way to stop his nomination in Cleveland.
Trump's disastrous past week, in which his racist comments about the judge in the Trump University case have intensified the Republican civil war over his nomination, seems to have re-energized the discussion of whether there is a way to stop him from becoming the nominee, including possible rules changes at the convention.
Some are arguing this wouldn't even require a rules change. Former Iowa Republican Party chairman A.J. Spiker forwarded BuzzFeed News a link to Unbound, a book by North Dakota Rules Committee member Curly Haugland that posits that delegates are not in fact bound on the first ballot.
"There's a long history in the Republican Party of delegates voting their conscience," Spiker said. "There is a path for the party to go in a different direction than Trump. The delegates are the ultimate authority of the Republican Party." Spiker tweeted on Tuesday that "the Republican Party needs a patriot to step forward, challenge Trump, work delegates and win the GOP nomination for president in Cleveland." On Wednesday, he told BuzzFeed News he thought the most viable scenario would be a former candidate who has suspended their campaign un-suspending. Technically, candidates can un-suspend their campaigns after suspending them and re-enter the race. The former candidate who has the most delegates after Trump is Ted Cruz.
"I would say if you have a candidate or two candidates who step forward, Donald Trump will not be the nominee," Spiker said.
(Spiker also proposed another route, which is delegates abstaining.)
In a post on Medium on Wednesday, Never Trump PAC strategist Rory Cooper wrote that there needs to be a "mechanism" by which delegates can vote for an alternative.
"The Rules Committee have it within their power to install a mechanism whereas if a potential nominee crosses a line or embarrasses the party to an extraordinary degree, delegates can vote for an alternative candidate," Cooper wrote. "Many in the party believe Trump has already crossed that Rubicon."
It isn't clear yet whether there could be real momentum behind this idea or whether it will turn out, like the David French moment, to be dead on arrival.
"The method to do it is very clear, it's just changing some rules at the Rules Committee," said Doug Heye, a former spokesman for Eric Cantor and longtime Republican operative who opposes Trump. "But that doesn't mean that it's an easy thing to do mechanically or for what he party would have to go through."
And making an eleventh-hour move to take the nomination away from Trump could throw what will already be a tense convention into chaos, and permanently alienate Trump's supporters, Heye argued.
Trump "won fair and square, and that can't be denied," Heye said. "Can the nomination that he's earned be denied him, and what would the repercussions be for doing so?"