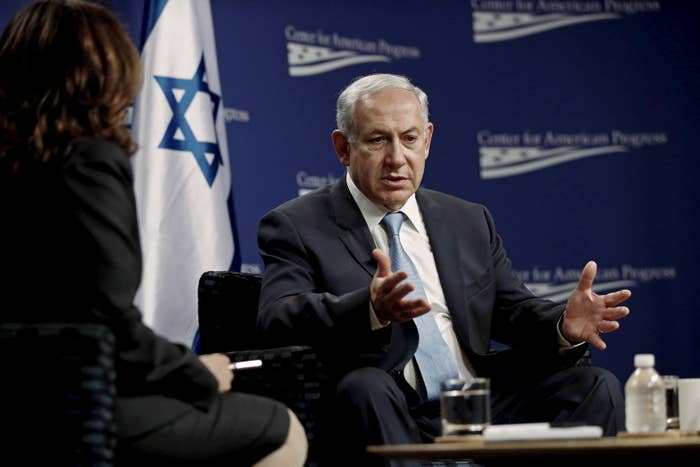 WASHINGTON — Over the course of 24 hours, in the midst of a visit designed to heal his fraught relationship with President Obama, Israeli Prime Minister Benjamin Netanyahu appeared at two events that showed just how fragile the bipartisan consensus on Israel really is.
Moving from the conservative to the liberal ends of the spectrum with an appearance at the American Enterprise Institute's annual gala on Monday night and a Q&A at the liberal Center for American Progress on Tuesday, Netanyahu tried to bridge the widening partisan divide over Israel — but it's unclear whether his appearance at CAP was enough to achieve that goal.
The AEI event — a lavish affair filled with members of the conservative elite like Dick Cheney and John Bolton — saw Netanyahu receive the Irving Kristol award, the group's highest honor which goes to "individuals who have made exceptional practical and intellectual contributions to improve government policy, social welfare, or political understanding." Netanyahu was interviewed onstage by AEI's vice president for foreign and defense policy studies Danielle Pletka. Pletka began by assuring him that she would not "interrogate" him, saying that AEI was not a news organization. Netanyahu's familiarity and comfort with his audience was obvious; he gave a loving tribute to the Kristol family, and mentioned Reagan's U.S. Ambassador to the U.N. Jeane Kirkpatrick, to applause.
Netanyahu was in much different territory at CAP. The Clinton-connected group's invitation to Netanyahu has been a subject of controversy ever since it was announced, with some progressives — including CAP employees — arguing that the group should not give Netanyahu a platform, concerned that the event would give the right-wing prime minister progressive cover. CAP went through with the event despite the criticism, and Netanyahu spent an hour onstage in a surprisingly convivial appearance, conversing with CAP president Neera Tanden, a former aide to Hillary Clinton and to Barack Obama's campaign.
Tanden asked Netanyahu about settler attacks on Palestinians, settlement construction, and his infamous pre-election warning that Arabs were voting "in droves"— which, Netanyahu said "shouldn't have been said" (adding that he had later corrected his remarks).
He didn't soften his views for the audience but Netanyahu did refine his pitch a little for progressives, telling them that "I'd like to talk to a progressive audience about progressive values."
"I think it's vital to understand how important it is for me that Israel remain an issue of bipartisan consensus," Netanyahu said. He mentioned his meeting on Monday in the White House with Obama, calling it "very good."
One issue that wasn't discussed: the Iran deal, which turned into a vicious partisan fight in Washington over the past year and which has been a main catalyst of the rift with Obama that necessitated Netanyahu's bridge-mending visit. And progressives were already reacting on Twitter as the event was going on, criticizing Tanden for going soft on Netanyahu, in their view.
Netanyahu was speaking to an audience filled with Democratic bigwigs like former Obama adviser David Axelrod and former Rep. Jane Harman, as well as pro-Israel community officials like AIPAC director Howard Kohr. Though a small group of protesters huddled outside in the rain, indoors the event went smoothly — perhaps in part because CAP had given staffers the option to work from home today.
"As you experienced first hand, security was extremely tight and there were additional measures that would potentially inconvenience staff, so we gave them the option to telework," said CAP spokesman Tom Caiazza.
Last week, CAP staffers openly took issue with the organization's decision to host Netanyahu, issuing a joint statement criticizing the event in an all-hands meeting on Friday, Foreign Policy reported. "Some of us think this event shouldn't be happening at all and others think a broader discussion of this with CAP family should have happened before this major decision," the statement read, according to The Nation.
Josh Ruebner, policy director for the U.S. Campaign to End the Israeli Occupation, stood outside among the protesters. He said that his group and several other protest groups such as Jewish Voices for Peace, the American-Arab Anti-Discrimination Committee, Code Pink, and American Muslims for Palestine had met with CAP's executive vice president for external affairs Winnie Stachelberg on Friday to circulate a petition protesting the event and had been assured that Netanyahu would be asked "tough, probing questions." Ruebner said the protesters had been outside CAP from 8 to 10 in the morning the day of the event, and had seen very few people enter the building — perhaps evidence that many staffers did take up CAP's offer to work from home.
But attendees told BuzzFeed News they don't understand why there was so much consternation over CAP inviting Netanyahu to speak.
Axelrod told BuzzFeed News he found the controversy "preposterous."
"I do believe that dialogue is important," Axelrod said. "I obviously don't agree with [Netanyahu] on a number of things, but we're never going to resolve issues if we can't talk about them. I think it's a preposterous notion that he shouldn't have been invited. I applaud them for doing it."
Greg Rosenbaum, the chairman of the National Jewish Democratic Council, was similarly confused.
"I don't understand how this became a flap," Rosenbaum said. He argued that CAP, which came under criticism a few years ago for some of its bloggers' writings that were seen as anti-Israel, was the perfect venue for Netanyahu to repair his relationships with Democrats. "Why wouldn't an organization like this which to some people is known for some of its writings that tend to be anti-Israel, why wouldn't reconciliation be best started at a place like this? I mean, Nixon went to China right?"
"Obviously there have been controversies and disagreements in the last year that have done some damage to that bipartisan support," U.S. Ambassador to Israel Dan Shapiro told BuzzFeed News, "and so the opportunity for the prime minister to be in Washington and speaking to various audiences of various political backgrounds and various constituencies is actually a valuable opportunity to kind of strengthen that bipartisan foundation of the relationship."
"It makes no sense not to invite him," said Ghaith al-Omari, a senior fellow at the Washington Institute for Near East Policy and former executive director of the American Task Force on Palestine. "We have been complaining for a while that Israel is a partisan issue. This is actually a good move to bring it back to a bipartisan space."