In the late 1980s, Miriam Ochshorn was living in New York. Already a successful Israeli doctor, she had come to the United States for a fellowship in addiction medicine in 1986. She was divorced, and the mother of two daughters.
One day, she got a call from a childhood friend, who was also now living in the United States. The friend, Sara Aronson, had just run into a man Sara knew in a Brookline, Massachusetts, deli. He was also single and was looking to meet an Israeli woman. Could Sara give him her number? Miriam said yes.
The man was Sheldon Adelson. He was wealthy — far from his working-class upbringing as the son of a Dorchester taxi driver — but at an inflection point. He was still a few years from selling Comdex, the computer trade show company he'd built, for $862 million. He was close to buying the Las Vegas Sands, his first entrée into what would be a very lucrative Vegas career. He had only just started visiting Israel. And he, too, was divorced, the father of three.
The pair began talking on the phone. They did this before ever meeting, getting to know each other over the telephone line before starting to go on real dates. He proposed a few months later, and they were married shortly thereafter in two weddings — a religious ceremony at the King David hotel in Jerusalem, and a party in Las Vegas, where 10 years later Adelson would open the huge Venetian hotel and casino.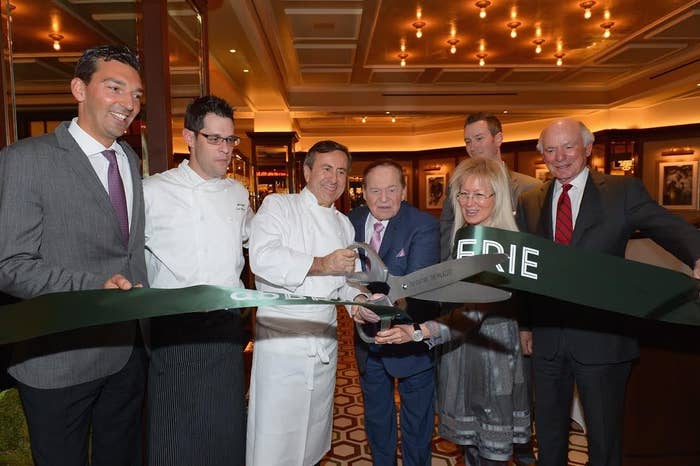 More than a quarter-century later, Sheldon Adelson is one of the richest and most powerful men in the world. Currently valued by Forbes at $29.9 billion, he has more money than a person could ever spend — the kind of money that can alter a presidential race or spur a medical breakthrough, money beyond the imagination. Sheldon Adelson has that. And though there are a lot of billionaires in the world, he is the object of particular attention and fascination because of his influence in Republican presidential politics and in Israeli politics and society. The so-called Adelson primary is a feature of the Republican primary process, if a slightly overhyped one, and his support is a litmus test for Republican candidates on Israel just as the country becomes an increasingly partisan issue.
Much less attention has been paid to his wife — she's hardly been written about,
except for a handful of interviews over the years. But for those competing for Adelson cash, she's just as important as her husband. The Adelsons make their giving decisions together. When Sheldon Adelson meets with prospective recipients, Miriam Adelson is often there, too.
Those who deal regularly with the Adelsons treat Miriam with as much deference as Sheldon, and crave her approval just as much. "There's a head of an organization that receives a lot of funding from Sheldon who says, 'If you keep Sheldon happy, that's helpful, but to keep Miriam happy is critical,'" said one family friend who spoke on condition of anonymity. As the 2016 election heats up, the press is once again becoming laser-beam focused on the Adelsons and their money. And Miriam is once again escaping the limelight, though her influence this cycle is already starting to be felt. And as time goes on, she's expected to take on an even more prominent role within the organization, and to be the keeper of the Adelson political infrastructure. Miriam Adelson declined to be interviewed for this story, but interviews with her friends and political associates paint a portrait of someone who, though reluctant to go before the public, is quietly influential, and becoming more so, behind the scenes.

The Republican Jewish Coalition, one of a large family of Adelson outfits, holds its annual conference at the Venetian, tucked away in a conference room off to the side of the windowless maze of slot machines and restaurants that makes up the rest of the hotel and casino complex.
The Venetian itself stands as a testament to the Adelsons' partnership. Miriam was there before Sheldon was the mega-rich casino magnate — before the empire. It was Miriam's idea, in fact, to give his huge casino and hotel in Vegas a Venetian theme, according to people familiar with the process. The two had chosen Venice for their honeymoon. Throughout the Venetian and the Palazzo, the addition to the Venetian built in 2007, plaques read, "Coins found in water fountains throughout the Palazzo are donated to fund the Dr. Miriam and Sheldon G. Adelson Clinic for Drug Abuse Treatment and Research," adding that the Adelsons will match the contributions. (Another sign of their partnership: Miriam actually owns more of Las Vegas Sands than Sheldon does; according to the most recent proxy statement, Sheldon directly owns 65.9 million shares, while Miriam directly owns 93.8 million shares. There are also hundreds of millions of shares held by trusts that Miriam controls.)
Republicans descend each year on the Venetian for the RJC's retreat, where likely presidential candidates make their pitch to this small but highly influential crowd. The Adelsons are capable of unleashing floods of money for candidates who meet their criteria on foreign policy — specifically, supporting policies to bolster Israel's security. Any sign of hand-wringing over the occupation — like Jeb Bush's involvement with former Secretary of State James Baker, who spoke at the liberal group J Street's conference — can disqualify candidates off the bat.
People around the Adelsons say it's hard to know if Miriam is responsible for deepening Sheldon's love for Israel, or whether it would have happened anyway. According to a friend of the family, Sheldon likes to tell a story that begins by his saying that his father had oddly shaped feet. The only other person with feet like that, in Sheldon's telling, is Sheldon. His father had always wanted to go to Israel, but by the time Sheldon made enough money to make this a reality, his father was too old to go. After his father died, Sheldon was going through his father's belongings and found a pair of shoes, which fit. He took them to Israel and wore them outside in a park as soon as he got there — so that at least his father's shoes could walk in the land of Israel.
"The Israel stuff was born and bred into him by a father who never actually went," the friend said.
But it's Miriam who has a lifetime of connections in Israel — even before the creation of the Israeli state. Born Miriam Farbstein in Haifa in 1946, her parents had left Poland as part of the Zionist youth movement called Hashomer Hatzair before World War II. The Farbsteins ran movie theaters.
"It's an opinion, but if I had to guess, of course having an Israeli wife and having a home in Israel and having a family in Israel — she has a very large family in Israel, which is his family now after they got married — has to affect your connection and your relationship, and he spent so much time in Israel" with Miriam, said Sara Aronson, the friend who would later go on to introduce her to Sheldon.
"Our childhood was really very happy," Aronson said. "We grew up at a time when there were not major wars." The young state of Israel was rapidly expanding under the leadership of David Ben-Gurion and enjoyed relative peace between the bloody 1948 war for independence and the Six-Day War in 1967. Like others who know Miriam from childhood, Aronson calls her "Mira"; other friends call her Miri.
Friends characterize young Adelson as sharp and a conscientious student who took care to help others as well. After her compulsory military service, Adelson went on to university and then medical school at the Sackler School of Medicine at Tel Aviv University — where she "passed everything with flying colors," said Dr. Dalia Kalai Goshon, her friend from medical school, and a now-retired Florida dermatologist. When Dalia moved to the United States with her new husband two years before graduating, Miriam took it upon herself to send her the notes from their classes every week in the mail. Dalia was able to return to Israel and pass her exams. This kind of behind-the-scenes helping out has continued to this day, across a wide range; Miriam has been known to try and make matches for younger single people in their circle. She also recruited Rabbi Shmuley Boteach to obtain political asylum in Rwanda for a young Afghan couple who were marrying for love and under threat, according to Boteach.
Miriam married fellow physician Ariel Ochshorn in the 1970s, and had two daughters with him, Yasmin and Sivan. After they divorced in the 1980s, she came to New York to do a fellowship at Rockefeller University with Dr. Mary Jeanne Kreek. The two doctors have remained friends and collaborators to this day.
Kreek, who began her conversation with BuzzFeed News by stressing that she had gotten permission from Miriam to do the interview, said that she had been approached by an official in Israel's Ministry of Health in 1986 about sending an Israeli doctor to Rockefeller to work on addiction medicine. In short order, Adelson came over to New York with her two teenagers, who attended the Ramaz School on Manhattan's Upper East Side.
At the time, treating heroin addicts with methadone was still considered a cutting-edge treatment, and Kreek and Adelson (then Ochshorn) were on the forefront. It was also starting to become controversial; while many doctors argue that methadone maintenance is an effective harm-reduction tool that allows people to master their addiction and live normal lives, opponents say that using methadone instead of heroin is really another form of dependence. Kreek, who receives significant funding for her program from the Adelsons, decried the "stigma" surrounding methadone maintenance treatment.
While the Adelsons' political giving is well known and much discussed, they also pour huge amounts of money every year into medical research through the Dr. Miriam and Sheldon G. Adelson Medical Research Foundation. They are funding research on cancer and neural repair and rehabilitation, as well as two addiction clinics run by Miriam in Las Vegas and Israel, which Sheldon helped open. According to Kreek, each clinic has a caseload of about 250 patients at any given time. Miriam also helps treat patients in Macau, where Sheldon has opened a casino. According to people who have been in Sheldon's office, he keeps org charts of the medical initiatives displayed, and is intimately familiar with the ins and outs of what they are funding.
The family also has a personal history wrought by addiction: Sheldon's son from his previous marriage, Mitchell, died of an overdose in 2005. "He used heroin and cocaine from an early age," Miriam told Haaretz in 2008. "I spoke with him but I was not his professional therapist," she told Haaretz of Mitchell. "There was a period when he lived without drugs, and there were periods when he lived with the drug substitute, methadone."
The clinic is far from their only interest in Israel. The Adelsons are arguably just as powerful there as they are in the United States, and maybe even more so. There, too, they are met with media scrutiny. Search the liberal paper Haaretz's website for mentions of them in the past year, and hundreds of results come up. It makes sense; their influence is felt in several different aspects of Israeli society. They are close with Prime Minister Benjamin Netanyahu, and they own the most-read newspaper in the country, Israel Hayom ("Israel Today" in Hebrew). Miriam's daughter Yasmin has served as chair of the newspaper's board. They've poured huge sums into Yad Vashem, the Holocaust memorial, and Taglit-Birthright Israel, the organization that brings young Diaspora Jews to Israel for trips every year (in fact, they sent another $40 million to Birthright in February).
"Most donors are sort of dilettantes in this space and their wives even more so...Half the time, the wives don't even want to spend money on this shit. But she's serious and intelligent and thoughtful and committed."
If well funded, the projects are neither universally beloved nor universal successes: Although the most widely read newspaper in Israel, Israel Hayom doesn't have the best reputation; one Israeli reporter sneered to me a few months ago that its staff was mostly "has-beens," and it's viewed by many in Israel and the United States as simply a mouthpiece for Adelson's agenda and for Netanyahu. The newspaper has been accused by critics of basically being a way to skirt strict Israeli campaign finance laws, which prohibit the kind of giving Sheldon is used to in the United States, to support Netanyahu. "Formally, Adelson hasn't broken the letter of the campaign financing rules," wrote the American Prospect columnist Gershom Gorenberg last year. "The spirit of the rules [is] another matter."
Now that the U.S. election has begun in earnest, however, the United States will become the main stage again. There is money to be given — and a sufficiently pro-Israel president to be elected.
Onstage at the RJC conference this April, they auditioned. Most of the decision makers were kept largely out of view, except for this three-hour window of speeches. Ted Cruz, who went first, was the unalloyed favorite among the crowd. He roamed the stage, talking about his three visits to Israel since becoming a senator and emphasizing his opposition to the Iran deal being negotiated by the administration (Cruz demurred, however, on the question of whether he would pardon Jonathan Pollard, an issue that is important to Adelson). Rick Perry gave a physical (literally) speech, waving his arms around and pointing at random moments.
Outside those speeches, people surrounded Adelson — "You'll notice if you're there that people are going to be swarming him wherever he is, there'll be a gaggle, almost like vultures," said a family friend. "And yet [Miriam] will still be standing 10 feet away with like one or two people there to talk to her."
This could be about to change, for two reasons. One, there are questions about Sheldon's health. People give different opinions — some say he's actually healthier than people think, and everyone agrees that his mind is as sharp as ever — but several people told BuzzFeed News that Sheldon can no longer stand up unassisted. A spokesperson for the Adelsons confirmed that Sheldon must use his scooter for longer distances and needs a cane to manage short distances. He is 81 years old. Realistically, even if his health is as good as can be right now, he will be personally involved in only a few more elections.
There is also the increasing sense among those who circle the Adelsons, whether as recipients of their largesse or would-be recipients, that Miriam is the more reasonable and more realistic half of the couple to deal with, and the person whom those in this particular right-wing, pro-Israel world can really pin their hopes on for the future.
"She's a smart lady, she's not some dummy, and she really cares about this stuff," said one Republican operative who has dealt with the Adelsons. "Most donors are sort of dilettantes in this space and their wives even more so, if the wives even want to be pissing money away on this kind of stuff. Half the time, the wives don't even want to spend money on this shit. But she's serious and intelligent and thoughtful and committed, and she's going to be a real force."
Sheldon is "a guy who has the proof that he's been right about a lot of things," the operative said. He's demanding, and "you get a lot of money but it also comes with strings."
Miriam is "way easier to deal with and a much more reasonable person than he is," said another Republican operative who has had dealings with the Adelsons. "Sheldon is not one who takes counsel or takes advice."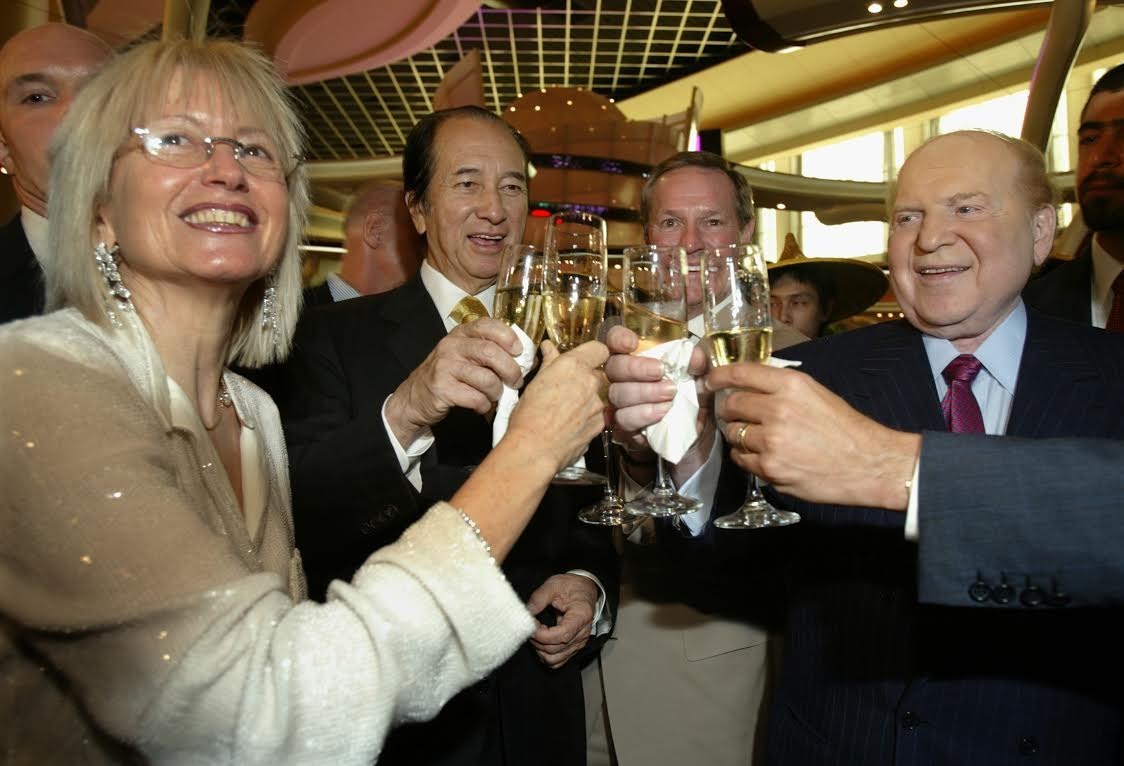 According to the family friend, Sheldon speaks of a "24-hour rule" where he won't commit to funding anything until he's spoken to Miriam and slept on it. She is involved in his meetings, and isn't shy about gently correcting him or jumping in.
"I think they're a good team together," said Las Vegas–based Republican consultant Sig Rogich, who is a friend of the Adelsons. "I think they communicate a lot. It's not unusual for them to talk on the phone many times in a day."
And though many in the movement depend on their generosity and hesitate to criticize them publicly, the Adelsons' giving draws scrutiny. Some of the decisions have seemed confusing or even nonsensical. Why, for example, did the Adelsons pour $20 million into Newt Gingrich's super PAC in 2012, artificially extending his candidacy and arguably weakening the frontrunner, Mitt Romney? Why do even their smaller projects, like the Israeli American Council, a group representing the relatively small community of Israeli expats in the United States, need such huge budgets — $18 million this past year, in the case of the IAC? Why are they the major backers of Boteach, who went from lovable to nearly radioactive in neocon circles this year when he ran a full-page ad in the New York Times accusing Susan Rice of turning a blind eye to genocide right before she was scheduled to speak at the AIPAC conference? (Sheldon told a New Jersey outlet this week that he has given Boteach millions of dollars over the past few years.) Why in the past were they unable to sustain outfits like Freedom's Watch, which dissolved in infighting and dysfunction after trying to become the right's answer to MoveOn during the 2008 election?
One Republican operative who has dealt with the Adelsons drew a comparison with liberal mega-donor George Soros. Sheldon is "way richer" than Soros, yet Soros "built a massive institution that spends his money advancing his ideological position" in a way that Adelson hasn't.
Though Miriam might be easier to deal with than her husband, that doesn't mean she has a different political outlook. "You already see her stamp all over this stuff, and it would be a mistake to believe that his politics are dramatically different from hers, or vice versa," a family friend said. She's widely believed to have been the main driver behind the decision to fund Gingrich, for example.
Who the Adelsons will pledge their support (and money) to this time has already been the source of enormous speculation, and in some cases, pronouncement. Many believe that Marco Rubio is the early favorite — he's been featured several times on the cover of Israel Hayom and associates have told reporters that this is the case. Except one other thing must be considered: The Adelsons are still distinct people. According to people familiar with her comments, Miriam told people at the RJC conference that she likes Cruz, not just Rubio. Miriam "loves her some Ted Cruz," one person familiar with her comments said.
In the future, those decisions may fall more on Miriam Adelson — she who already commands the respect and loyalty of those around her husband may be the one who delivers more and more of the political money.
And if the decisions seem random at times, the principles aren't. The belief in Israel's importance and its preservation threads through almost all of the Adelsons' decisions, their existing ventures and their future ones, the nascent projects that the Adelsons hope to fund.
Miriam, in particular, wants to soon fund an effort to combat the boycott, divestment, and sanctions (BDS) movement on college campuses, where it has taken hold. The Adelsons have two teenage boys, Adam and Matan, who are approaching college age. Though BDS hasn't seen significant victories yet, and certainly not on a broad scale, its mission to get U.S. companies and universities to divest from Israel — which members call an apartheid state — has begun to gain adherents and momentum across the United States, particularly in the university system.
And now, to that end, the Adelsons have enlisted Boteach to start the process of putting together an organization with the working title of Campus Maccabees. In Las Vegas, according to several people who were in the room, Miriam and Sheldon got up during a panel on BDS and delivered their vision for the project in a back-and-forth exchange with Noah Pollak, the executive director of the Emergency Committee for Israel, who was on the panel with Breitbart editor Joel Pollak, Brandeis campus activist Daniel Mael, and Jewish fraternity Alpha Epsilon Pi director Andy Borans.
Boteach said that he had first started discussing the idea with the Adelsons in Israel over Hanukkah, which marks the Maccabean revolt against the Seleucid empire in the second century B.C.
The name, according to Boteach, is Miriam's idea.
"She understands that we're not going to galvanize a lot of people, necessarily," he said, "but that sometimes it has to be Maccabees. We have to be prepared to fight."