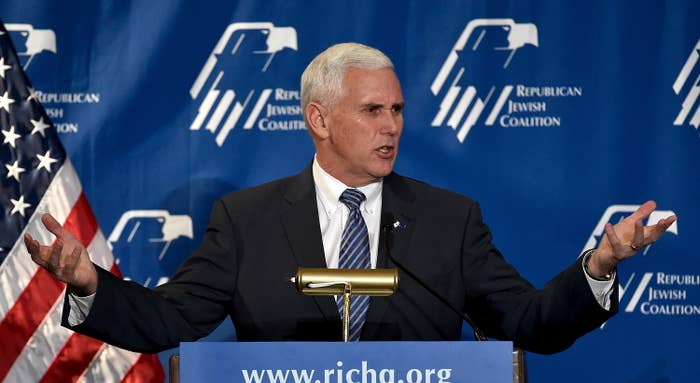 WASHINGTON — Indiana governor Mike Pence endorsed Ted Cruz on Friday — but he didn't sound happy about it.
"I'm not against anybody, but I will be voting for Ted Cruz in the upcoming Republican primary," Pence said on the Greg Garrison radio program. Pence spent the first part of the interview praising Donald Trump, saying he "particularly wants to commend Donald Trump" for giving "voice to the frustration of millions of working Americans."
Pence, who is up for re-election this year, went on to emphasize that he'll support the Republican nominee — leaving unsaid the fact that this is likely to be Trump.
Pence's sort-of-endorsement is the latest in a string of tepid statements of support for Cruz by a series of Republicans who have been left with no other viable non-Trump choices, and who often share a strong distaste for Cruz. South Carolina senator Lindsey Graham, who has joked about murdering Cruz, begrudgingly endorsed him last month, while acknowledging "he is certainly not my preference." Neil Bush, the brother of George W. and Jeb Bush, joined Cruz's finance team but said Cruz wasn't his first, second, or even third choice. Mitt Romney said he would be voting for Cruz in Utah — but did not endorse him.
And it comes at a make-or-break moment for the Cruz campaign, which has to win Indiana in order to realistically prevent Trump from clinching the nomination before the convention. Cruz has been pulling out all the stops in Indiana ahead of Tuesday's primary there. In an unusual move, he announced the addition of a running mate, former candidate Carly Fiorina, to his ticket on Wednesday in Indianapolis, a strategy that distracted attention from his losses in five eastern primaries on Tuesday but risks being interpreted as a sign of desperation.
And Cruz publicly cut a deal with John Kasich, pulling out of Oregon and New Mexico to clear a path for him there while Kasich returned the favor for Cruz in Indiana, with both candidates seeking to team up to deny Trump delegates. But in a matter of days, the pact appeared on shaky ground as both candidates publicly distanced themselves from it. Kasich earlier this week encouraged his voters in Indiana to still vote for him — going against the entire point of the deal — and Cruz insisted to reporters in Indiana on Thursday that "there is no alliance" and that "John Kasich made the decision, in his own political self-interest, to withdraw from Indiana and to go compete elsewhere." (Top Kasich strategist John Weaver tweeted shortly thereafter, "I can't stand liars.")
"I don't think there was ever an alliance. It was a simple agreement on allocation of time and resources," said one Republican with close knowledge of the deal. "But everybody tried to put all these other things on it like they're working together, like they're a team now."
"It wasn't explained very well to the media," the source said.
And even days after the deal was made, there are still attempts being made to explain it.
"Kasich has clear path in [New Mexico and Oregon] and we have a clear path in [Indiana]," Cruz campaign manager Jeff Roe said on Twitter on Thursday. "Not spending time or money there; nor are they in [Indiana]; pretty simple."