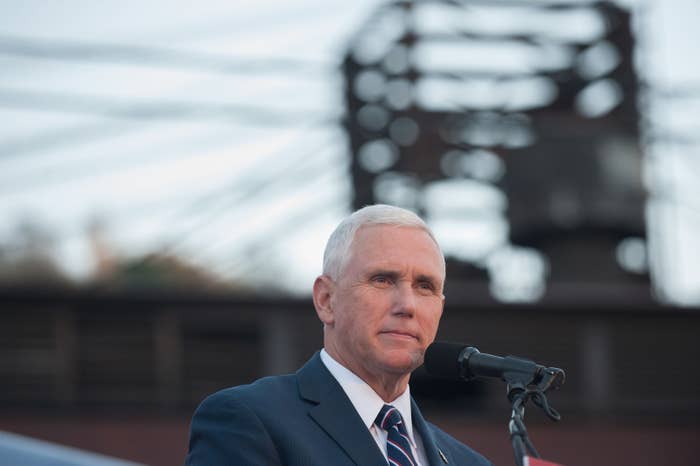 CHARLOTTE, North Carolina — Republican vice presidential nominee Mike Pence made clear he is all-in on his running mate's campaign on Monday after rumors that he was considering leaving the ticket.
Speaking to a North Carolina audience, Pence addressed the controversy over the explosive tape showing Donald Trump making explicit comments bragging about sexually assaulting women at the top of his speech. The tape has caused an enormous amount of fallout in the Republican Party, with many prominent Republicans disavowing their support for Trump and House Speaker Paul Ryan telling his conference that he will not defend the nominee.
"It's been an interesting few days," Pence said. "I joined this campaign in a heartbeat because you have nominated a man for president who never quits." Pence said Trump is a "fighter" and a "winner."
"You saw it last night on that debate stage," Pence said. "He literally embodies the spirit of America. Strong, freedom-loving, independent, optimistic, and willing to fight every day for what he believes in and what makes this nation great."
Pence said Trump had had "the humility to apologize," and framed the situation as a kind of redemption narrative for Trump.
Pence said that "we all fall short in the glory of God and there's no one righteous other than the one."
"I don't condone what was said and I spoke out against it," Pence said. "But the other part of my faith is I believe in grace."
"I believe in forgiveness," Pence said, adding that Trump had "shown the American people what's in his heart."
Pence released a statement on Saturday saying he could not defend the remarks made on the tape that leaked on Friday — already an extraordinary statement of censure from a running mate to his nominee — but not leaving the ticket. On Sunday, his hometown paper the Indianapolis Star reported that his team was waiting to see how Trump performed in the debate and leaving Pence's options open to potentially leave the ticket.
Trump seems to have cleared that bar, though Pence flatly denied on Monday morning in a television interview that he had ever considered leaving the ticket. Trump spokesman Jason Miller said in the spin room after the debate on Sunday that "there has never been a more united ticket," and Pence tweeted a congratulations to Trump after the debate and added "proud to stand with you as we #MAGA."