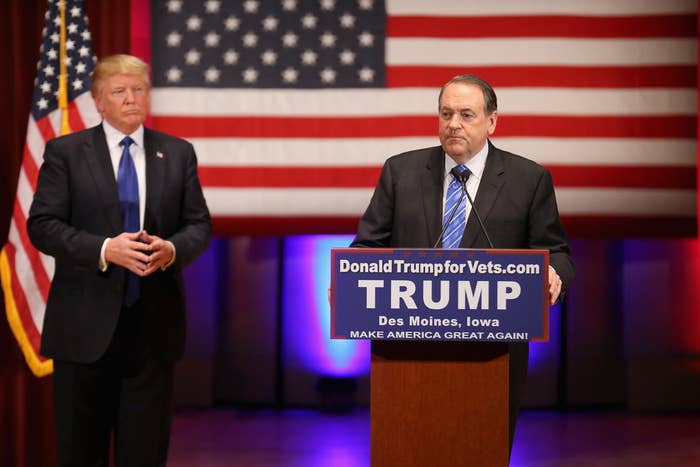 WASHINGTON — Speaking to a group of college students on Wednesday night, Mike Huckabee did not rule out the idea of being Donald Trump's running mate, but seemed to defer to Trump about whether it's a possibility.
Huckabee, who dropped out of the presidential race the day after the Iowa caucuses, was asked at a forum organized by the Georgetown Institute of Politics by moderator Mo Eleithee, former DNC communications director, for his "instant reaction" to this idea: Trump-Huckabee 2016.
"Ask Trump," Huckabee responded. "Because he makes that decision, I don't. I'm not sitting around thinking that that's likely to happen."
Huckabee indicated he wasn't ruling the idea out, but "nor am I ruling it in; not my call to make."
Huckabee allied himself with Trump even before he ended his own campaign. The former Arkansas governor spoke from behind a Trump podium at an event in Iowa before the Iowa caucuses. His daughter Sarah Huckabee Sanders, who managed his campaign, has joined the Trump campaign. And Huckabee is said to have come close to endorsing Trump after Iowa but has held off because it could hurt his chances at a new TV contract, two sources told BuzzFeed News earlier this week.
However, he did not attend a rally in Arkansas that Trump held after the Iowa caucuses. "He never invited me to come," Huckabee said. "There was never any presumption that I would go. I made it very clear that I had no intentions to endorse anybody in the primary, certainly not immediately."
Huckabee has instead become a frequent defender of Trump, something he continued on Wednesday night, when he again excused Trump's failure to immediately disavow the Ku Klux Klan in a TV interview.
He blasted establishment Republicans who are saying they will not support Trump as the nominee, saying he was "outraged" about it.
"Remember when Donald Trump was famously paraded in front of the cameras to sign this pledge that he would support the Republican nominee, that he wouldn't run a third party campaign?" Huckabee said. "In the Republican Party, last time I checked we picked our candidate by way of an election, not a selection."
"If Donald Trump or Mike Huckabee or Jeb Bush or anybody else has to pledge loyalty to the party, shouldn't the party pledge a loyalty to whoever the candidate is that's selected by the people who actually went out and voted?" Huckabee said. "Because if that's not going to happen then we don't have a party."
Speaking to two reporters afterward, Huckabee said he wished Republicans who would reject a Trump nomination would be "team players" and that they "should respect the people who voted."
Huckabee said the Trump campaign had not reached out to him about the VP possibility and that "I have a feeling they've not been doing that at all as it's a little premature for them, and certainly premature for me."

Huckabee said he wasn't sure what's next for him, saying "Nothing's closed out at this point, I'll keep all my options open."