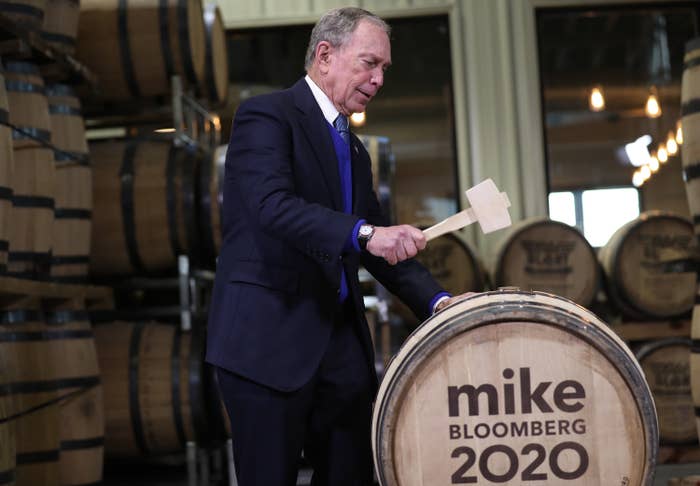 CLARKSVILLE, Tennessee — Michael Bloomberg grasped a wooden mallet, standing next to a barrel of bourbon with his name stamped on the front. He paused, waiting for the assembled press who had been summoned for a photo spray to watch him seal this barrel at the Old Glory Distillery, where it will take four years to ripen into full-fledged bourbon. Wearing a royal blue sweater under his suit jacket, Bloomberg asked if the cameras were ready. With a choppy, deliberate motion, Bloomberg banged the mallet on the barrel twice and handed it back to the distillery owner, who told him, "great job."
"Thank you," Bloomberg said. "Come back in four years, I'll be around here campaigning for my second term in the White House. I thought that was funnier than it was." Everyone laughed politely.
"The press never laughs," Bloomberg said with a wave of his hand.
The truth is, neither does Bloomberg — or at least hardly ever in public, his face usually impassive. And he's had less reason to laugh lately than he did before his appearances in two presidential debates, the first of which was rocky enough that some observers questioned whether it would sink his campaign, and before Joe Biden's decisive win in the South Carolina primary. The first, and by far most important, test of Bloomberg's viability is this week when his name will appear on ballots for the first time in the states that vote on Super Tuesday. After skipping the first four states, Bloomberg is banking everything on 16 contests that will award about a third of all delegates. And he's facing increasing pressure from some Democratic grandees, particularly ones connected to former president Barack Obama, to get out of the race and clear the way for Biden to take on Bernie Sanders — ironic in light of the Bloomberg campaign's earlier calls for Bloomberg's moderate rivals to do the same.
Everything is riding on Super Tuesday for Bloomberg. He's poured more than $500 million into his campaign, and to some extent the strategy has worked. For a while, as Biden faded after disappointing finishes in Iowa and New Hampshire and the entire field was thrown into chaos after the Iowa caucuses debacle, Bloomberg seemed to be growing stronger, his poll numbers rising and endorsements flowing in. Then the first debate happened, and Bloomberg's performance was so lacking that one poll saw a 20% favorability drop the next day.
But dynamics in a presidential race can change fast, and reality is about to collide with the Bloomberg campaign.
Bloomberg says he'll continue on even if he doesn't do as well as he hopes on Super Tuesday.
"I'm going to do very well. I'm not worried about that," Bloomberg said in an interview in McLean, Virginia, on Saturday morning after a rally and before results were announced in South Carolina. "You'll never do as well as you'd like, unless you get 100% of the votes. You're not going to do that, obviously. But, you know, I came to become president of the United States, I think I can make a big difference in this country. I think I can beat Donald Trump in the general election, and I plan to be in that general election."
If Sanders dominates, Bloomberg said he isn't concerned. "You've got another election seven days later and another election 14 days later," he said. On the night of Super Tuesday, Bloomberg will hold an event in West Palm Beach, Florida, a state where his campaign expects him to do well but which does not hold its primary until March 17.
In the final days before Tuesday's vote, Bloomberg has crisscrossed states including Texas, Oklahoma, North Carolina, and Tennessee, giving his typically efficient rally speeches with (sometimes awkward) jokes tailored to each location. Unlike in previous campaign swings, Bloomberg has done more television interviews, including a segment with 60 Minutes partially taped inside his late mother's home in Medford, Massachusetts. The day after his second debate, in South Carolina, Bloomberg appeared in a CNN town hall, a format that suited him much more than the debates have; Bloomberg appeared unruffled as he took questions from voters and seemed better prepared for questions about his record on stop-and-frisk and women who have alleged sexism by him or at his company, issues that appeared to blindside him during the first debate. The campaign, after keeping him at a distance for months, appears to have seen the value in letting him answer questions.
Bloomberg did improve in his second debate last week, inserting himself into the back-and-forth more, effectively changing the subject at times, and delivering more forceful responses to attacks from candidates including Elizabeth Warren. Bloomberg senior adviser Howard Wolfson quipped to reporters after the debate that their debate prep strategy that time had been to watch the Seinfeld episode "The Opposite," and follow George Costanza's lead in doing the reverse of everything he'd done the before.
"You know, when you do well you gotta smile on the inside, and when you don't you say, 'Oh, why did I do that?'" Bloomberg said in Virginia when I asked him how he felt — emotionally, personally — about his debate performances. Repeating a line he's used several times on the trail, Bloomberg said, "I am not trying to be college debater-in-chief."
But does it dent his argument that he's best prepared to take on Trump, who as the nominee, he would have to face on the debate stage? "I think Donald Trump is such a buffoon all you got to do is look like an adult," Bloomberg said. (Hillary Clinton, for what it's worth, tried this.)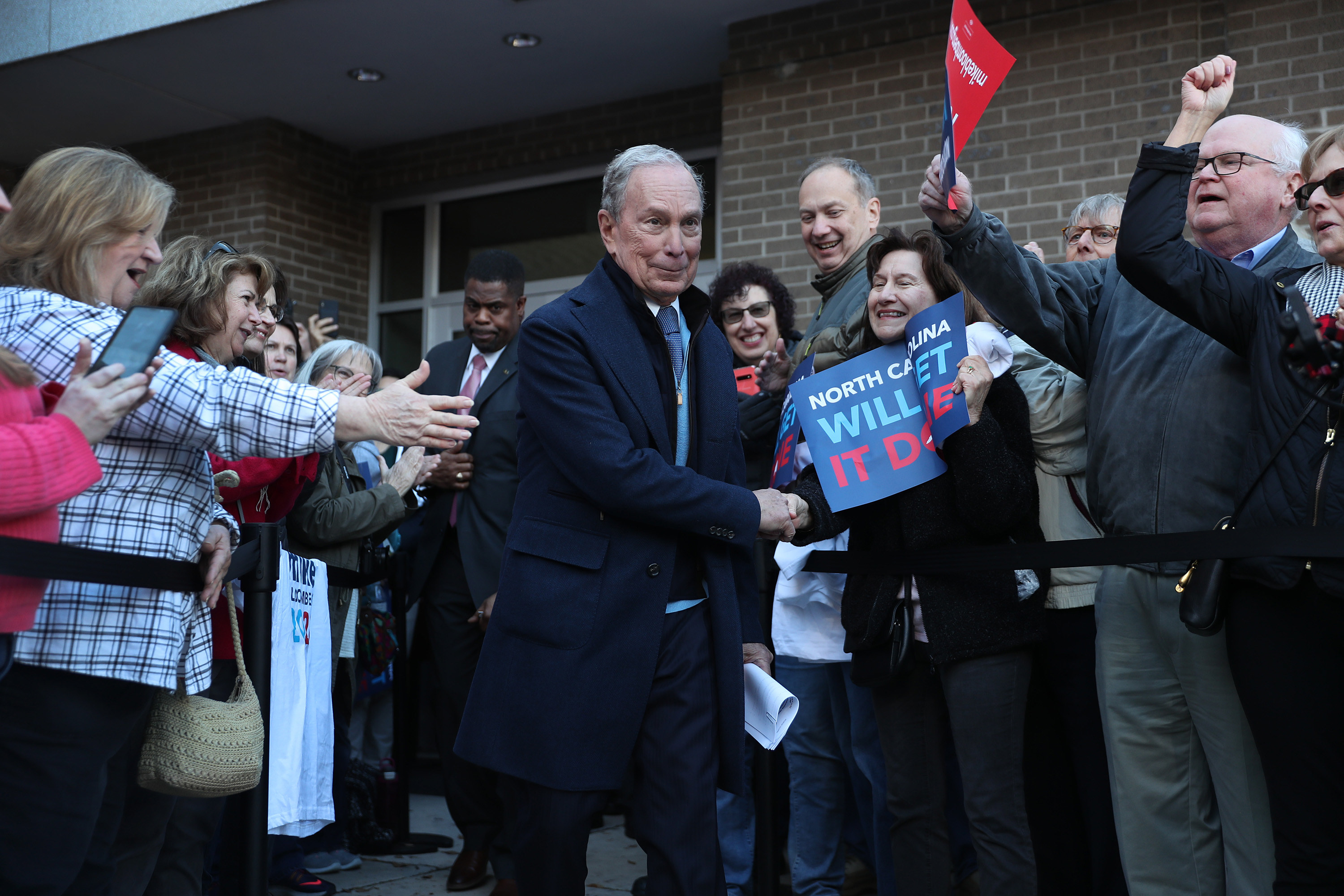 Most, though not all, of the voters I spoke to during Bloomberg's swing through Super Tuesday states last week said they'd seen Bloomberg's debates, and all of those who had watched agreed he hadn't done well in the first one.
"It was pretty bad," said Al White, 73, a voter from Maryland who attended Bloomberg's rally in McLean on Saturday morning and is encouraging his family members to support Bloomberg. "It gave you a feeling that because of the money and a little arrogance, he didn't feel he had to answer the questions."
But even those who were critical of his performance said it wouldn't impact their vote, and several said they didn't like the way Warren went after him.
"He needs a joke writer," said Kate Reynolds, 62, who attended Bloomberg's rally in Johnson City, Tennessee, with her husband Pete, 69. (Katie Couric said on television last month that a Bloomberg staffer had told her the campaign was hiring a comedy writer.)
"He doesn't have a lot of practice on the stump, and he looked a little flat," said Pete Reynolds. "But that's understandable to me, anyway."
As for Warren's taking Bloomberg to task, "she is just flat annoying," Kate Reynolds said. "Just shut up and go away, Liz."
On Saturday evening, after news outlets had already called the South Carolina race for Biden, Bloomberg gave his usual stump speech at a Democratic Party dinner in Charlotte, North Carolina. He made no mention of the evening's results. That night, his campaign manager Kevin Sheekey sent out a statement projecting calm. "Mike Bloomberg has not been on the ballot yet," Sheekey said. "Our campaign is focused on organizing Democrats and building infrastructure in states all around the country. Mike is the only candidate to campaign in all fourteen Super Tuesday states over the last two months and we look forward to Tuesday." To reinforce the point, Bloomberg's campaign put the word around to reporters on background that their internal data showed it would only boost Sanders' delegate lead if Bloomberg drops out, though they didn't share the details.
That reality isn't at all clear. Bloomberg could still do well on Super Tuesday, but he can no longer make the argument that he's the only moderate who can stay viable in the race, with Biden going into the week with nearly as many delegates as Sanders.
I asked him on Saturday whether it wasn't in fact his entry into the race that was splintering the moderate vote and arguably helping Sanders.
"Was Mike in any of the last three elections?" his spokesperson Marc La Vorgna chimed in.
"I wasn't in any of them, and they splintered," Bloomberg said. "You can't have it both ways. You can't complain I wasn't in the elections and then say, 'Oh, you caused the splintering.' Take a look. Elizabeth Warren's polls keep going down. I don't think you can blame me for causing it — she's the one that kept yelling at me all the time."
For Bloomberg, "the question is 'Who is going to beat Donald Trump?'" and everything else is secondary. He believes that if Sanders isn't stopped, Democrats will not only lose the White House but also lose the House of Representatives and fail to capture the Senate.
Many voters share this concern, are hyper-focused on beating Trump, and are worried a Sanders nomination is too risky. While Bloomberg is drawing significant numbers of them, it's difficult to say how many of these voters are actively Bloomberg fans and how many are simply trying to make the best tactical choice to beat Trump and could end up with another candidate.
"I think the two candidates we have that can make it are Biden and Bloomberg," said Jyni Holland, 60, who attended Bloomberg's rally in Clarksville. Holland lived in New York for years before moving back to Tennessee and retains fond memories of Bloomberg as mayor. "What I would like to see is for both of them to drop their ego. Whoever is the most ahead, they need to drop out and let that person win. The other ones, there is no pathway for the rest of them."