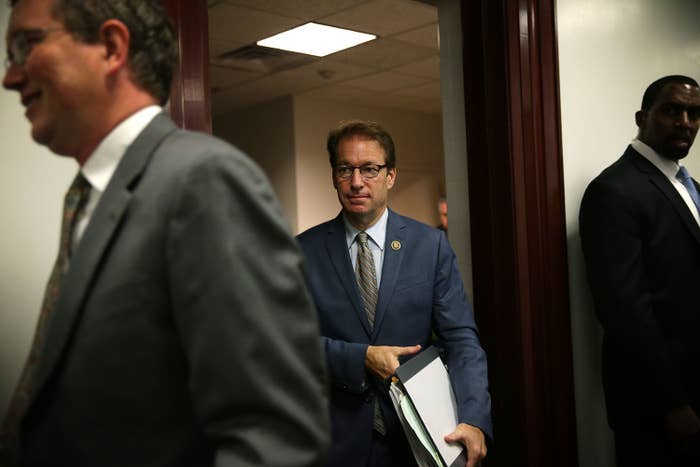 WASHINGTON — A new resolution being introduced in the House and Senate on Tuesday seeks to support individual states' ability to maintain their own sanctions against Iran, despite Iran getting sanctions relief as part of the nuclear deal.
Many states have their own sanctions against Iran separate from the federal government's sanctions. The Iran deal, which was reached in Vienna in July, unwinds nuclear-related sanctions in exchange for Iran rolling back its nuclear program. The deal doesn't affect U.S. sanctions related to Iran's support for terrorism and human rights abuses. The fact that many U.S. states maintain their own sanctions against Iran could prove a complicating factor to the deal.
The resolution is being introduced in the House of Representatives by Rep. Peter Roskam alongside Reps. Brad Sherman, Mike Pompeo, Ted Deutch, Lee Zeldin and Dan Lipinski. The group includes Democrats and Republicans. A Senate version is being introduced by Sens. Mark Kirk, Joe Manchin, and presidential candidate Marco Rubio; Kirk has been one of the most vociferous critics of the Obama administration's Iran policy.
"State-level sanctions, which were authorized under bipartisan legislation signed into law by President Obama in 2010 and target Iran's illicit non-nuclear activities, in no way contradict the agreement reached by the P5+1 earlier this year," Roskam said in a statement. "Nevertheless, we must take precautionary action to clarify Congress's legislative intent to ensure state pension funds and contracts are not used to fund terrorism and atrocities against the Iranian people."
Though opponents of the deal have tried several different tactics, the Obama administration has successfully fended off congressional opposition to the Iran deal. Opponents of the deal failed to amass enough support to block the deal when it came up for a vote on a resolution of disapproval earlier this fall. This new effort is being introduced as a resolution instead of binding legislation because "Since states already have legal authority under CISADA to impose sanctions against Iran, there is no need to enact a new law. However, in light [sic] any potential confusion caused by the JCPOA, there is a need to clarify the right of states to maintain these sanctions," according to a FAQ being released with the resolution.
A copy of the resolution, provided to BuzzFeed News in advance of its release: