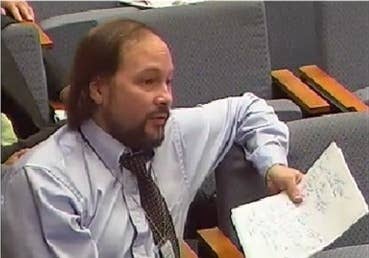 An independent journalist whose muckraking coverage of the U.N. earned him profiles in the New Yorker and the New York Times has become a source of tension among the U.N. press corps — though he says he's been unfairly singled out by them because he refuses to conform.
On one side, traditional journalists at the UN have accused Matthew Lee of Inner City Press of making unwarranted attacks on them on his blog and to their employers, and along with U.N. officials, allege that he created a safety hazard with his very messy office.
On the other side, Lee says that his fellow reporters have colluded with officials to shut him out, even, in the case of Voice of America, asking the media accreditation office to review his credentials, and that they are part of the reason his office was searched without warning earlier this week.
"I very much feel/know they're trying to silence me," Lee said in an email.
Lee was one of the first bloggers ever given U.N. credentials. He's known for his aggressive questioning of U.N. officials, and when he was first accredited, his mainstream media colleagues seemed to respect him. The president of the UN Correspondents Association said at the time, "I don't see any difference in what he's doing and what we are doing."
But that has changed. With the recent search of his office by U.N. officials and ensuing drama, tensions are running high among the people who make a living of covering Turtle Bay — among whom Lee has become an outcast.
"I'm not an insane person," Lee told BuzzFeed.
Members of the UN Correspondents Association say Lee has gone over their heads and written to their bosses complaining that they stole quotes from him, though the quotes came from a public press conference. They say he's become obsessively antagonistic towards the UNCA, where he used to sit on the board, and which he now calls the "UN Censorship Alliance." One member called Lee's attitude towards the UNCA "insidious." He has referred to other reporters as "lap dogs" on his blog, which prompted the parties involved to lodge a complaint against him.
Pamela Falk, a correspondent for CBS News and the president of UNCA, declined to comment for this story.
Lee says that his office at the U.N. was searched on March 18 without his consent and without any warning.
"A week after Reuters and AFP filed complaints against Inner City Press for having called them lapdogs of UN officials, and three days after the UN declined to provide a copy of the complaints, UN officials entered Inner City Press' office at the UN without permission and took photographs," Lee wrote on his blog. "When Inner City Press, notified by another member of the Free UN Coalition for Access, arrived on the scene, the officials were inside its office, going through papers. In the hallway, the president of the UN Correspondents Association, Pamela Falk of CBS, took cell phone photographs."
The Free UN Coalition for Access is a rival group to the UNCA, started by Lee in December.
"There were people that were inside were literally going through my papers," Lee said in an interview. "The head of media accreditation was there, as well as security officials." Lee put a video on YouTube of the scene that he says he was asked to take down.
According to a U.N. spokesperson, Lee's office was searched because it was very messy.
"On 18 March 2013, a staff member with the Department of Public Information's Media Accreditation and Liaison Unit visited the office of Mr. Matthew Lee of Inner City Press to follow up with him on his question about the timing of the move-back date for the UN press corps to the Secretariat building," said spokesman Martin Nesirky.
"On reaching the office, which was open, the DPI staff member met with the Vietnam News Agency correspondent, who shares the office space with Mr. Lee. The staff member observed that there was a large volume of trash in the office, prompting her to contact fire and security personnel owing to serious concerns over potential safety, health and fire hazards."
"Mr. Lee subsequently disposed of the garbage that had accumulated in his part of the office," Nesirky said.
Photos of Lee's office were sent to BuzzFeed from an anonymous "Concerned UN Reporter" email account.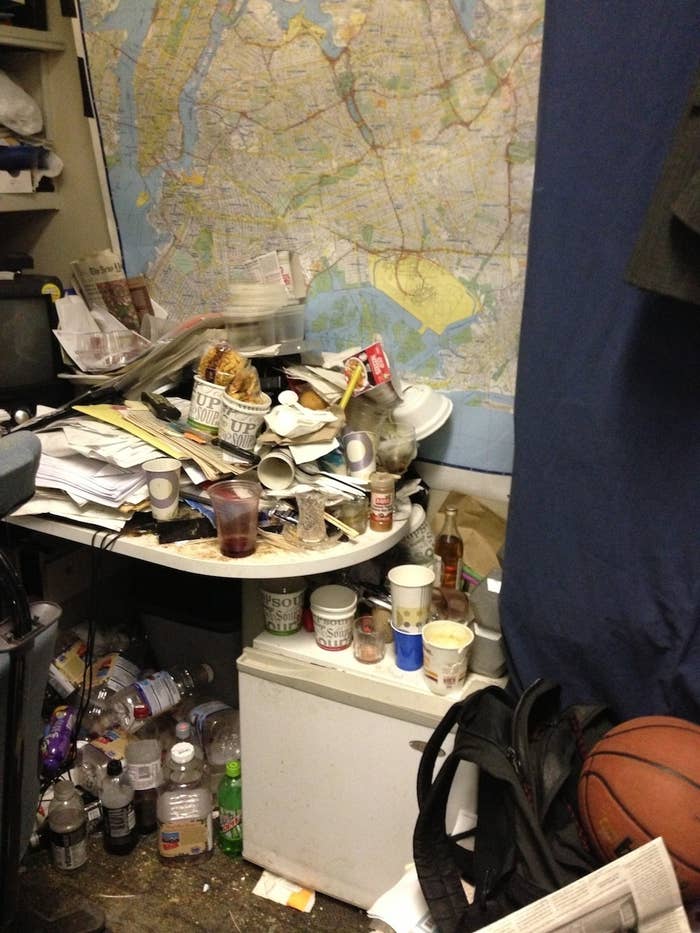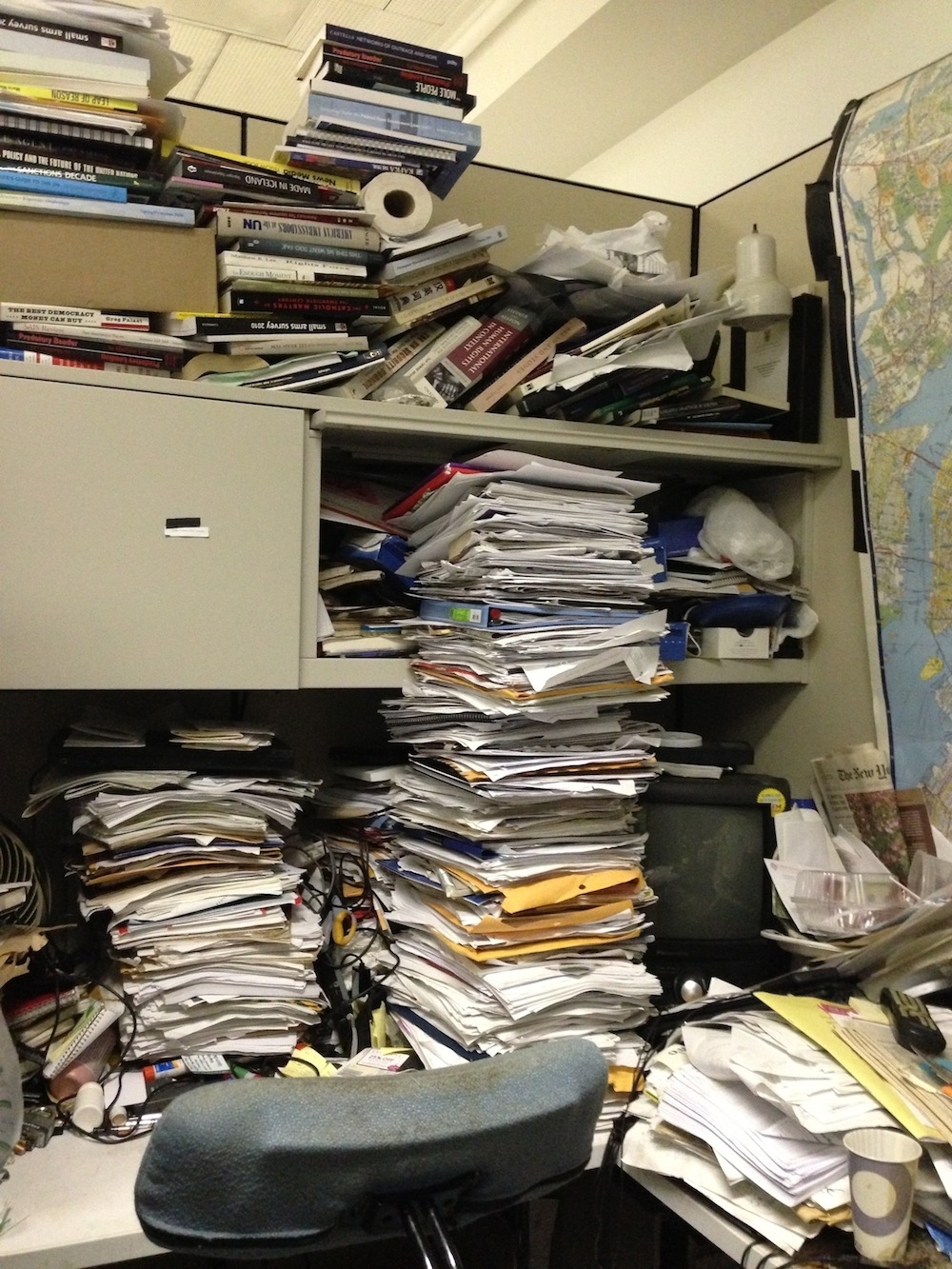 "Too bad you can't get the smell on camera!" the reporter said. "It wasn't a 'press freedom' 'raid' as Lee claims, but based on a genuine complaint."
"He is complaining that his office was 'raided,' but everyone's offices were checked. It's U.N. property and no media pays rent."
Lee played down the role of his office's condition in the search.
"I won't call it clean by any means but I don't think it's an emergency," he said. "I have UN cleaning staff come into my office every night and they never do anything."
The back-and-forth over the office searching incident comes after a period in which Lee and the other reporters have been increasingly unable to get along, partly because Lee has made the other reporters a main focus of his blog.
"Saying you're a lapdog is not a crime," Lee said of the complaint lodged against him.
Lee acknowledged that he spends much of his time writing about the other reporters at the UN these days.
"I wish it wasn't that way but I feel very much under fire by them," Lee said. "I decided that [my blog] was going to be 25% media critique."
From Lee's perspective, the other reporters resent him because he gets real dirt as opposed to pre-packaged leaks and quotes from press conferences.
"The reason I've had run-ins with them is that most journalism at the UN is going to a presser by Ban Ki-Moon and writing what he says," Lee said. "It's weird how the UN gets covered."
And Lee thinks that his story speaks to a larger problem at the UN, one that would be familiar to those who cover the White House or presidential campaigns: the tight control of access, and how the powers-that-be decide who is a journalist and who is not.
"I'm not trying to have any rules set for journalists to be nice together," Lee said. "The UN literally has no rules at all. Covering the UN is a pure privilege that can be recalled at any time."
A spokesman for the UN didn't immediately respond to a question about whether Lee will continue to be accredited at the UN. The NYCLU recently called on the UN to disclose its process for accrediting reporters after Voice of America asked the UN to review Lee's credentials.