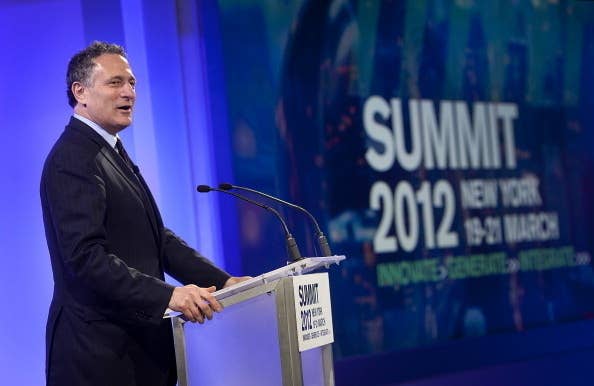 Leading figures at old and new American news outlets defended Bloomberg LP CEO Dan Doctoroff's role at a celebration of press freedom on a day when Bloomberg faced intense criticism over reports that it bowed to the Chinese government.
Doctoroff chaired the annual Press Freedom Awards dinner of the Committee to Protect Journalists at Manhattan's Waldorf Astoria hotel, where host Scott Pelley denounced "those who censor, those who harm, and those who silence journalists" before introducing Doctoroff, who called on the press to "stand together."
Bloomberg is "innocent until proven guilty in my book," said CNBC host Jim Cramer. "Dan Doctoroff is a great guy."
"I absolutely think it's appropriate for Bloomberg to chair this event," said the writer Kati Marton, a member of the group's board of directors and the widow of the diplomat Richard Holbrooke, who said of the reports Bloomberg had killed a story about a top Chinese figure: "I wouldn't call it a scandal."
A founder of Vice, Suroosh Alvi, also defended Bloomberg. "I don't have a problem with it," he said.
Others declined to comment on the story, which was on the front page of Monday's New York Times.
"I'm sorry I can't talk about that, I have to practice my speech," said Huffington Post Editor-in-Chief Arianna Huffington.
The situation was, however, the subject of many quiet conversations and the timing was, said Reuters blogger Felix Salmon, "awkward."
The $10,000-per-table dinner is held to raise money for the organization, and to honor four reporters from Ecuador, Egypt, Turkey, and Vietnam who "face imprisonment or other persecution for exposing realities," according to the Committee to Protect Journalists.
Bloomberg is under fire for, according to reports in the New York Times and Financial Times, killing an article that reportedly focused on China's richest man, Wang Jianlin, "and his financial ties to the families of party leaders." (Bloomberg News chief Matthew Winkler said the article was delayed only because it wasn't fully reported.)
Doctoroff, in a brief speech, appeared to refer obliquely to the controversy.
"We face tough choices and second guessing every day," he said, promising to "listen to different opinions" and to "keep shining that disinfecting light."
The company reportedly also sought to manage its relationship to China — a massive growth market for its lucrative terminals — with a special code blocking sensitive stories from terminals in China, and by taking another objectionable story off its website for a time.
Doctoroff, according to the New York Times, at one point canvassed other executives to ask, "If Bloomberg were about to run an important article about China and knew for certain it would draw a retaliatory hacking attack, should the article still run?"
"Many senior news people said reflexively that it should, but others were not so sure," the paper reported, in the broader context of the difficulty — perhaps impossibility — of doing both news and business in China.
A Hong Kong journalist who was honored at the dinner 15 years ago, Ying Chan, also demanded Tuesday that Doctoroff relinquish his role.
The news executive — a former top official in Mayor Michael Bloomberg's administration and the leader of New York City's failed Olympics bid — "has no standing to host such a dinner that celebrates and honors fighters for press freedom while Bloomberg practices such egregious self-censorship and suppresses press freedom. The situation cannot be more ironic," Chan told ChinaFile. A top CPJ official responded by calling the demand "a false linkage."
Correction: An earlier version of this story misstated the date of a New York Times article.