Manchester Police Investigating Gingrich Aide In Scuffle With Occupy Protester
A witness emerges. "He seemed enraged that she was there," Bowman says.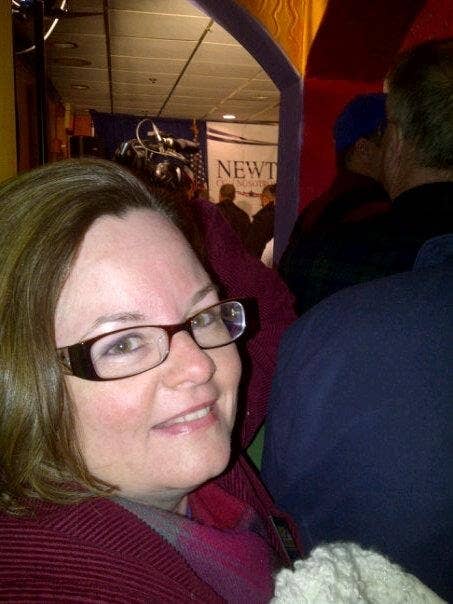 The Manchester Police Department is investigating an Occupy protester's complaint that she was roughed up by an aide to candidate Newt Gingrich yesterday, Lieutenant Maureen Tessier told BuzzFeed today.
The protester, Rebecca Burton of Manchester, Conn., told BuzzFeed that she was been standing inside the restaurant where Gingrich's Latino town hall was being held, Don Quijote.
A staffer -- a middle-aged white man wearing an earpiece, who refused to talk to BuzzFeed -- approached Burton, ripped her sign, grabbed her by the arm and shoved her, she alleges.
Quinn Bowman, a reporter from PBS NewsHour who saw the incident, backed Burton's version.
"He pushed and shoved her with considerable force, tried to take her sign and he seemed enraged that she was there," Bowman says.
Burton and the staffer spoke to police at length after the event.
"They brought him out and I said 'how could you do that to me?' And he just looked at me," Burton said.
Tessier told BuzzFeed that "depending on where the investigation goes, there could be charges brought at some point if the information leads us in that direction."