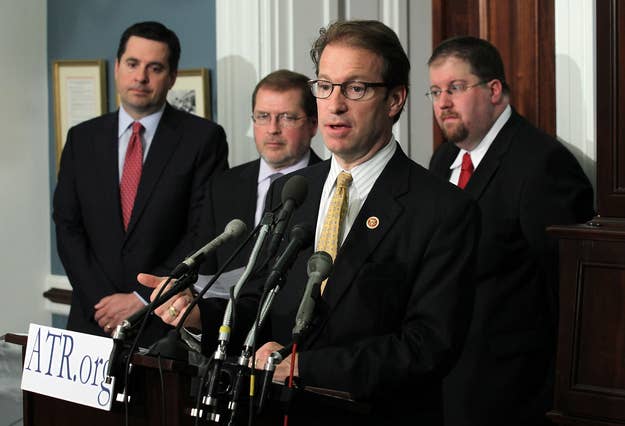 Updated - 2:19 a.m., Feb. 7
WASHINGTON — Two of the major Jewish groups are not planning to back a new bill that seeks to pull federal funding from universities that boycott Israel, according to a source familiar with the situation.
"The legislation is almost certainly unconstitutional, it's a bad law, and it reinforces stereotypes about Jewish influence," said one pro-Israel Democratic strategist familiar with the groups' thinking. "It's so bad that AIPAC and ADL oppose it."
"There's no way they'll say they support it," the strategist said.
The bill, introduced by two Illinois members of Congress, Rep. Peter Roskam, a Republican, and Rep. Dan Lipinski, a Democrat, would take away all federal funding from American universities that decide to boycott Israeli institutions. "It is ludicrous for critics to go after our democratic friend and ally Israel when they should be focusing on the evils perpetrated by repressive, authoritarian regimes like Iran and North Korea," Roskam told the Washington Free Beacon, which first reported the existence of the bill.
The bill is a response to the American Studies Association's boycott of Israeli academic institutions.
But the bill appears not to be getting traction even among some of the pro-Israel groups who have battled the boycott. Two of the most important Jewish groups in the U.S., the American Israel Public Affairs Committee and the Anti-Defamation League, are said to have no plans to support the bill.
Asked if the group had taken a position on the bill, an AIPAC official said on Thursday that the organization had received the bill and was reviewing it.
"We welcome any effort to challenge or fight the boycott, divestment and sanctions in colleges and universities," said Abe Foxman, director of the ADL. "However well-intentioned, we are not sure that this bill would be the most effective means of recourse."
The bill's sponsors said they had weighed constitutional concerns.
"These organizations are clearly free to do what they want to do under the First Amendment," Roskam said on the House floor on Tuesday, "but the American taxpayer doesn't have to subsidize it."
But that argument has proved a hard sell.
"Even the Jewish groups won't go along with them," the strategist said of the bill's authors. "It's partisan, it's meant to embarrass Democrats."
At the heart of their objections is the notion of the federal attempt to regulate academic speech, something a top First Amendment lawyer, Floyd Abrams, told BuzzFeed should be a major concern.
"The notion that the power to fund colleges and their faculties may be transformed into a tool to punish them for engaging in constitutionally protected expression is contrary to any notion of academic freedom and to core First Amendment principles," Abrams, a lawyer at Cahill Gordon and Reindel, said. "I believe that academic boycotts are themselves contrary to principles of academic freedom but that does not make the legislation being considered any more tolerable or constitutional."
"As a general matter, government has considerably greater latitude to deny funding to speech and speakers with which it disagrees than it has to censor speech directly," said Michael Dorf, a constitutional scholar and law professor at Cornell. "However, there are First Amendment limits to the funding power. Under the so-called 'unconstitutional conditions' doctrine, efforts to coerce — rather than merely to avoid funding — can run afoul of the First Amendment. Moreover, the Supreme Court's cases have recognized that the First Amendment restrictions on the funding power are more robust when the entity to be funded (or defunded) is a university."
But Eugene Volokh, a law professor at UCLA and author of the Volokh Conspiracy blog, said he thought the bill was likely constitutional.
"I think the bill would indeed be constitutional," Volokh said. "Grove City College v. Bell (1984) held that the government may, despite the First Amendment, attach a no-sex-discrimination condition to government funds. Christian Legal Society v. Martinez (2010) held that a public university may, despite the First Amendment, require all groups that receive university benefits to accept all students, without excluding anyone. Likewise, the government may require recipients of federal funds not to discriminate against Israeli academics or institutions (or, more narrowly, not to boycott such academics or institutions)."
A spokesperson for Roskam did not immediately return a request for comment.