Louisiana Slouches To The Polls Tonight
A low-key primary, as the race shifts into slog mode. Between apathy and demographics, Louisana voters are not inclined to help wrap this thing up.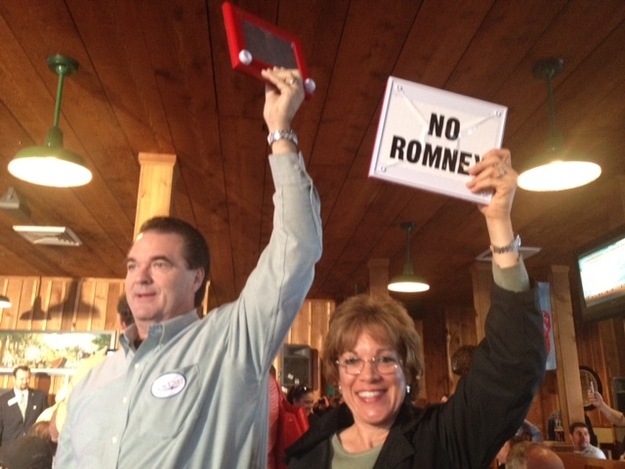 NEW ORLEANS, La. — Louisiana does not care whom it is supposed to vote for.
In an ordinary Republican primary season, the state is far enough back in the calendar that the nomination would have been locked up by now. Because former Mass. Governor Mitt Romney hasn't yet been able to nail down the nomination, voters here will take part a decision-making process this year that has the veneer, at least, of importance. Whether they'll spend the Saturday voting or partying remains to be seen, but there are few voters in Louisiana inclined to make this an easier process for the Republican Party or anyone else.
"People just pick who they like," said one Louisiana political consultant now based in Washington, D.C. "They don't care what the rest of the country thinks. We've had several governors go to jail. They just don't care."
Turnout will be "really low. Super super low," predicted the politico. "Anything that involves organization, people in Louisiana reject."
In a series of votes whose outcomes have been closely tied to demographics, the state's Southern, religious, conservative base means a wide expectation that Rick Santorum will win tonight, however.
But as the calendar wears on, the intensity is fading. Many Republican leaders here, including Gov. Bobby Jindal, a former Rick Perry backer, are simply neutral. Mitt Romney picked up the satisfying endorsement of Lieutenant Governor Jay Dardenne, though it's not helping his chances in the state — Santorum is leading in the polls by a healthy margin.
Louisiana voters don't let a popular politician like Dardenne get in the way of their decision-making process. Endorsements mean little to voters here — Santorum hasn't picked up an endorsement since Puerto Rico, and it's been longer than that for Gingrich.
No candidates are spending primary day politicking in the state, not even Gingrich, who put in nearly a full week there. Santorum is expected to take the state with a comfortable lead, as many Louisiana Republicans, especially in the conservative central and northern parts of the state are skeptical of Mitt Romney — often for unconventional reasons.
"Romney's got two major problems," said Corley Seenyard, a Tea Party activist from central Louisiana. "One is he's a multimillionaire. The other is he's a Mormon. I have no problem with that, but the Mormon church, as you probably know, would not allow blacks in until recently."
Corley and his wife, Mary, sometimes dress up as George and Mary Washington and visit schools to talk about the Constitution. Mary wore a large elephant necklace at a Gingrich event in Baton Rouge: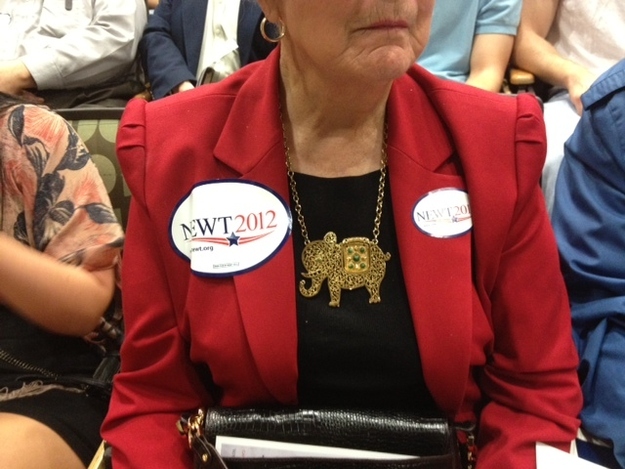 Voters in Louisiana "have been kinda neutral for years and years," Corley said.
"From my knowledge of government, clearly the best is Ron Paul, because of the Constitution."
Mark Holmes, a Baton Rouge Tea Party leader, said that Louisianans "like it when people speak from the heart" — something Romney has had trouble conveying. "People don't want politicians." Holmes voted for Ron Paul last cycle and hasn't decided about this one.
In southeastern Louisiana, which is heavily Catholic, "It's a tossup between Santorum and Gingrich," said Michelle Hanson, a teacher from Houma, a bayou town an hour outside of New Orleans. She added that "we also have strong Ron Paul support around here. I see a lot of signs."
Hanson will vote Gingrich, partly because of his Catholicism, partly because his energy policy appeals to her, though she describes Santorum as a "strong candidate."
The eclecticism leading up to the primary only goes so far: all the Republican voters BuzzFeed spoke with in the state say they'll vote for Romney in the general election, anyway.