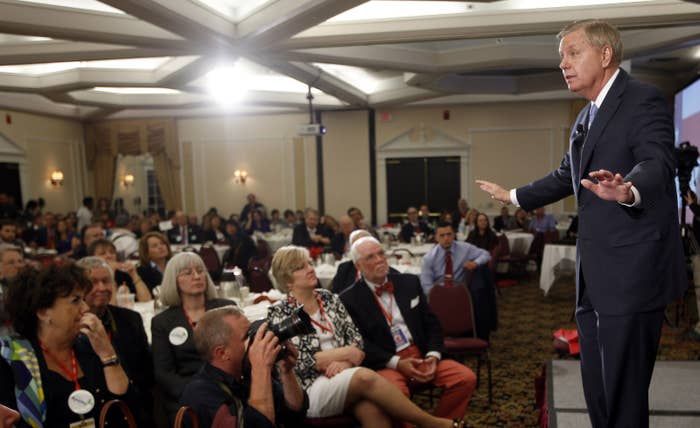 WASHINGTON — If Lindsey Graham really runs for president, most expect him to serve as a protest candidate, pushing and provoking the rest of the Republican field on foreign policy.
There is one place, however, where any move Graham makes right now is affecting the Republican field: South Carolina. Republican contenders have descended on the early primary state to raise money and secure endorsements, but donors, lawmakers, and activists are in a bit of freeze — and at least for now, deferring to Graham's clout in the state.
"A lot of folks I've talked to in a lot of the campaigns that have come through the state have mentioned the inability to raise money right now in South Carolina," a political operative in the state told BuzzFeed News, "because so much of the donor class is waiting on Lindsey Graham's decision."
"It makes sense, he's the senior senator from South Carolina: He ought to have a lot of good donor contacts. Those donors realize at the end of the day they have a voice in the Senate they can't get crossways with," the operative said. Activists "can't do anything either right now, a lot of them."
Like Iowa and New Hampshire, the state's become busy fast, especially for certain candidates: Ted Cruz and Rick Perry have made 10 trips each; Marco Rubio has traveled there five times and has close ties to people in the state. Rand Paul has been there seven times and has relationships with quite a few members of the state's congressional delegation. But for many South Carolinians, waiting to see what Graham does is as much about saving money as it is about politics.
"People are deferring to the senior senator, more from a financial standpoint than anything else," said one former party official there who noted that he'd spoken with a donor who argued that Lindsey is "60 years old, this is his one shot at it."
"He makes sense on national security, he could get lightning in a bottle on this Iran deal, and it saves me money now and I can still spend money later," the official recalled the donor saying.
One Republican operative in the state said people were less impatient with Graham for causing a delay than they are eager for him to start running.
"There are a lot of people very eager to hear the answer, among activists, among donors," the operative said. "Are they waiting to hear the answer so they can make plans? I would think so."
According to Graham, people won't have to wait much longer but he acknowledged in an interview with BuzzFeed News that many people were in a holding pattern waiting to see what he ultimately decides.
"Supporters are waiting to see what I do and the wait won't be much longer. I'm 98.6% sure I will run," Graham said. "I'm the senator and congressman they've known for 20 years… There's a lot of support in South Carolina for the ideas I represent, not just me. But if I run, I run to win. I'm not running to make a point here.
"If I'm in this race in South Carolina, I will win South Carolina."
South Carolina's influential congressional delegation has been careful to not endorse anyone in the race at this point. One member of the delegation, speaking on background, said that politicians in the state generally wanted give Graham some room to decide, but it would not ultimately influence who they end up endorsing.
"Lindsey is a very pragmatic guy," the lawmaker said. "He knows he has to make up his mind soon but he's also not going to hold it against us if we go with someone else."
Graham said that members of the delegation should "do what they think is best, I leave that decision to them."
At the state party convention in Columbia last weekend, Graham spoke three times: at the Silver Elephant dinner, where he essentially announced a run; at a breakfast the next morning; and at the convention itself. "To Iowa and New Hampshire, hello," Graham told the audience at the dinner. "To South Carolina, you have my heart, thank you very much." He was enthusiastically received at all three events, but many activists are already loyal to other potential candidates who have already formed deep relationships in the state.
"I know there are a lot of people who have a fondness for Santorum and for Perry and for Huckabee off past years, and they have some deep roots here," said Don Fort, a Republican activist from Charleston and former vice chair of his county party, who was attending the convention.
"I would expect [Graham] to have announced here and today, but on the whole I think he's still waiting on money and numbers to really give him a yes/no, because it's bound to step on some toes," Fort said.
Though it's a point of frustration currently, the deference to Graham among the state's political establishment may not last for too long. Just Tuesday, Sen. Ted Cruz announced his South Carolina leadership team, that included state Sen. Lee Bright as a co-chairman. Bright unsuccessfully tried to primary Graham in the 2014 senate race. A senior political operative in the state predicted Graham would ultimately struggle in South Carolina if he chose to run for the White House.
"The state's not going to rally behind him, because the Oval Office is 100% different than a single Senate seat," the operative said. "And the candidates who are deferring to Sen. Graham are deferring only because it's their best or only South Carolina strategy, at this point. Jeb certainly falls into that category."
"Every other candidate is proceeding as if Sen. Graham doesn't exist; that's telling."