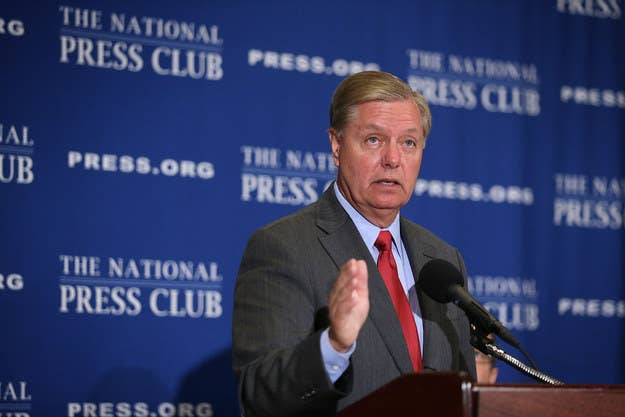 WASHINGTON — Republican presidential candidate and South Carolina Sen. Lindsey Graham called on the U.S. to take its "fair share" of refugees from the Syrian conflict on Tuesday, but declined to name an exact number.
"We should take our fair share" of refugees, Graham said in response to a question after a speech he gave about the Iran deal at the National Press Club.
"We are good people. I don't think the average American has any idea what it's like to live in the Middle East right now," Graham said. "If I'm president, it's not about accepting refugees, it's about destroying the reason they leave. It's about sending them back to Syria with hope. It's about destroying a radical Islamic movement that would destroy everybody in this room."
Other presidential candidates have commented recently on the refugee issue, as the crisis of refugees fleeing conflict to reach Europe has dominated the headlines, particularly after the publication of a photo of a Syrian toddler lying dead on a beach in Turkey. Some have echoed Graham in saying that the U.S. can accept more refugees, while others have expressed concerns about the possibility of terrorists taking advantage of the system to come over as refugees. The U.S. has taken in about 1,500 refugees from the war in Syria.
"I understand that among [the refugees] can be terrorists, and we have to watch that," Graham said. "But the vast majority are little boys and little girls, and good people who have been kicked out of their homes by the most radical movement since the Nazis." Graham compared the refugee situation to the voyage of the St. Louis, a ship full of Jews fleeing Nazi Germany that was denied entry to Cuba and to the U.S., and that eventually sailed back to Europe.
Asked how many refugees the U.S. should take, Graham said that he would need to talk to the Department of Homeland Security about numbers and about the vetting process. "I don't see how we can lead the free world and turn our back when people are seeking it," Graham said. "We should take the Statue of Liberty and tear it down if this is our response as a nation. Just tear it down, because we don't need it anymore."
Graham told reporters after the event that he would "support an emergency appropriation for refugees." The Senate foreign aid bill for 2016 would cut refugee aid funding by $415 million. Graham said he would "sit down with Sen. Leahy and see if we can find some money to help the international refugee associations and UN particularly who are doing a good job trying to manage this."

"I don't know how many we should take, I don't know how much we should spend, but I know we should take our fair share and we need to spend more to get ahead of this," Graham said.
Speaking to reporters, Graham also commented on reported Russian moves to bolster the Assad regime's military in Syria in response to a question from BuzzFeed News.
"I can tell the administration that's a slap in your face," he said. "When Russia comes in to reinforce [Assad], that means that this war is gonna go on longer. That undercuts our efforts to push [Assad] out, it is a direct slap in the face to President Obama by Putin. This John Kerry initiative to draw Russia and Iran in to get Assad out is clearly not working."