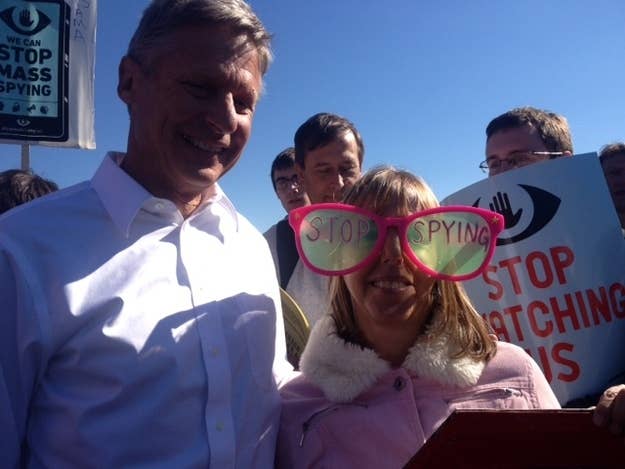 WASHINGTON — Progressives and libertarians came together in Washington on Saturday to protest widespread government surveillance, taking a tentative step towards creating a coalition that isn't as awkward as the pairing might appear.
Organized by the coalition Stop Watching Us, which includes dozens of groups ranging from Internet freedom advocates to Tea Party organizations, the rally attracted hundreds of people to the Capitol Reflecting Pool to protest the electronic surveillance by the National Security Agency revealed by Edward Snowden this year. The crowd included Occupy protesters, Ron Paul libertarians, and even strict constitutionalist Oathkeepers. Yet despite some recent grumbling on the left about having to work with libertarians on the issue, attendees and speakers on both sides said they were happy to unite around a common enemy.
A recent article in Salon by progressive journalist Tom Watson had ruffled feathers by calling on liberals to boycott the really because of its libertarian elements. "I cannot support this coalition or the rally," Watson wrote. "It is fatally compromised by the prominent leadership and participation of the Libertarian Party and other libertarian student groups; their hardcore ideology stands in direct opposition to almost everything I believe in as a social democrat." Watson described the Stop Watching Us coalition as "fatally infected."
Code Pink's Medea Benjamin rejected this premise in an interview with BuzzFeed next to the main speaker's stage .
"Left and right doesn't mean anything anymore," Benjamin said. Democrats and Republicans, she said, "both like the status quo. Libertarians or leftists are people who want to defend the values of this country and not have party politics and I think we've started coming around together on many of these issues."
"I think that strange bedfellows around particular issues is the way that change has happened throughout history," she said.
"Libertarians are absolutely liberal and I mean in the classical sense of civil liberties," said former New Mexico governor and Libertarian Party presidential candidate Gary Johnson, standing beside Benjamin. The leftist-libertarian coalition "should work," Johnson said, adding that it was more natural in his view for libertarians to team up with liberals than with mainstream Republicans.
Onstage, speakers ranged from progressives like former congressman Dennis Kucinich to libertarians like Johnson and Rep. Justin Amash, as well as NSA whistleblower Thomas Drake and Jessalyn Radack of the Government Accountability Project, who visited Snowden in Russia two weeks ago and read a statement attributed to him for the crowd. Snowden was a central figure in absentia at the protest, with most people holding signs or wearing t-shirts emblazoned with his face.
The statement said to be written by Snowden encouraged a bipartisan approach to the issue of surveillance: "We've also learned that this isn't about red or blue or party lines," Snowden's statement read.
The crowd appeared to skew more libertarian than progressive. Johnson was flooded with well-wishers when he came offstage, as was Amash.
Nick Grenier, an Oathkeeper from Virginia, said he was happy to have liberals on board.
"Yeah, I'm happy to have the progressives," Grenier said. "I just wish more progressives were active on this."
Doug Crump, a libertarian in town for the rally from North Carolina, echoed Grenier. "I have no reason not to" welcome progressives, Crump said. "You look at events like this and everyone is getting along under the same banner. We can all agree that government is intruding in our lives."
"I would hope" that progressives feel the same, Crump said.
By all appearances at the Stop Watching Us rally, they did — though a bit warily. John McGloin, an Occupy protester from New York who described himself as a "sometimes" progressive, said he could accept working with libertarians to try and curtail government surveillance as long as they weren't "people who think we should all fend for ourselves — that's where I draw the line."
"We definitely need all the help we can get," McGloin said.