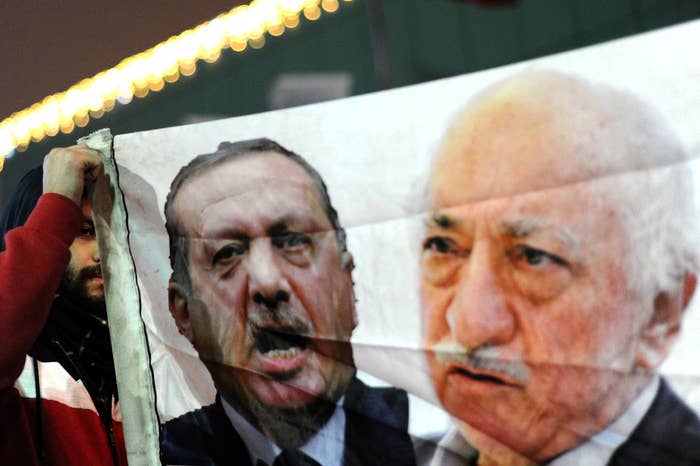 WASHINGTON — Lawyers for the Turkish government are suing Turkish cleric Fethullah Gulen, an archrival of President Recep Tayyip Erdogan, in a Pennsylvania federal court, BuzzFeed News has learned.
Amsterdam and Partners LLP, a London-based firm, was hired by the Erdogan's government in October to investigate the Gulen movement. Gulen, who was once an ally of Erdogan, is now a rival, and has been living on a compound in rural Pennsylvania since 1998. Gulen leads a worldwide religious movement known as hizmet ("service") that runs many schools and organizations around the world, and his followers are thought to wield considerable influence within Turkish state apparatuses.
Amsterdam and Partners, alongside Pennsylvania-based law firm Fox Rothschild LLP, are suing Gulen under the Alien Tort Statute in the U.S. District Court for the Middle District of Pennsylvania. The suit is being brought on behalf of three followers of a rival religious movement who allege that Gulen ordered human rights abuses against them including arbitrary arrest, religion-based persecution, and false imprisonment.
The lawsuit, obtained on Tuesday by BuzzFeed, alleges that while in the Poconos, Gulen ordered his "well-placed religious followers residing in Turkey to launch a targeted campaign of persecution against a different religious group in Turkey that resulted in the arbitrary and prolonged detention of Plaintiffs, along with dozens of fellow members of their religious group."
According to the lawsuit, the allegations stem from a 2009 video Gulen allegedly made in which he compared a rival religious movement to al-Qaeda and accused it of plotting against Turkey. The movement, called the Dogan Movement in the lawsuit, is (like hizmet itself) related to a movement inspired by Sunni theologian Said Nursi. The plaintiffs allege that Gulen ordered his followers in Turkish law enforcement and the judiciary to surveil and arrest members of the group, leading to 40 members being arrested, including the plaintiffs, who were also jailed.
In an interview with BuzzFeed News, Robert Amsterdam, who has represented Russian dissident Mikhail Khodorkovsky and Megaupload founder Kim Dotcom, said that Gulen had "used his power to jail these religious opponents in violation of international law."
The lawyers are announcing the suit in a press conference in Washington on Wednesday.
They're also announcing that they've found "whistleblowers" from within the Gulen movement who are alleging misbehavior at Gulen charter schools in the United States. Amsterdam declined to tell BuzzFeed News who the whistleblowers are or how many of them there are.
Amsterdam said the whistleblowers allege that Turkish teachers at Gulen schools in the U.S. are told to try and recruit students and people in the community, and that they are graded on a point system based on their ability to recruit. Amsterdam provided a chart that he said was one of the only surviving ones showing the point system. BuzzFeed News could not independently verify the chart or the whistleblowers' claims.
"They're using American taxpayer money to fund proselytizing and to also to fund the political donations that have been exposed recently in the press, many of which come from the teachers," Amsterdam said. There has been a pattern of political giving by people connected to Gulen schools and organizations in the U.S.; also, USA Today has reported that the Gulen movement has funded as many as 200 Congressional trips since 2008.
The Gulen movement, when began in the 1960s and 1970s Turkey as a moderate Islamic movement, runs schools, businesses, and media outlets around the world. The movement is affiliated with networks of charter schools, some of which have been accused in the U.S. of abusing H1B visas for the Turkish teachers they bring over, and of using taxpayer money to favor Turkish-owned businesses for contracts. In 2014, the FBI raided a Gulen-connected school network in the Midwest, Concept Schools, as part of an "ongoing white-collar crime matter."
The lawsuit by Erdogan's lawyers comes at a time of escalation in his feud with Gulen. Turkish authorities reportedly detained 18 people in an investigation into Gulen supporters inside the police force this week.
Erdogan and Gulen publicly fell out in 2013 in a spat over the government's announcement that it would shut down some Gulen schools, and a corruption investigation into members of AKP, Erdogan's party, that Erdogan blamed on Gulen and his followers. Gulen was indicted in a Turkish court in October with leading a "terrorist group" behind the 2013 corruption investigation and seeking to overthrow the government.
Erdogan has developed an increasingly authoritarian reputation at home, recently jailing journalists and prosecuting a doctor who shared a meme comparing Erdogan with Gollum, a character from Lord of the Rings. In the last two years, Erdogan has come under increasing pressure internationally over his government's inaction in stopping jihadists from traveling in and out of Syria, and most recently over Turkey's shooting down of a Russian jet that briefly crossed over its airspace.
"When you consider that the authoritarian Erdogan regime in Turkey — whose human rights abuses and violations of press freedom have been reported by all major watchdogs — has now hired Mr. Amsterdam and his firm to specifically target a pro-democracy, philanthropy and dialogue-focused movement, it becomes clear how absurd and outlandish this investigation and Mr. Amsterdam's comments are," Safiye Embel, a spokesperson for the Alliance for Shared Values, a Gulen-linked foundation, told BuzzFeed News in an email.