"Lawyers For Ron Paul" Filing Suit Against The RNC
A group unaffiliated with the Paul campaign has sued the Republican party over its treatment Paul delegates. The Paul campaign is keeping its distance.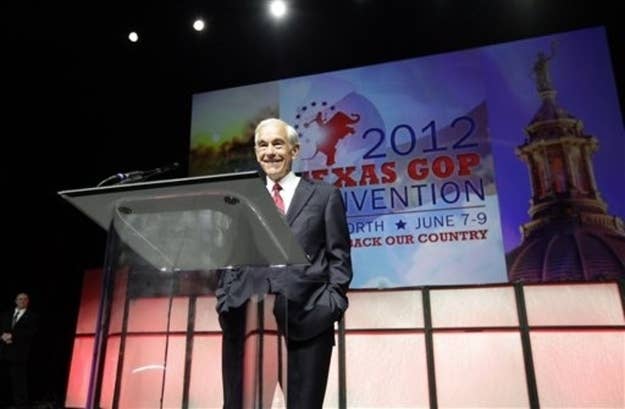 Ron Paul's increasingly unruly followers have found a new way to take on the establishment: litigation.
A group of Ron Paul supporters unafilliated with the campaign, calling themselves Lawyers for Ron Paul, have filed suit against the Republican National Committee in California's 9th Circuit Court.
Their main complaint: delegates bound to Romney — because voters in a given state voted for him — will have to vote for Romney at the Republican National Convention.
"Each person going to Tampa is a free agent entitled to vote however their conscience is," said Edward True, who described himself as a voters-rights activist and whose complaints about the Iowa caucuses gave "momentum" to Lawyers for Ron Paul, of which he is now a part, he said.
The group is "trying to get media accurate on the real delegate count," True said.
Lawyers for Ron Paul only includes two lawyers, according to True, as well as "a couple of paralegals and three or four legal analysts." True estimates that over 100 people have gotten involved in preparing the suit.
"Not all of us are lawyers but every one of us has been spending a lot of our time looking at specific cases," True said. True was an Iowa caucus worker who raised questions about his precinct's returns.
The group is suing over a number of incidents at state conventions this past spring where they say Paul supporters were harrassed or the victims of election fraud; they argue that delegates should be allowed to whomever they want at the national convention.
RNC rules do not legally require bound delegates to vote for the candidate to whom they're bound. However, some state party rules do include that requirement.
The group made a video explaining the lawsuit:
"Without this lawsuit, the pattern of abuse is guaranteed to get much worse, to the extend that the delegates who attend the national convention will be subjecting themselves to the risk of legal peril and Ron Paul will be guaranteed to lose the nomination without our legal intervention," Lawyers for Ron Paul write in an FAQ about the suit.
"We are seeking a declaratory statement and protective order that states unequivocally that 'all delegates from every state are unbound and free to vote their conscience at state and national conventions, and any attempt to coerce, intimidate or threaten delegates under color of law, in violation to Title 42 USC Section 1971 will be harshly legally punished.'"
The message is starkly at odds with that of the Paul campaign, which is encouraging its delegates to lay low at the convention. Jesse Benton, Paul's campaign manager, declined to comment on this story.
The suit was filed yesterday in California's 9th Federal Circuit, at Ronald Reagan Courthouse in Santa Ana.
RNC communications director Sean Spicer said the party wasn't aware of the lawsuit.