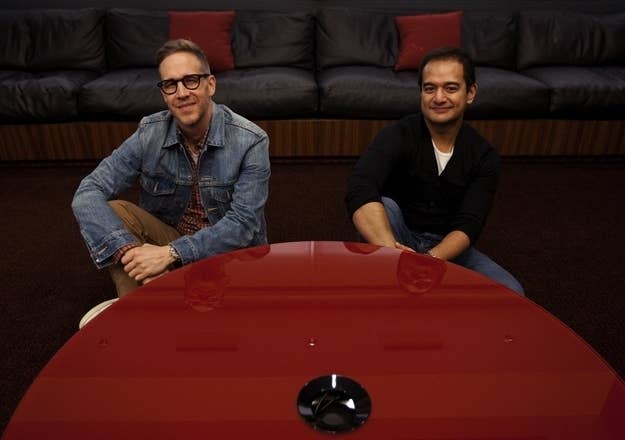 WASHINGTON — Lawyers for the financial backers of the new Martin Scorcese movie The Wolf of Wall Street are threatening to sue a blogger who wrote about the film's connection to the step-son of Malaysia's prime minister.
A lawyer for Red Granite Pictures, a film production company whose CEO is Riza Aziz, the son of the Malaysian prime minister's wife, sent a lengthy legal notice to blogger Clare Rewcastle Brown after she published stories about the connection between Aziz and the movie and questioned where Aziz's money comes from, implying that the film was at least partly financed by money obtained via government corruption.
The letter, which Brown shared with BuzzFeed, goes on for five pages in elaborate language and accuses Brown of writing an "irresponsible, shoddy, malicious screed that was clearly concocted by a writer or writers (and/or editor or editors) intent on pressing a transparent, political agenda":
The letter demands that Brown retract the piece and also get other media outlets who wrote about the piece to retract their versions, or face litigation. The lawyer, Sunny Brenner, also threatens to "communicat[e] with other media organizations and/or other persons and entities regarding the falsehoods in the Article and the irresponsibility of Sarawak Report."
Brown, a sister-in-law of former British Prime Minister Gordon Brown, is an independent journalist and leading critic of the Malaysian government and has been the subject of a denial-of-service attacks as well as being barred from entering Malaysia in July.
In her coverage of the film and Aziz's involvement with it, Brown wrote that Aziz's mother, the wife of prime minister Najib Razak, was promoting the film in Malaysia, a Muslim country, despite its R-rated content heavy on sex and drugs.
"How Riza Aziz emerged as a major bankroller of Hollywood movies is of obvious interest," Brown wrote. "Could it be linked to his family position and circle of associates?"
Aziz and his partner, Joey McFarland, gave an interview to the Hollywood Reporter in which he said "I will say that I have money invested in the company. It shows that I have skin in the game and am committed from a financial point of view. We also have a group of investors, mainly from the Middle East and Asia."
A friend of Aziz's was quoted in the Malaysia Gazette saying that Aziz had "managed to break the monopoly of the Jews in the world of film in Hollywood" and that "it is possible Riza will be the first Malaysian to be nominated for a Golden Globe Award and the prestigious Oscars. Who knows, one day Riza could pave the way for film directors in the country for directing films in Hollywood, as well as encouraging local actors making a name in there."
Brown's report has reverberated in the Malaysian opposition press, with multiple outlets calling for Aziz to clarify the sources of his income.
It has resulted in a report in Free Malaysia Today that a Malaysian internal revenue board is investigating Aziz for his purchase of a multi-million dollar New York apartment.
A lawyer for Red Granite Pictures didn't immediately respond to a request for comment.