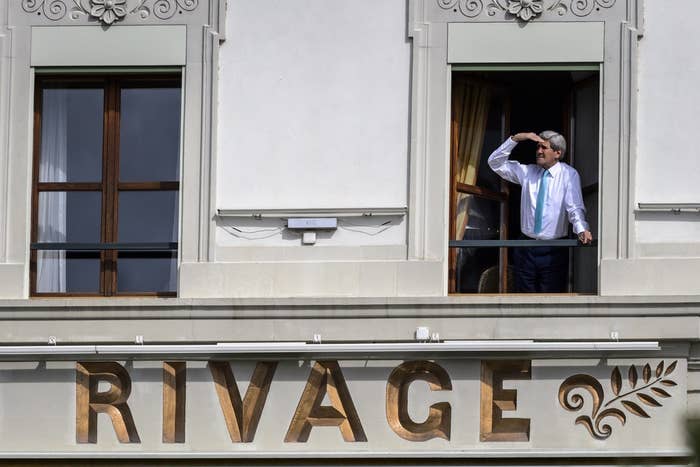 LAUSANNE, Switzerland — Secretary of State John Kerry has never really set people's hearts aflame at home. But here in Switzerland, where he is attempting to negotiate a nuclear deal with Iran, Kerry seems to have found his target audience.
Swiss French-language daily 24 heures dubbed Kerry a "weapon of mass seduction" on the front page of their Tuesday edition: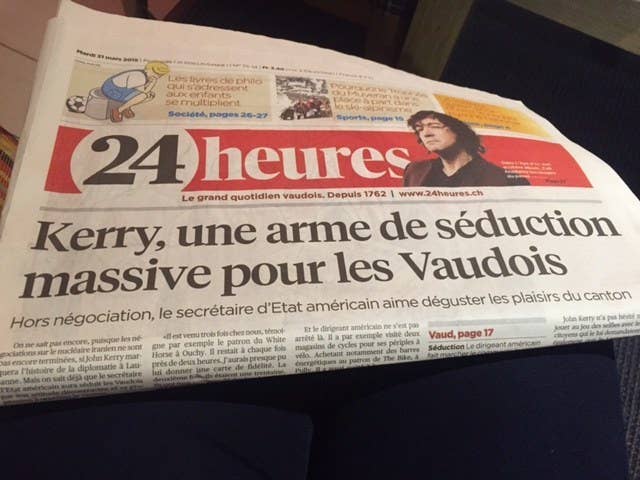 24 heures' story inside the paper discussed Kerry's wandering about in Lausanne. Kerry has visited a bike shop, gone to the White Horse bar, and taken selfies with the locals.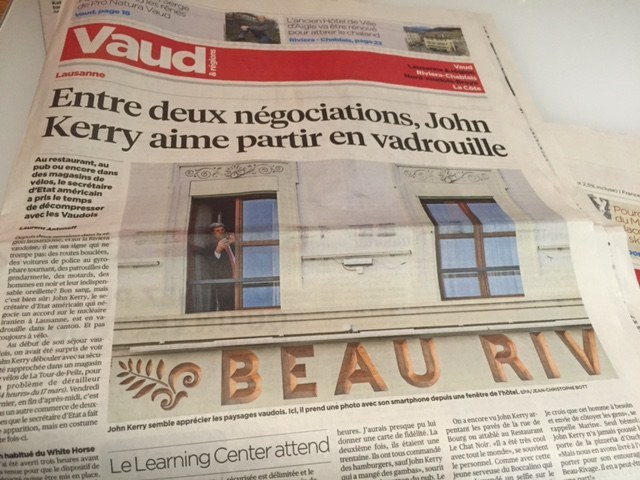 The story quotes the owner of the White Horse tavern, just a couple blocks from the Beau Rivage hotel where the negotiations are taking place, saying that Kerry has visited the pub three times and spent at least two hours there each time.
"I almost could have given him a loyalty card," Unal Aslan, the White Horse owner, is quoted as saying.
Marine, a waitress at the Boccalino pizzeria about a block away from the Beau Rivage, told 24 heures about her experience taking a selfie with Kerry.
"I think this man needs and wants to mingle with people," Marine, the waitress, told 24 heures.
While taking a walk outside on Wednesday, one day after the initial deadline for a political framework agreement in the talks, Kerry was greeted by a crowd of fans across the street yelling "We love you John!"
The group, which appeared to consist mostly of young American men, chased Kerry all the way up to the Musée Olympique next door to the Beau Rivage, where Kerry had gone on a stroll surrounded by his security deal while on a break from the talks. ("We're working hard," Kerry told reporters as he walked by, a line that he and other negotiators have repeated again and again during the process).
"I voted for you in '04!" a member of the crowd yelled.