Kyrgyzstan Pushes U.S. To Reopen Case Against Former President's Son
Akin Gump volunteers its lobbying services.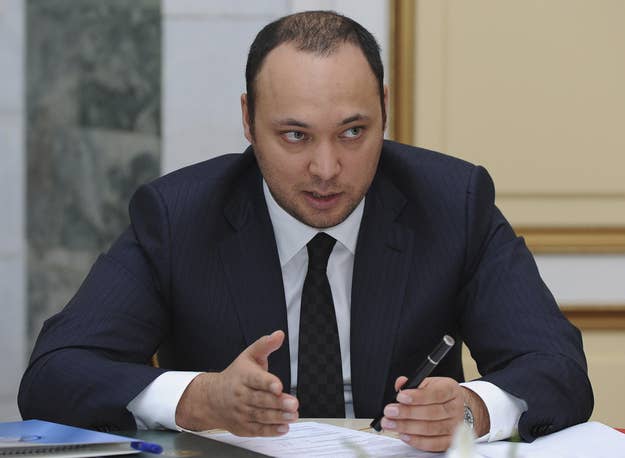 WASHINGTON — The Central Asian nation of Kyrgyzstan has retained a Washington law firm to help it convince U.S. authorities to reopen a closed securities fraud case against Maksim Bakiyev, the son of the former president who was forced out of office in 2010.
The General Prosecutor of the Kyrgyz Republic retained Akin Gump Strauss Hauer and Feld to conduct "outreach to US government officials and US public to develop a country-wide anti-corruption program, enhance abilities to investigate and prosecute matters relating to stolen public assets and to recover stolen public assets located in other countries," according to a July 16 filing with the Department of Justice.
In an unusual move, the law firm is working for free — simply because, a partner at the firm said, they want to help the Central Asian state fight corruption.
Thomas McCarthy, the lead Akin Gump lawyer working on the deal told BuzzFeed that the Kyrgyz had hired the firm to help them revive charges against Bakiyev and to retain $5.3 million of allegedly stolen assets in a New York bank.
Bakiyev, 35, was charged in 2012 with conspiracy to commit securities fraud and obstruction of justice. He was named in court papers as a high-level government official of a Central Asian country, and was implicated in a 2010-2011 insider trading scheme with a businessman in the United Kingdom in which the men allegedly traded on stock exchanges in the U.S. and U.K. The U.S. unsuccessfully attempted to extradite him from the U.K., where he has been living since the 2010 coup.
In May, the case was dropped with no explanation from American authorities. Later this summer, Kyrgyzstan ended a lease with the American military for the Manas Transit Center, which is used for resupplying troops in Afghanistan, in what was seen from some corners as a retaliation for the Bakiyev affair.
McCarthy said he believes the non-renewal of the lease was in retribution for the U.S. ending the case against Bakiyev.
"I think that the cancellation of the lease by the Kyrgyz parliament was triggered because of the dropping of the extradition case," McCarthy said.
The Akin Gump team has been meeting with officials from the Treasury and State Departments as well as the Securities and Exchange Commission and the U.S. Attorney's office in New York's Eastern District, where Bakiyev was charged.
"Behind all this there is a mystery here," McCarthy said. "Why is the US dropping this case?"
A person working on the deal who spoke on the condition of anonymity said that State Department officials had told Akin Gump representatives that the case was dropped because Eugene Gourevitch, the Bakiyev family's financial adviser who was the cooperating witness on the case, had recanted his testimony. Gourevitch is currently in an Italian jail facing charges related to a $2.7 billion carousel scheme.
A U.S. government official declined to comment specifically on the Gourevitch detail.
"Last year, the U.S. Department of Justice filed a criminal case against Maxim Bakiyev based on his alleged serious violations of U.S. laws," the official told BuzzFeed. "The United States justice system requires that a very high burden of proof be met for successful prosecution in criminal cases. When there are developments in the evidence during the course of an investigation and prosecutors are no longer able to meet that very high standard of proof, dismissal is appropriate."
"While I cannot discuss the specifics of this case, I'll generally note that due to these developments in evidence since Mr. Bakiyev's arrest, the prosecutors ultimately determined they were unable to proceed with prosecuting Mr. Bakiyev," the official said.
Bakiyev's alleged scheme involved $45 million in a Latvian account, $5.3 million of which has ended up frozen by the Securities and Exchange Commission in a New York bank. Russian firm Ergoport Experts Ltd. tried to unfreeze the funds last year. The SEC sued the firm, which also attracted attention from federal prosecutors, who were "investigating a conspiracy in which it appears that individuals who exercised control over an account in Ergoport's name agreed to use inside information in order to execute stock trades," Assistant U.S. Attorney Rachel Nash said in October.
"We've sent a letter to the SEC and asked for meetings, and we've explained that this is contrary to the U.S. interest in fighting transnational organized crime," McCarthy said of the charges against Bakiyev being dropped.
A spokesperson for the SEC didn't immediately return a request for comment. Robert Nardoza, a spokesperson for U.S. Attorney Loretta Lynch of New York's Eastern District, declined to comment on the case.
Bakiyev and his father, former president Kurmankek Bakiyev, fled Kyrgyzstan in 2010 after a coup that installed president Roza Otunbayeva. Otunbayeva was later put out of office in a 2011 election and replaced by the current president, Almazbek Atambayev.
According to McCarthy, prosecutor general Aida Salyanova has been the main official dealing with Akin Gump on the case.
Akin Gump is offering its services pro bono.
"In our experience, the legal services described above would cost between $400,000 to $500,000, based on the Firm's customary hourly fees for professional services of between $600 to $750," reads the contract filed under the Foreign Agents Registration Act. "In order to assist the Kyrgyz Republic in its critical efforts to develop and implement a robust national anti-corruption and recovery of stolen public assets program, the Firm agrees to provide the legal services described above on a 'pro bono' basis, which means that we will not charge a fee for attorney or other staff services, or for routine administrative costs related to this representation."
"It's not a usual path to represent a country pro bono," McCarthy conceded. He named the firm's "respect for Roza Otunbayeva" as a main motivating factor in taking the job. When asked what Akin Gump was getting out of the deal, McCarthy said "it motivates me and my team personally as well" and that Akin Gump wants to help Kyrgyzstan "stay the course" when it comes to corruption.
Correction: The identity of the main Kyrgyz official working with Akin Gump was misstated in an earlier version of this story. (7/26/2013)