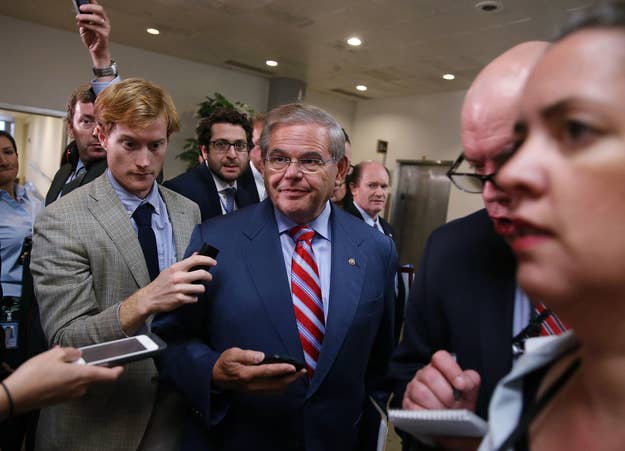 WASHINGTON — Sens. Mark Kirk and Bob Menendez are all but finished with the text of Iran sanctions legislation meant to be an amendment to the defense authorization bill, though procedural issues could mean a vote on the amendment is dead in the water already.
A Senate aide familiar with the situation told BuzzFeed that the two were basically finished drawing up their legislation: "dotting I's and crossing T's, as they say."
"It's basically agreed to and is now just a procedural issue," said another Senate aide, who said most Republicans are on board. But "the Democrats are folding like a deck of cards under White House pressure."
The fate of the amendment rests in the hands of Majority Leader Harry Reid, who will decide whether a vote on the National Defense Authorization Act goes forward without amendments or whether it will include amendments, including Kirk-Menendez.
Leaders of the Armed Services Committees plan to push the NDAA bill through quickly without amendments, and Reid has decided to put nominations on the Senate floor this week instead of having the NDAA be debated.
Senate Minority Leader Mitch McConnell criticized the move as a "rather transparent attempt to prevent a vote on an enhanced Iran sanctions."
Reid and other influential members of Congress have been under enormous pressure from the administration to prevent new Iran sanctions from being passed while negotiations with Iran are ongoing, culminating in a full-throated appeal from Secretary of State John Kerry before the House Foreign Affairs Committee on Tuesday. Kerry defended the interim deal reached with Iran last month and urged Congress not to go forward with new sanctions: "I'm not saying never," he said. "I'm just saying not right now."
The push for new sanctions took another blow Tuesday when Sen. Tim Johnson, chairman of the Senate Banking Committee, said his committee would hold off on a new sanctions bill that had been proposed.