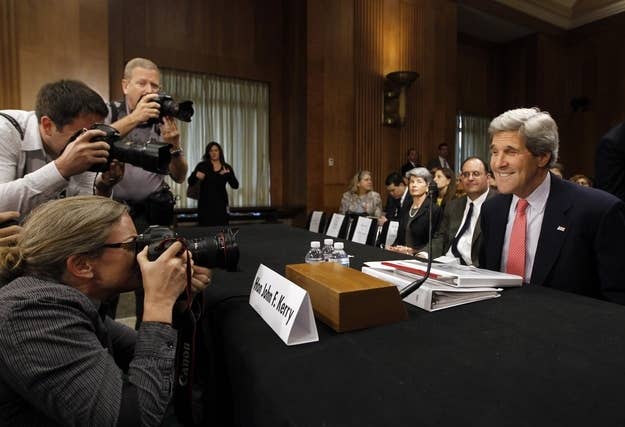 WASHINGTON — Secretary of State John Kerry down played the importance of a planned 14 percent cut in the State Department spending in Central and South America, insisting the reductions are little more than "readjustments."
"There are some pluses and minuses, you're absolutely correct, and it's really readjustments I think more than anything to some success stories," Kerry said in response to a question from Virginia Senator Tim Kaine while testifying at a Senate Foreign Relations Committee hearing.
Kerry said that "it is not a diminution of effort and focus on the region, but a reflection of how do you adjust and do some things better."
The proposal sent to Congress would cut funding for Colombia by $61 million compared with 2012, and funding for troubled Mexico would decrease by $124 million. Meanwhile, funds for the Central America Regional Security Initiative (CARSI) will rise by $26 million to $161.5 million.
A State Department official said in a background briefing with reporters last week that "the programs in Mexico and Colombia are on sort of a downward glide path, because – for two reasons. One, the assistance to those countries in the past have been very, very high, and they were driven largely by big military equipment, which are very sort of expensive. Now we're sort of normalizing those programs to be much more in a capacity training types of programs."
"So you're going to see – there are decreases in our budget compared to 2012 with Mexico and Colombia, but we're also – but we're increasing our accounted drug efforts in the Caribbean, where things seem to be moving in terms of drug trafficking and crime. So programs like our regional Central America security initiative go up," the official said.
Senator Bob Menendez, former chair of the Subcommittee on the Western Hemisphere, questioned Kerry about the proposed cuts.
"This decrease in the Western Hemisphere levels, this has now been a historic reality," Menendez said. "I understand that we have in the case of Mexico and even in Colombia a different dynamic, but we have underfunded a whole host of other initiatives in the western hemisphere in our own interest."
"Many of the issues we debate in Congress stem from issues in the hemisphere, citing undocumented immigration and the drug war as well as environmental issues. He described Venezuela, which recently went through a controversial presidential election, as a "pressing issue" and called for an audit.
"I said we had to make tough choices about tradeoffs this budget, and obviously ours is the first cut, you get the second and third and final cut frankly," Kerry said.
The Western Hemisphere "has too often been viewed as a second thought — it shouldn't be, it's our backyard," Kerry said.
"I would leave the hopeful door open that maybe something could turn in Venezuela, although obviously right now it's not in a great place," Kerry said, seconding Menendez on the need for an audit of the recent election.