Karen Santorum Steps Into The Spotlight
The demure political wife did her husband a huge favor on Piers Morgan's show tonight.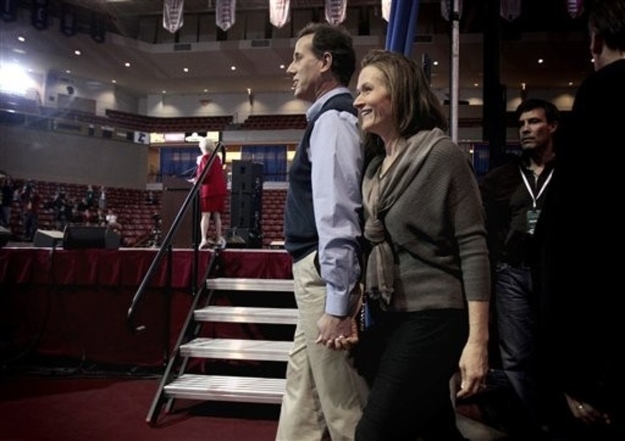 CHARLESTON, S.C. -- Karen Santorum is usually seen and not heard, but she appeared with her husband on Piers Morgan's show tonight and did more than anything his campaign has put out to bolster his image as a conservative, steady family man. It was the latest move in the candidates' Battle of the Wives.
Morgan didn't ask Karen about her alleged past life as the girlfriend of a doctor who performed abortions, instead sticking with softballs about Karen and Rick's relationship and their children.
Not to be outdone by Mitt and Ann, she and Rick told their meet-cute story: he recruited her as a summer associate at the law firm where he was a junior associate. And in a gesture of goodwill -- or holier-than-thou piousness, depending on how you look at it -- towards Newt Gingrich, Karen told Piers Morgan that she thinks people should lay off the speaker about his ex-wives.
"She's very strong and very feisty," Santorum said. "And that's something that was very attractive to me."
Karen described her husband as "brilliant -- a man of conviction and deep faith, and a man who has the courage to lead."
But her biggest favor to her husband was in just being there with four of their seven kids, the staging amounting to the kind of wholesome picture that's not available to Gingrich, for example, and reinforcing the image of Santorum that the campaign is trying to project to conservative voters here in the south: the steady Eddy, dependable, folksy family guy.