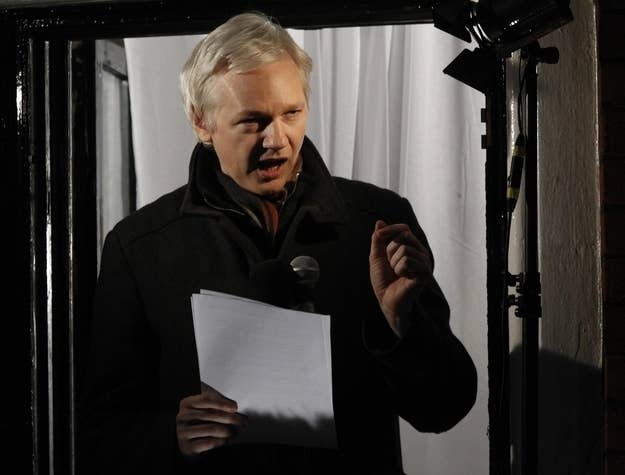 WASHINGTON — Wikileaks founder Julian Assange said on Wednesday that he is helping the source of recent leaks about American domestic surveillance win asylum in Iceland.
Wikileaks is "in touch with [Edward] Snowden's legal team," Assange said, and they are "in the process of brokering his asylum in Iceland."
Asked whether Snowden would be able to successfully travel from Hong Kong, where he has been since the leaks to the Guardian, to Iceland, Assange said "All those issues are being looked at by the people involved."
Assange, who was granted asylum at the Ecuadorian Embassy in London a year ago while evading sexual assault charges in Sweden and a Department of Justice investigation into WikiLeaks for the material it received from Bradley Manning, was on a conference call with reporters and with Pentagon Papers whistleblower Daniel Ellsberg and National Security Agency whistleblower Thomas Drake.
Assange wouldn't directly answer whether he's had personal contact with Snowden, "as a matter of policy." He also wouldn't talk about whether or not he had had contact with Snowden before the leaked material came out.
"It is clear to me that Mr. Snowden is being very aggressively pursued by the U.S. security sector," Assange, who sounded tired and was at times hard to understand. It's been reported that he is or has been in poor health while at the embassy.
He predicted that Glenn Greenwald, the author of the Guardian's Snowden stories, could be "in the same position that I'm in in a year's time."
Assange also predicted that the Guardian would come out with more significant material.
"I've read Mr. Greenwald's comments, like all of you, and it is clear from those that significant publication will occur in the coming weeks," Assange said.
Assange, whose asylum at the Ecuadorian Embassy has resulted in Ecuador's ambassador to the U.K. being called back to Quito because of her failure to negotiate his exit, wouldn't say when he plans to leave the embassy.
Even if the investigation in Sweden is dropped, Assange said, he wouldn't leave immediately.
"It makes no difference because the reason for asking asylum concerns the U.S. investigation," Assange said. Assange took offense at this reporter's question about the charges against him in Sweden, saying that it is "extremely poor journalism" to describe him as having been charged.
As the BBC reported, though Assange isn't technically facing charges, the term means something different in Sweden, and "Despite the lack of formal charges, in its judgement in May, the UK Supreme Court found that the Swedish public prosecutor was a judicial authority capable of issuing the warrant, in the same way as a judge or a court would be."
Asked why he sounded so tired, Assange said that working on the Snowden case was "exciting, demanding work" and had "taken up quite a bit of time this week."
He acknowledged that the time at the embassy had impacted his ability to get leaks, package and publish them.
"The UK government has admitted that it has spent six million pounds on the surveillance of me in this embassy," Assange said.
The surveillance "is an interference with the operation of the WikiLeaks media organization," he said. "However that is contrasted by my complete inability to do anything else but work."
"There's nothing else to do but work," he said, a bit sadly.
Assange saved most of his opprobrium for the media, the state of which he described as "appalling."
"I'm not worried at all" about the situation in the Ecuadorian embassy, he said. "I'm worried about the state of journalism."
Update: Greenwald says he doesn't think WikiLeaks has a direct involvement in the Snowden affair.
"I'm not aware that WikiLeaks has any substantive involvement at all with Snowden, though I know they've previously offered to help," he told BuzzFeed in an email. Asked if Snowden was inclined to work with WikiLeaks on the asylum issue, he said "I know he admires WikiLeaks' past work, but I don't know of any involvement he's ever had with them, on asylum or anything else." (3:43 p.m.)