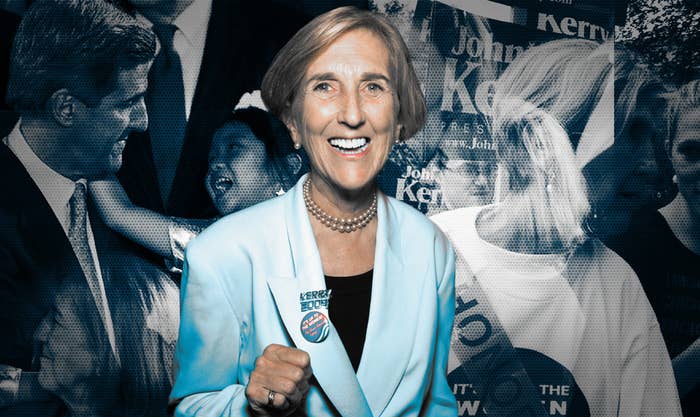 Senator John Kerry will have nearly 50,000 employees if he is confirmed as Secretary of State as expected next month, and one of them will bear him a particular resemblance.
That's his older sister, Peggy, a longtime federal employee who occupies a modest but visible post as a liaison to non-governmental organizations in the United States Mission to the United Nations in New York. Political appointees to the mission have long done a double-take to find that their link to, for example, the Rainforest Alliance, has the stature, patrician tones, and distinctive facial features that also belong to the longtime Senator from Massachusetts.
Peggy Kerry, who is also deeply involved in hyperlocal Greenwich Village politics, has long put those political appointees slightly ill-at-ease: Democrats have wondered whether she's a spy for the Chairman of the Committee Foreign Relations; aides to John Bolton suspected she was a spy for her brother's presidential campaign.
But Kerry is, by all accounts, in fact a devoted civil servant and local Democratic activist with none of her brother's grandiosity. Her life has been a kind of counterpoint to his: she's a deeply engaged political fixture in New York and government worker, who lacks her younger brother's ambitions for stardom. (She declined to be interviewed for this article.)
"I think of her from a very local perspective," said the newly elected New York State Senator who represents Greenwich Village, Brad Hoylman. "Sometimes I forget that she's John Kerry's sister. She definitely has her own identity and her own reputation."
The elder Kerry seems to like it that way. She appeared in the press a few times during John's presidential run in 2004, but was mostly silent then and has been totally silent now. She's an unassuming woman leading a relatively ordinary life in Greenwich Village. She served as the Democratic state committeewoman for seven years before going to the U.N., and lives with her daughter Iris and her husband, an administrator at the City University of New York's medical school, on Barrow Street, a tony area of the Village.
The Kerrys' father was a Foreign Service officer and Army veteran; Peggy, whose name is short for Margerie, was born in 1941, and John was born in Aurora, Colorado two years later. They have two other siblings, and they all bounced around between diplomatic posts and elite prep schools throughout their childhood. While John entered the rarefied world of Yale and joined Skull and Bones, Peggy went to Smith College in Massachusetts, an all-women's school and the alma mater of feminist thinkers like Gloria Steinem and Betty Friedan.
Peggy and John were interested in politics from the start. In 2004 she told The Villager, a local paper in Manhattan, that "We actually got involved in politics when I was a fifth grader and John a third grader. We sold Stevenson buttons." When John returned from Vietnam and was stationed at the Brooklyn Naval Yard, Peggy, who had landed in Greenwich Village in 1967, introduced him to antiwar activist Adam Walinsky — perhaps indirectly launching John's career in politics.
"When John came back from Vietnam, he was stationed at Brooklyn Naval Base, and we needed to have somebody to fly Adam Walinsky around the state for several speeches," Peggy told the New York Observer in 2004. "So I called my brother up and asked if he would take the day off, and he did, and he flew Adam around."
The rest of John Kerry's story as an antiwar activist and eventual politician is well-known. His sister, on the other hand, went on to lead a quieter life. She got involved in local New York City politics, a world where she's still a familiar figure, if somewhat low-profile.
"She was always gracious and we got along well together," said Sean Sweeney, a longtime downtown neighborhood activist who runs the Soho Alliance. Sweeney met Peggy about 20 years ago, he said, when he was dating city councilwoman Kathryn Freed. "Kathryn and I were friendly and she was friendly with Peggy," he said.
Sweeney was invited up to the Kerry family getaway in Massachusetts in the summer of 1995, but declined.
"I'm not one of those people who flee the city on weekends," he said. "I go to Coney Island. She said her brother John was there, I said, who's John? She said he's the senator from Massachusetts. I thought, big deal."
Sweeney said he felt like a "schmuck because he turned out to be John Kerry!"
Peggy's world is hyper-local at the same time that it's international — in her job as the non-governmental organization liaision to the U.S. mission to the U.N., she's firmly in her brother's foreign policy wheelhouse.
"Her love I think is international," said Eleanor Smeal, publisher of Ms. Magazine and head of the Feminist Majority Foundation, who has known Peggy for "years, a long time, I couldn't tell you how long."
Peggy especially focuses on women's issues internationally, Smeal said.
"Dealing with the UN, we've run a campaign on Afghan women, and she's been very keen on helping Afghan women," Smeal said, adding that Peggy came and spoke at a conference for Girls Learn International this spring and has made herself an indispensable figure in the world of international feminist groups: "Most women's rights leaders that have any kind of activity internationally would know her."
"She's always available," Smeal said. "She attends many many events that deal with women's rights and advancement."
Smeal described Peggy as "quiet, but I always thought she's warm and knowledgeable."
"She really is wonderful about contacting NGO's and holding meetings and briefing type sessions at the mission where NGOs are invited to discuss issues of concern to the administration," said Patricia Scharlin, who represents the World Association of Girl Guides and Girl Scouts at the U.N.
Bani Dugal, who represents the Banai International Community, described Peggy as "She's extremely committed and on top of things, very good at making decisions."
She said Peggy plays down her connection to the halls of power: "she doesn't hide the fact that she's his sister but she doesn't play it up, either."
When Peggy has chosen not to be quiet, she's been criticized: in 2004, she gave a speech to pro-choice activists in Boston that enraged anti-abortion groups, who questioned whether she had "violated any internal State Department guidelines."
A State Department spokesman suggested after that incident that she would be taken (lightly) to task, saying, "We will probably remind her as we would any employee [that] if you're going to speak on a matter related to your professional duties, you run it by your supervisor."
The presence of the elder sister of a towering figure in American foreign policy has been, people familiar with the situation have said on the condition of anonymity, challenging for staffers of both political parties, but they were particularly frosty during the Bush years, when the Ambassador was conservative icon John Bolton and some Republicans saw her as a hostile, openly liberal force working to undermine their efforts to confront what they saw as a bloated and biased organization.
Richard Grenell, the combative press officer who was forced out of the Romney campaign, declined to comment in detail on his relationship with Ms. Kerry.
"I was her boss for 8 years. I know too much," he said.
Now, Peggy isn't expected to be in the spotlight at all for this particular moment in the career of her brother; no campaigning is needed, and he's expected to sail through the confirmation process.
But in 2004, she was his number one fan, as publicly as she has ever done anything.
"The press kept calling John aloof, but they just didn't understand him," she told The Villager back then. "They were terrible. No one who really knows him would consider him aloof."