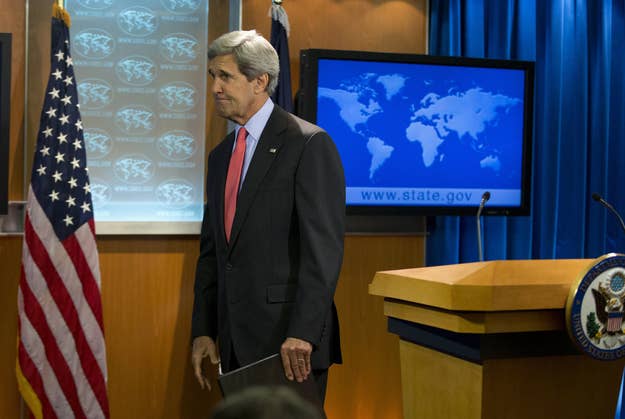 WASHINGTON — Secretary of State John Kerry suggested Monday that the United States is coming close to taking further action in Syria, telling reporters in a strongly worded statement that the White House will be making an "informed decision" about and dismissing any claims that the Syrian government did not commit a chemical weapons attack last week in the coming days.
"What we saw in Syria last week should shock the conscience of the world," Kerry said, calling last week's chemical weapons attack against civilians a "moral obscenity."
"By any standard it is inexcusable and despite excuses and equivocations that some have manufactured, it is undeniable," Kerry said in an apparent message to the Russians, who have contended that the West has not produced sufficient evidence that the Assad regime used chemical weapons.
"Anyone who could claim that an attack of this scale could be fabricated needs to check their conscience and their own moral compass," Kerry said. He announced that the U.S. government has "additional information" about the attack and that it will present it in the coming days.
"Our understanding of what has already happened in Syria is grounded in facts, informed by conscience, and guided by common sense," Kerry said.
Kerry implied that the administration will announce something soon on Syria, saying that the White House had been talking to Congress.
"The administration is actively consulting with members of Congress and we will continue to have these conversations in the days ahead," Kerry said.
President Obama will be "making an informed decision about how to respond to this indiscriminate use of chemical weapons," Kerry said.
"Make no mistake: President Obama believes there must be accountability for those who use the worlds most heinous weapons against the world's most vulnerable people," Kerry said.
Kerry also condemned the Syrian government for attempting to keep out United Nations investigators, saying that it had "only further weakened the regime's credibility."