John Kerry: 15 To 25 Percent Of Syrian Opposition Are "Bad Guys"
More than John McCain said several months ago.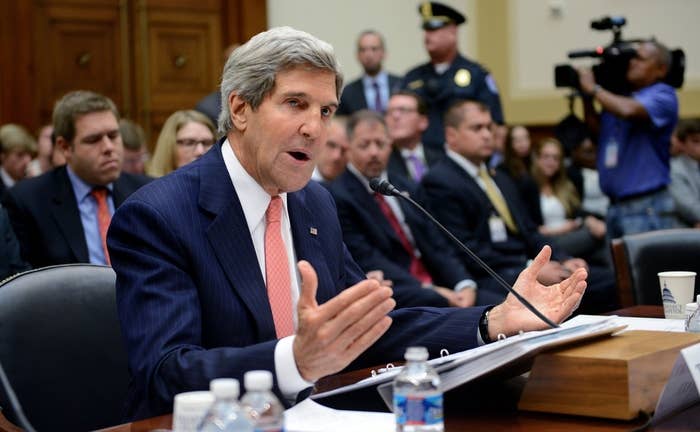 WASHINGTON — Secretary of State John Kerry estimated the number of "bad guys" in the Syrian opposition as between 15 and 25 percent on Wednesday.
Under questioning by Rep. Mike McCaul during a House Foreign Affairs Committee hearing, Kerry said that McCaul's estimate for how many of the Syrian opposition were extremists was too high.
"I just don't agree that the majority are al-Qaeda or bad guys, that's just not true," Kerry said. He estimated the total number of members of the opposition at between 70,000 and 100,000.
Out of those, "15 to 25 percent might be in one group or another that we would consider bad guys," Kerry said.
The number is higher than Senator John McCain's estimate from earlier this year. McCain said in April on CNN that out of 100,000 fighters in Syria, roughly 6,000 were members of the al-Nusra Front.
Other than this, Kerry and the other officials charged with carrying the Obama administration's message on Syria to Congress have mostly emphasized the moderate opposition and argued that the jihadist elements are only a small proportion of the overall resistance to Assad.
"The opposition has increasingly been defined more by its moderation, more by its breadth of membership," Kerry told the Senate Foreign Relations Committee yesterday.