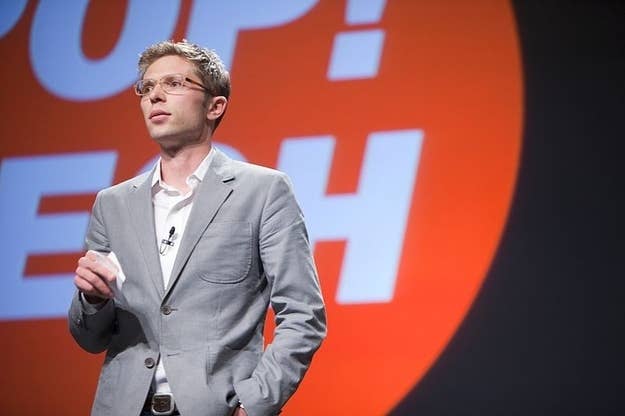 New Yorker writer Jonah Lehrer's resignation today after revelations that he fabricated quotes in his book has prompted comparisons to the famous fabulists of the previous decade — Stephen Glass and Jayson Blair.
The reaction has been nearly as intense. But some in the media industry say while Lehrer's crimes didn't quite stack up, he was operating in a media environment where no bad deed goes unnoticed.
"Jonah Lehrer and Stephen Glass share a few eerie similarities, although it must be pointed out that Glass's transgressions are, for now, at least, far worse," Adam Penenberg, the journalist who first exposed Glass's fabrications at The New Republic, told BuzzFeed in an email, noting that Glass was caught inventing aspects of more than 40 stories, and made some up whole cloth.
Glass was made an instant pariah once his lies were exposed, and the same path seems laid out for Lehrer, who is now unemployed and whose publisher has halted future editions of his book. But in an earlier era, Lehrer could have easily gotten away with what he did — and his brand of make-believe wasn't nearly as pernicious or far-ranging as that of Glass, Blair, or many of the other journalists who have been caught making up whole stories or sources. Fabulists find it harder to hide in the online fishbowl. An earlier era had different values: Legends like A.J. Liebling and H.L. Mencken gleefully admitted to inventing characters, and Mencken even invented whole stories. Now, the transparency and ubiquity of search make borrowed language hard to hide, something that became clear earlier this year when an obscure radio host became briefly notorious for using language from a book by Massachusetts Senate candidate Elizabeth Warren.
Like Glass, Lehrer at first tried to talk his way out and even lie — but he gave up much earlier in the process than Glass did.
"Another similarity is the cluster of lies both Glass and Lehrer spooned out in an attempt to stonewall reporters seeking the truth," Penenberg said. "At least Lehrer didn't fabricate business cards, voicemails, and an internet site like Glass did."
Tablet revealed Monday that Lehrer fabricated several quotes in his book Imagine: How Creativity Works and attributed them to Bob Dylan. Lehrer had previously been criticized for re-using material from the book in his New Yorker blog posts without specifying that it had already been published. Lehrer resigned from the New Yorker shortly after the Tablet story went online; editor-in-chief David Remnick released a statement deploring the "terrifically sad situation."
Past scandals have dragged on much longer, as higher-ups turned the other cheek; red flags in the Jayson Blair affair appeared while he was still a student journalist, Glass' integrity was called into question early in his tenure at The New Republic, and plagiarism by The Independent's Johann Hari was publicized as early as 2003 (the end didn't come until 2011).
Those who lost their careers to fabulism have either hidden completely or reappeared as something wholly different. Blair, now a life coach in Virginia, didn't respond to requests for comment; nor did Glass, in his latest incarnation as a paralegal in Los Angeles. A number of other noted plagiarists and fabulists also didn't respond, including Mike Daisey, Rob Sgobbo, Hari, and Mike Barnicle.
Blair did tell Salon's David Daley that Lehrer's story has "striking similarities" to his own. "I certainly understand that pressure," Blair said. " Once you're young and successful, I think, in this profession you're only as good as your last story — and you want every story to be better."
Janet Cooke, who was stripped of a Pulitzer after it was shown that she invented an entire feature in 1980 about an eight-year-old heroin addict who didn't exist, would not comment; "Good idea but she doesn't speak," her friend Mike Sager, one of the only reporters to interview Cooke since the scandal, told BuzzFeed in an email.
Patricia Smith, who left the Boston Globe in 1998 amid allegations that she made up parts of her columns, declined to comment. '
"No thanks, good luck with your story," Smith said, adding that she was in the midst of a long drive to a fellowship residency (she is a poet). "Thanks for thinking of me — I think."
Lehrer's crimes seem minor compared to the transgressions of some of the writers above. That may be because he was caught in an early, low-stakes lie — a kind of gateway, perhaps, to larger ones.
"What did the New Yorker do in this case? I don't know," said one New York newspaper editor who didn't want to be named, whose paper has experienced a fabrication episode. "But if he actually 'resigned,' I'd have to wonder why the New Yorker didn't find out before this that he was a plagiarist and axed him."
And it's partly because the relative ease with which people can fact-check and investigate a writer's work now makes it exceedingly difficult for instances of fabrication and plagiarism to slip under the radar.
"Plagiarism has been a nearly perfect crime for centuries, now imperiled by detective work made possible by digital means," Commentary editor John Podhoretz said on Twitter.
Lehrer's actions were less to spin fantastic yarns, à la Glass, and more to force his facts into a foregone conclusion, said Penenberg.
"If you'll allow me a pretty far out comparison, Lehrer's writing seems to me more akin to Margaret Mitchell," Penenberg said. "It's been said that she wrote "Gone With the Wind" backwards, starting with the final chapter — because that way she always knew where the story was going."
Correction: An earlier version of this story attributed Podhoretz's tweet to Daily News editor Josh Greenman. It has been updated with the correct attribution.