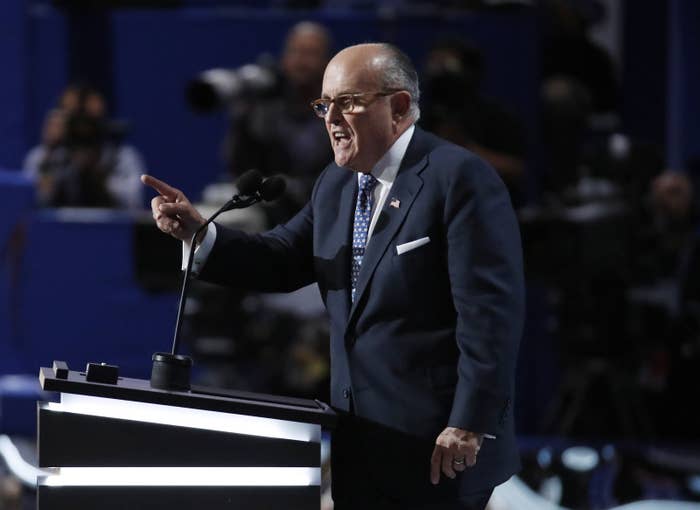 WASHINGTON — Israel is pushing back against former New York City Mayor Rudy Giuliani after he claimed that Israeli leaders prefer Donald Trump to Hillary Clinton.
"We hold Mayor Giuliani in the highest regard but the government of Israel does not speak on behalf of any American politician and no American politician speaks on behalf of the Israeli government," Shimon Mercer-Wood, the spokesperson and consul for media affairs at the Consulate General of Israel in New York, told BuzzFeed News.
"We have profound respect for the American democratic process and the will of the American people and we would say or do nothing to put that respect in question," Mercer-Wood said.
Giuliani told the Washington Post in an interview that Israeli leaders do not want Clinton to win.
"I've talked to the members of the Israeli government at the highest levels. I know who they want elected here. It's not Hillary Clinton. It's not Obama 3," he told the Post.
An Israeli government source told BuzzFeed News, regarding the Giuliani interview, that Israeli officials "resent any attempt to make [Israel] a partisan issue" or "to claim a relationship with either of the two parties."
Though Israeli Prime Minister Benjamin Netanyahu was widely seen to prefer Republican nominee Mitt Romney in the 2012 election — and has had an antagonistic relationship with President Obama — he has not shown the same affinity for Trump and has publicly criticized him for his proposal to ban Muslims. In the interview with the Post, a spokesperson for Netanyahu denied that he expressed any preference for a candidate in the US presidential election.
Trump ended up postponing a planned trip to Israel last year after Netanyahu chastised him for the proposal to ban Muslims, though Netanyahu's office has said he would still meet with Trump or any other candidate.
In a press conference on Wednesday, Trump did not rule out the possibility of going to Israel before the election, but also did not commit to it. "It's a tradition, but I'm not traditional," he said.