Israeli Ambassador Says Kerry Will Do A Fine Job Getting Peace Negotiations Going
"We really do appreciate his efforts and we admire his stamina," Oren says.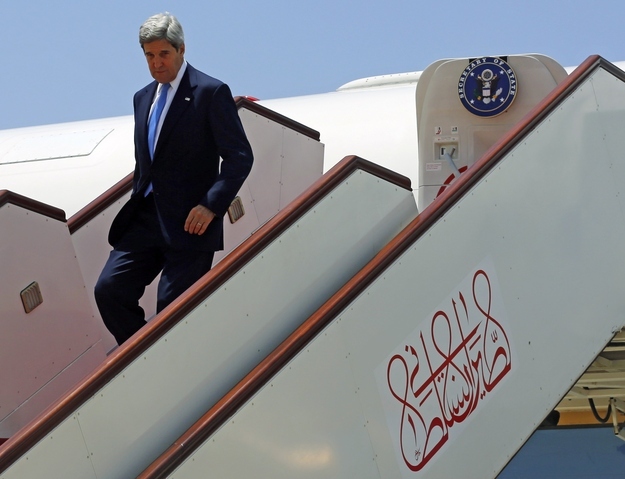 WASHINGTON — The chorus of voices greeting Secretary of State John Kerry with a mixture of boredom and pessimism on his latest trip to the Middle East does not include Israel's Ambassador in Washington, Michael Oren.
In an interview with BuzzFeed on Tuesday before flying overseas to meet up with Kerry, Oren said he had high hopes for this visit in which the U.S. is hoping to inject new life into the decrepit Israeli-Palestinian peace process.
"You can take the same arguments that people use — why there shouldn't be any reason for optimism and why the horizons look very dark — you can take those same arguments and turn it around," Oren said. "Turning that around, you say okay, because the situation is so uncertain so flammable and so fluid, we have to work on the one thing that we actually can impact. Here's something we can impact and we can actually bring about a result which is positive for everybody involved and get a little bit more control on the situation and a little more security."
Oren declined to comment on whether or not recent actions, like Israel's decision to legalize new settlements in the West Bank, could block progress on peace talks this time around like they have in the past. Kerry reportedly called Oren last week to protest the move.
On Tuesday, Oren implied that all parties involved were edging towards finally tipping over into full-fledged talks.
"The focus will be how we actually get into negotiations," Oren said. This is now the fifth or sixth round of talks with the secretary. And we are now talking about how to get into discussions with the Palestinians."
Oren rebutted coverage that has been less than flattering to Kerry's ability to bring the unwieldy moving parts of the Middle East peace process to heel; Israeli paper Haaretz's Barak Ravid, for example, described Kerry's approach to the peace process as being like "a naive and ham-handed diplomat who has been acting like a bull in the china shop of the Israeli-Palestinian conflict."
"We really do appreciate his efforts and we admire his stamina," Oren said. "We are committed to working with him."
"He's a great listener. And he processes information quickly and very intelligently. I think he has a good understanding of the issues," Oren said of the Secretary of State, who he has known for years. "There's almost nobody he hasn't known for a long time [in Israel]. These are longstanding relationships."
Kerry visited the Gulf state of Oman on Monday, where he had talks with the sultan. He then went on to Jordan, and is continuing on to Israel. Much of the trip is focused on Syria though a large focus will be on bringing Israelis and Palestinians back to the negotiating table, which hasn't happened in nearly four years.