Israeli Ambassador Denies Rift With Obama As Iran Talks Continue
Ron Dermer attempts to smooth over a moment of unusual U.S.-Israeli tension as world powers negotiate toward a deal in Geneva.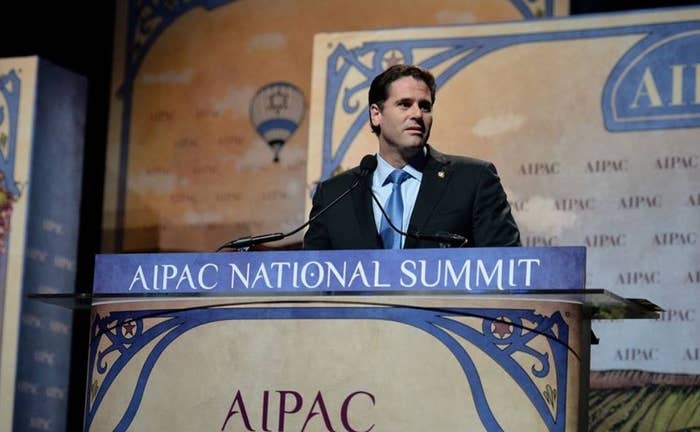 GENEVA — Israel's Ambassador to the United States Ron Dermer assured members of Congress on Wednesday that there is no crisis in Israeli-U.S. relations over Iran and praised President Obama as nuclear talks continue in Geneva, according to a person who was in the meeting.
In a meeting with 30 members of Congress, including conservative members like Michele Bachmann and Trent Franks (who recently introduced a bill in the House that would authorize a military strike on Iran), Dermer "reiterated Prime Minister Netanyahu's comments on sanctions and clearly didn't contradict him," the attendee said. "Democrats and Republicans in attendance agreed. But what I think is interesting, especially given that there were so many right wing Republicans in the room, was that he repeatedly emphasized that the U.S.-Israel relationship is not in a crisis."
Dermer assured the members that "the relationship is not in crisis," the attendee said.
Israel has not been shy about expressing its displeasure with a potential interim nuclear deal on Iran, with Netanyahu calling it the "deal of the century" for the Iranians. Dermer, as well as finance minister Naftali Bennett, has been part of an Israeli effort to lobby lawmakers on the Hill against slowing down on sanctions on Iran. The White House has been applying pressure on members to try to get them to wait to vote on new sanctions until after negotiations with Iran are complete.
According to the person at the meeting, Dermer "said that the importance of the U.S.-Israel relationship may be even more critical the day after a potential deal on Iran" and "spoke at length about how when it comes to military, intelligence, and defense cooperation, the U.S.-Israel relationship is as strong as ever."
Dermer "said that while some leaders where very strongly pro-Israel in public, some were less so in private. However, with Obama, Dermer said that, if anything, Obama was stronger in private than he was in public. He was 100% supportive."
Asked about the tension with Israel, a senior U.S. official on Wednesday told reporters in Geneva that "we have very close consultations with Israel as we do with allies and partners throughout the world."
"We very much understand that Prime Minister Netanyahu has to call things as he sees them," the official said. "I think what's most important is that the United States and Israel share a common objective" in preventing Iran from attaining a nuclear bomb.
Meanwhile, nuclear talks between six world powers and Iran began on a difficult note on Thursday as Iran's Deputy Foreign Minister Abbas Araghchi told Iranian media that "as long as trust is not restored, we cannot continue constructive negotiations" and that the right to enrich uranium was a necessary part of any deal.
Foreign Minister Javad Zarif had previously said that Iran would not insist that its right to enrich be publicly recognized.
In an interview with France 2, French Foreign Minister Laurent Fabius — who was instrumental in delaying the deal that almost happened in the last round of talks earlier this month — said that the rest of the P5+1 shared France's position on the deal and blamed the Iranians for not accepting the other countries' terms.
"For now the Iranians have not been able to accept the position of the six, I hope that they will accept it," Fabius said.
Rumors are circling in Geneva that the negotiating countries' foreign ministers and Secretary of State John Kerry could make the decision on whether to fly in as early as this afternoon. Journalists staying at the Intercontinental Hotel in Geneva, where the negotiations are taking place, have been told they have to check out on Friday, in what is being interpreted as a sign that the foreign ministers may be planning to join the talks.