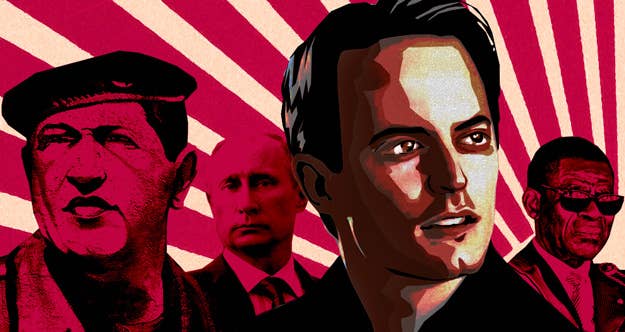 OSLO, Norway — The real business of the Oslo Freedom Forum, a conference held earlier this month that hosts human rights activists from around the world — Eritrea, Saudi Arabia, Belarus, Syria — doesn't take place onstage where activists give speeches and sit on panels. Dissidents, the journalists who want to cover them, and the donors who might be induced to support them do their schmoozing at the Grand Hotel or upstairs at the Christiania Theater, two downtown Oslo landmarks that are taken over for three days in May.
On the afternoon of May 14, Thor Halvorssen, the 37-year-old Venezuelan-Norwegian who runs the forum, was upstairs in the breakfast room of the Christiana, chatting with the exiled Chinese dissident Chen Guangcheng and his wife Yuan Weijing. He could be overheard giving Chen a few items of advice.
Of grave importance, he leaned in and told Chen in a tone that could be heard clear across the room, was cultivating his relationship with "Christian." He meant Christian Bale, the "Batman" actor, who had gone to China to try and negotiate with the authorities to free Chen. Chen listened and nodded.
"I don't make the rules of the culture," Halvorssen told me a few days later, worried that the anecdote would sound silly. "The fact that Christian Bale went to meet that guy and put the spotlight on him, that's huge. So if he maintains that relationship, it'll be very good long-term. That's a card up his sleeve."
Halvorssen's deep engagement in the complicated and often dizzying politics of global human rights has put him at the center of a series of international conflicts. It has also made him one of the most polarizing and perplexing figures in the arena of human rights activism. His New York–based Human Rights Foundation has one item on its agenda: to combat oppressive regimes worldwide, whether that means extricating activists from their countries, mounting campaigns to free political prisoners, or inviting dissidents and journalists to the Foundation's annual forum, in its fifth year this year. Halvorssen has been a figure of some controversy for a few years in Norway, where the conference is held and where his family originated before his grandfather, Oestein Halvorssen, moved the clan to Venezuela as the Norwegian king's consul and became the Venezuelan representative for large corporations such as Ericsson.
The conference attracted 450 attendees during the daytime speeches and panels and 250 for the dinners and evening activities this year, according to the Human Rights Foundation. Fifty-seven countries were represented. The forum has been called the "Davos of human rights": an internationalist networking party where dissidents trade tips on overthrowing authoritarian regimes.
Halvorssen himself is a kind of ideological throwback to the days of the anti-Soviet freedom movement, which carried elements both of the right and the anti-Communist left. That's a world whose institutions have been overshadowed and have divided other movements and ideologies: The American group Freedom House represents one of its threads; Human Rights Watch, which grew from Helsinki Watch, another. Halvorssen now bridles at the general view that he's a conservative, or a creature of the Latin American right, and insists he's a "classical liberal" with no interest in politics, only in human rights. But his work has made him a peculiar figure in the staid human rights advocacy world, a 20th-century figure with a 21st-century set of tools at his disposal and a diverse array of associates, all of which he employs for one goal: deposing the dictators he grew up hating.
"The truth is that I'm a rather unfortunate son of Venezuela's elite," Halvorssen said in an interview with me on the last day of the Oslo Freedom Forum in May. We were up in the press room in the Christiania Theater in central Oslo where he had impressed the importance of Christian Bale on Chen Guangcheng, a few blocks away from the Royal Palace. I had been waiting to do the interview for about an hour as Halvorssen buzzed around the room, talking to his staff, introducing people to each other, and becoming absorbed in his laptop at random intervals.
Halvorssen's name is as Nordic as anyone else in the forum's host country, but culturally and linguistically, he belongs nowhere. He speaks four languages fluently — English, Spanish, French, and Portuguese — and says he understands Norwegian, adding, rather cryptically, that "it's easier" if people don't know he speaks it.
Halvorssen was born in Venezuela, as were his two siblings (a younger sister named Randi, a Pilates instructor in England, and older brother Edward, a construction contractor in Miami). His mother, Hilda Mendoza (also at the conference, along with Randi), is a descendant of Simón Bolivar whose family has been in Venezuela since the 1530s, Halvorssen says. His father, Thor, and uncle Olaf were in their day "Venezuela's most eligible playboys," as The New York Times described them, and the elder Thor was a senior aide to President Carlos Andrés Pérez Rodriguez.
The first Pérez term — he served twice, once from 1974–1979, and the second time from 1989–1993 — was a time of newfound prosperity in Venezuela, as Pérez, who had been exiled during an earlier authoritarian period, nationalized the country's oil industry. The second was more challenging, marked by unrest and coup attempts as well as a $4.5 billion loan from the International Monetary Fund. One of the coups was led by Hugo Chávez. Pérez was impeached and booted from office in 1993 for corruption. The elder Halvorssen served as the president of the state telephone company during Pérez's first term, and the anti-drug minister in the second.
In 1993, Halvorssen fell from grace and found himself locked up. In an op-ed he published in 1994 in the Wall Street Journal, he wrote that his work led him to "incontrovertible evidence of money-laundering in Venezuelan banks" and that he alerted U.S. authorities. Halvorssen was arrested shortly thereafter and beaten, he wrote, as well as "psychologically and physically tortured." He was accused of having planned a series of bombings in Caracas the year before.
The elder Halvorssen was also a CIA informant, though never a paid agent. He admitted to the University of Pennsylvania's newspaper that he had worked closely with Duane Clarridge, a former top CIA official in Latin America who was indicted during the Iran-Contra affair and who now runs his own spy agency.
The younger Halvorssen rejects the idea that his father had a special relationship with the CIA.
"My father was the ambassador for drugs," he told me. "He talked to every government and every intelligence agency. It's an absurd statement. When he was in prison, all sorts of stuff started coming out. [Pablo] Escobar's people were on a rampage to silence him."
As his father fought it out in Venezuela's domestic politics, which would soon be reshaped by a new left under Col. Hugo Chávez, the younger Halvorssen went off to college at family alma mater Penn. He edited an alternative conservative school paper called Red and Blue and lived the life of an American college kid, albeit one more worldly than most. His crowd was "the international crowd," he told me. "Lots of Brazilians, Mexicans, and Persians." Halvorssen found ways to cross paths with influential American and international figures.
One of them, the Republican pollster Frank Luntz, recalled feeling, when he first met Halvorssen in the mid-1990s, that he had been tricked into a meeting with a child.
"When I saw him, I was like, I can't believe I came up here for this," Luntz recalls. He was meeting Halvorssen, then a college student at the University of Pennsylvania, at the school's university club in New York sometime during the '90s. But he thought he was meeting a totally different person. Luntz, who was teaching at Penn at the time, was expecting a congressman's chief of staff who also went by the name of Thor, not a baby-faced college kid. "I felt like I'd wasted a day coming to New York, wasted the flight."
Halvorssen wasn't, it turned out, wasting Luntz's time. Instead, he was setting him up with his first international polling gig. The candidate was Henrique Salas Römer, who would go on to run and lose against Hugo Chávez in 1998 in the last election considered free and fair in Venezuela. Halvorssen, the son of a former top official in the presidency of Carlos Andrés Pérez, translated flawlessly between English and Spanish for the two men. He threw in some "barbs" and asides of his own for Luntz's benefit, which Luntz appreciated.
"It wasn't till he started the translation that I said, Oh my god, this guy's really quick," Luntz said. "It was amazing to me that a college kid understood politics and cultures that well." (Democratic National Committee treasurer Andrew Tobias, another friend of Halvorssen's, has a similar story in which a college-age Thor met him at a book reading and invited him to "some incredibly fancy French restaurant in Philadelphia, and I thought, how pretentious, and he insisted on paying, and it was crazy." Halvorssen ended up winning Tobias over as well, and the two remain friends.)
Luntz took the job. Halvorssen had found a new partner to help him poke Chávez in the eye, a task that holds a special place in his heart.
Halvorssen's early political involvement was in the bitterly divided politics of Venezuela, and the defining moment of his life came in 1993 when his father was imprisoned. Halvorssen, then an undergraduate student, helped mount a campaign with Amnesty International and other rights organizations that successfully pressured the Venezuelan authorities to free his father after 74 days in prison.
"He was a target of Pablo Escobar and even uncovered president Pérez's secret bank accounts containing stolen money," Halvorssen wrote as part of a 26-page primer he released to Norwegian media outlets who were inquiring into him in 2010.
Halvorssen's relationship with his home country has not improved. Ten years after his father's stint as a political prisoner, his mother was the parent who got on the wrong side of the Venezuelan authorities. She was shot, Halvorssen has said, in 2004 by Chávez security forces at a protest in Caracas against the recall referendum that kept Chávez in office that year. He included pictures of the alleged gunmen, who shot into the crowd, in his letter to the Norwegian media.
"And the men were arrested, and then they were freed," Halvorssen told me. "My mother is a force of nature. She's in pain every day."
Halvorssen is a Venezuelan citizen but hasn't been back there in five years. He says he'll be arrested if he returns. He is also, for a sort of international celebrity, an intensely private figure: He refuses to talk about his sexuality or relationships on the record ("irrelevant"), or where he lives exactly, citing death threats he's received (though he is based in the United States and travels constantly). He even refuses to discuss his hobbies on the record. "That's irrelevant for BuzzFeed or anywhere else," he said. He did tell me about how he has already paid up to have his body cryogenically frozen, an idea he says he picked up from Peter Thiel.
Halvorssen, who has the clean-cut looks and style of a preppy '80s teen-movie villain, is rumored to be enormously rich, though he says his net worth is "considerably less than what people imagine." His annual salary is $85,000, he says. He owns the rights to a Robert Heinlein novel that he hopes to turn into a movie. He also has invested in a news magazine in Norway. In between it all, he goes to the hippie Burning Man festival in the Nevada desert every year. But the only thing one can be sure of when it comes to Halvorssen — the only thing he really likes to talk about — is his work.
His began in earnest — and on the right — after college in 1999 with the Foundation for Individual Rights in Education, which battled the culture of stringent political correctness on college campuses. The issue resurfaced in a documentary Halvorssen produced, 2007's Indoctrinate U, in which filmmaker Evan Coyne Maloney walks around college campuses annoying students and professors by asking where the campus "men's center" is, among other stunts that poke fun at the liberal status quo at most universities. More controversially, Maloney also compared identity-based campus groups and centers to the days of school segregation. It's one of several documentaries Halvorssen has produced or helped produce, including one about the sugarcane industry in the Dominican Republic and another about jokes and humor during the Soviet era.
Since the mid-2000s, Halvorssen has focused on his work with the Human Rights Foundation, which originally zeroed in on combating left-wing populist authoritarianism in Latin America and has since expanded its scope. The bulk of the activities, energy, and money, though, seems to go to the forum in Oslo, a city Halvorssen chose as his venue upon the recommendation of his uncle Olaf. It's the city of the Oslo Peace Accords, and it's where the Nobel Peace Prize is awarded. The Freedom Forum started small but has grown every year, and is now what one young staffer — Halvorssen has 11 and refers to them as colleagues instead of employees — described to me as the organization's Super Bowl.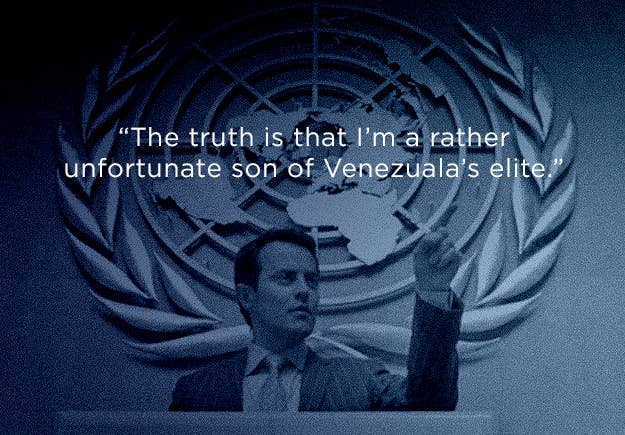 Halvorssen is intensely energetic, a trait that can be a little much in person but that translates well on TV or in front of a crowd. He opened up the conference by exhorting the crowd to attend every speech and to not show up late for any of them, and for the rest of the time, stayed off stage, preferring to work with activists and help them network.
"When people at the conference ask me if I know Thor, I always tell them that he is a force of nature," said Jamie Kirchick, a journalist based in Berlin who has known Halvorssen since 2006, when a column by Kirchick in the Yale Daily News about Hugo Chávez caught Halvorssen's eye.
"He possesses a burning desire to right the countless injustices of this world and he has committed himself to this task with an intensity to match that of the dictatorships he has placed in his sights," Kirchick said. "And he does not care if those injustices are being committed by 'right-wing' or 'left-wing' regimes."
"Thor is extremely driven and hardworking with energy levels that are hard to compete with," said Jacob Mchangama, a Danish free speech advocate whose NGO collaborated with Halvorssen and others in the exfiltration operation that planned to remove dissident blogger Ali Abdulemam from Bahrain, an exploit that became a much-discussed article in The Atlantic. "Through OFF he has managed to both give human rights advocacy some cutting edge and create a big tent where people of very different backgrounds can unite behind the idea of spreading basic freedom."
Mchangama said HRF was "instrumental" in helping his libertarian-leaning think tank, CEPOS, find people for its annual Freedom Award, and that the organization has lent him a hand getting into places he couldn't normally. Halvorssen is as much a fixer as he is a showman.
"In 2012 I traveled to Cuba to hand dissident Yoani Sanchez a piece of the Berlin Wall I managed to smuggle into the country," Mchangama said. "That would not have been possible without HRF. I can't be specific about Ali Abdulemam, but Nasser Weddady from the American Islamic Congress and I had been discussing the possibility of getting Ali out of Bahrain for a while. We then turned to Thor, who made things happen and never looked back." It was Halvorssen's idea to find a body double for Abdulemam and to send performance artists in as cover for his escape, which he ended up making in a secret compartment of a car before Halvorssen and the others could carry out their plan. The finished article on the subject read like a spy novel.
Halvorssen can also be an effective salesman, friends say. Garry Kasparov, the Russian chess grandmaster who has become one of the more vocal critics of Vladimir Putin and who sits on the board of directors of HRF, described a meeting in which Halvorssen refused to let two unenthusiastic prospective financial backers walk out the door without helping them.
"I can't discuss the name of the organization we were meeting with or details. We were there with the top guys, and we were sort of pitching them to support an ambitious HRF program," Kasparov said. "They immediately shot us down, and not in the most polite way, basically saying they didn't do that sort of work, that's it."
"Now, me, I am ready to explode!" Kasparov said. "Why were we there? I was ready to walk out, to slam every door! But Thor continued as if nothing had happened. In a few minutes he had shifted to talking another program that these guys might be much more interested in."
"He's not going to let his ego get in the way of doing good, and apart from his empathy, he has the boldness anyone needs to effect change in a world where too many interests are aligned to preserving the status quo," Kasparov said.
If you show a glimmer of interest in Halvorssen's crusade against authoritarian regimes, you don't need to find him. He or one of his staffers or friends will find you. Right after I wrote a story showing that the Malaysian government had paid for a propaganda campaign in the U.S. carried out by conservative American bloggers, Halvorssen got in touch with me in a gushy phone call. "Rosie, this is SUCH juicy stuff," he said, officially drawing me into his vast network of contacts.
That orbit includes everyone from Social Network actor Armie Hammer to actor and Steppenwolf founder Gary Sinise to Empire State Building owner Peter Malkin to libertarian mega-donor Peter Thiel — the last three of whom are also some of Halvorssen's donors.
It has also associated him with some strange bedfellows. The pro-Palestinian website Electronic Intifada published a 6,000-word piece during the conference criticizing Halvorssen's donors, some of whom have also given money to anti-Muslim commentators, and accusing him of being a "right-wing activist, film producer and scion of Venezuela's moneyed elite whose years of involvement in ultra-conservative politics enabled him to corral a small coterie of mostly far-right moneymen into bankrolling his Human Rights Foundation."
The story also tried to use Halvorssen's donors to tie him to Norwegian mass killer Anders Breivik, who massacred nearly 70 youths at a Labour Party summer camp on Utoya island near Oslo in 2011 as well as bombed a government building in Oslo.
The story, by writer Max Blumenthal, reports that one of the largest donors to the Human Rights Foundation is Donors Capital Fund, which also donated to fund the distribution of Obsession, the anti-Islam movie from 2007 that was among many of the documents cited by Breivik in his manifesto. Other influences mentioned by Breivik included Pamela Geller and Robert Spencer. Blumenthal describes Donors Capital Fund as a "slush fund for the cadre of rightist donors who bankroll the conservative movement."
Halvorssen dismissed the material about Breivik's inspirations as a clumsy and offensive attempt at guilt by association.
"In Norway you don't just bring up Utoya," Halvorssen said. "It's a very serious matter; the wound has not healed."
Halvorssen also pointed out that his group has worked with a survivor of the massacre, Bjørn Ihler, who credits it with helping his rehabilitation. He shared an email from Ihler's father with me that expressed the family's gratitude for OFF helping Bjørn recover.
"What did Max Blumenthal do for the survivors of Utoya?" Halvorssen asked me.
Still, the problem of donors has become, for the self-avowedly apolitical Halvorssen, a sticky matter of politics as his profile in America rises. And a few days after the conference, he emailed to point out that "DCF/DT account holders also donate, for instance, to the Brookings Institution, Museum of the Rockies, Boston College, Autism Speaks, Cornell, American Himalayan Foundation, Notre Dame, Dominican Sisters of Mary Mother of the Eucharist, Danish American Society, Jewish Camping, New York Historical Society, Mt. Vernon Ladies Association, and Friends of the Dallas Public Library. This obviously doesn't mean we necessarily agree with the views and opinions of the Dominican Sisters, Boston College or the august Ladies of Mt. Vernon."
Halvorssen says his donors have no say in the operation of HRF or in the planning of the forum, and that he returned a $250,000 check once because the donor wanted to choose which political prisoners the organization would advocate for. He said that many of the donors aren't right-wing at all — most notably Google founder and major Obama donor Sergey Brin, as well as the government of Norway, which contributed about $138,000 to the forum this year.
In a larger sense, he dismissed the Blumenthal piece on the grounds that all of these issues were already litigated in the Norwegian press a few years ago when he was starting the forum, particularly by the socialist publication Klassekampen ("Class Struggle"). The new accusations are merely "regurgitation," he said, and besides, the donors are listed by name online and have been for some time.
One section of Blumenthal's story deals with an interview Halvorssen did in April on noted Islamophobe Frank Gaffney's radio show, in which he appeared to agree with Gaffney's wondering whether Vladimir Putin was somehow behind the Boston Marathon bombings.
In our interview, Halvorssen stuck to his guns. "The false flag thing, the whole Putin thing and the Boston Marathon, I stand by that," he said. "The Russians state that they talked to the U.S. and said these guys are dangerous. And then they let them back into Russia? And then they disappeared for several months?"
He said he didn't know enough about Gaffney, or about other anti-Muslim figures associated with him, to judge them.
"Frank Gaffney wants to hear my views, good for Frank Gaffney," he said. "It is precisely this division between the left and the right that has been so poisonous to civil rights."
I pointed out that Gaffney was, by any measure, a controversial figure on the outside of the American political mainstream.
"If Frank Gaffney interviews me on the radio — Alex Jones has interviewed me on the radio," Halvorssen said, getting heated. "And so has Christiane Amanpour. And so have you."
"I'm not washing my hands here," he said.
Halvorssen also accused Electronic Intifada of being opaque about its own donors, which he suspects of being less than palatable: "What are they hiding?" A request for comment from Ali Abunimah, the EI's editor, went unreturned. Halvorssen said that he never received an email from Blumenthal himself while EI was developing that story, but that Abunimah was his point of contact for the article.
"I can't respond to all of these things," Halvorssen said. But he had been engaged in a Twitter war with the author and with some of his allies since the day before.
"Yeah, of course," Halvorssen said. "It's fun. It's like a video game."
Behind it is a division among human rights advocates, one that pits left against right, and that often centers on the Middle East and the Israeli-Palestinian issue. "In human rights the Israeli-Palestinian conflict is a weapon of mass distraction used incessantly by actors in the region trying to divert attention away from their own human rights crises," Halvorssen says. "It's also become a power play and profit center for many groups and individuals."
"I came onto Max's radar screen when defending against the smear piece he wrote against [Mauritanian-born Twitter activist] Nasser Weddady," Halvorssen later emailed. "I hadn't heard of him or his intifada before but I'm flattered that they wanted to provide the fireworks for OFF13. I gained 300 new Twitter followers thanks to him."
In his love of a good dust-up, Halvorssen shows more in common with the political types he abhors than he might like to admit. At the same time, his refusal to reject conspiracy theorists like Gaffney is a reminder that his firm commitment to being politically incorrect keeps him from ever being a real political animal.
But the public spat with Blumenthal and Abunimah is also the kind of thing that makes Halvorssen stand out from his tamer peers at Human Rights Watch or Amnesty International. From YouTube videos of oppressed dissidents ("So many people take videos of dissidents and forget the lights. Dammit, production values!") to the splashy account of Abdulemam's escape from Bahrain ("It's a damn good story!"), Halvorssen's job of opposing strongmen is arguably more media-friendly than that of anyone doing human rights work today.
And so is he, though he says he has no interest in being a figurehead.
"I hate having to be the face of the organization," he told me in Oslo. "I don't want it to be the Thor Show."
CORRECTION: The paper Halvorssen edited in college is called Red and Blue. An earlier version of this story misstated the newspaper's name. (5/22/2013)