Is Dennis Rodman The Only Person Who Can Free Kenneth Bae?
As North Korea bars a State Department envoy, Bae's options look slim.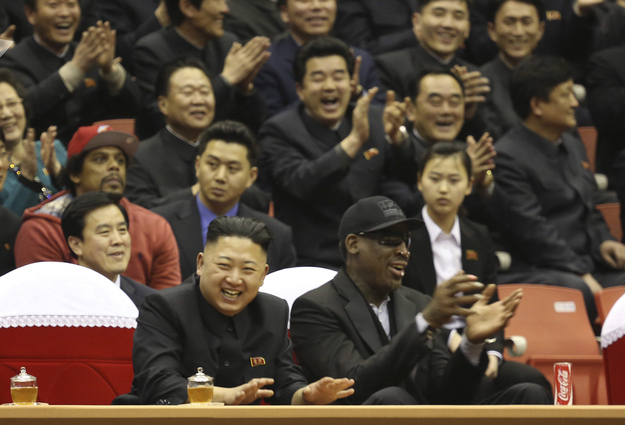 WASHINGTON — The situation for Kenneth Bae, an American citizen imprisoned in North Korea, looked more dire on Friday as the North Korean government revoked its invitation to a U.S. envoy who was scheduled to fly to Pyongyang to negotiate Bae's release.
"We are surprised and disappointed by North Korea's decision," said deputy State Department spokesperson Marie Harf in a statement. "We have sought clarification from the DPRK about its decision and have made every effort so that Ambassador [Robert] King's trip could continue as planned or take place at a later date. Ambassador King intends to return to Washington from Tokyo the afternoon of August 31."
Bae, a Christian missionary and tour guide, was arrested last year by North Korean authorities and has been sentenced to 15 years of hard labor for "hostile acts" against the government.
In a strange turn of events, the only person who has even tentative plans at this point to visit North Korea and attempt to free Bae is former NBA star Dennis Rodman.
Rodman, who famously met with Kim Jong-un in February, floated the idea earlier this summer of returning this month to free Bae. Though the trip never materialized, Rodman repeated his offer to try and rescue Bae in an interview with HuffPost Live on Thursday.
"I gave [Kim Jong Un] a great indication of when I'm going to Beijing soon – that's just a hop, skip and a jump from North Korea," Rodman said. "So basically, you know, I'm pretty sure I'll be talking to [Kim] soon."
"I will definitely ask for Kenneth Bae's release," he said. "I will say, 'Marshal, why is this guy held hostage?' I could try and soften it up in that way."
Rodman said he would be "the most powerful guy in the world" if he successfully negotiated Bae's release.
The other high-profile potential Bae savior was President Jimmy Carter, who was rumored to be planning a trip earlier this summer. A spokesperson for the Carter Center did not immediately respond to a question about whether Carter might revisit the idea of traveling to North Korea now that the U.S. envoy's trip is no longer happening.
Bae's sister Terri Chung declined to discuss the situation with BuzzFeed.
"Due to the uncertainty and sensitivity of the situation, our family is declining interview requests at this time," Chung said.
Update: The Bae family responded to the news that King's trip was cancelled on Friday in a statement:
Our family is disappointed by the news that the special envoy is unable to go to the Democratic People's Republic of Korea (DPRK) to bring Kenneth home at this time. We hold on to faith that DPRK and US diplomats will resume talks soon, ultimately leading to my brother being released.

It has been 301 days since Kenneth has been detained. With every day, we continue to pray. We appreciate the work that the State Department and the Obama administration have been doing and have pledged to do for Kenneth's release. We miss Kenneth and remain concerned about his health.

We are not giving up hope for a peaceful and timely resolution.