Iraqi Pollster Questions ISIS Narrative, Calls For U.S. To Empower Sunnis
Suspicion of Prime Minister Nouri al-Maliki abounds.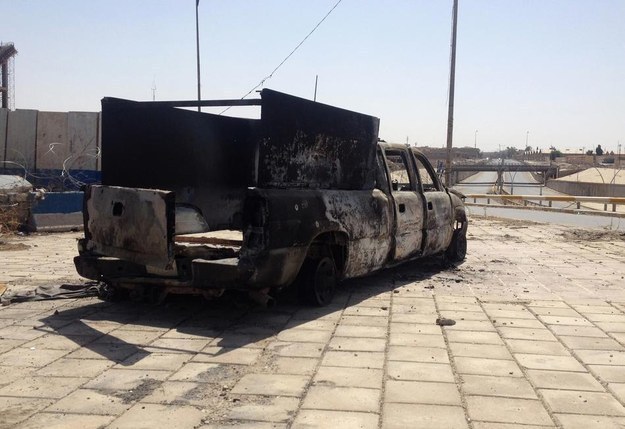 WASHINGTON — New research by an Iraqi pollster questions the prevailing narrative about ISIS' control of Sunni areas of Iraq and encourages the U.S. to empower local Sunni groups to tackle the terror group on their own.
Munqith Dagher, the Sunni head of the polling firm IIACSS, questioned 200 residents of Iraq's second city Mosul last week and found that less than 20 percent of them agreed that ISIS controls the city. The rest believed that Mosul is as much under control by Sunni tribal rebels, ex-Baathists, and former army officers as it is by ISIS.
Mosul fell to ISIS on June 10, and the group has been pushing toward the capital Baghdad since. There have been widespread reports of Iraqi government soldiers fleeing battle, in part because of a concerted ISIS terror campaign ahead of its advance on the city.
Those polled by IIACSS in Mosul believed overwhelmingly that the fall of the city was the fault of the central Iraqi government and of the army and federal police, according to a slideshow of the poll provided to BuzzFeed. Dagher believes that the media narrative surrounding ISIS has been overblown and that the U.S. should be wary of being drawn too deeply into the conflict.
"I strongly believe that it's very risky to base any decision regarding Iraq on false or overestimated information because this will lead to a bad decision, and we all know what happened in Iraq in 2003 when the U.S. consulted some Iraqis — the wrong people, not credible people — about the steps that the administration should take in Iraq," Dagher told BuzzFeed on Wednesday. Dagher is in Washington this week and has met members of Congress as well as staffers from the House Intelligence and Senate Foreign Relations committees. He is giving a talk at Freedom House on Thursday.
Dagher has done polling work out of Iraq for 10 years and was an advisor in this year's parliamentary elections for Saleh Mutlaq, Iraq's Sunni deputy prime minister who recently campaigned to stop the sale of Apache helicopters to Prime Minister Nouri al-Maliki.
In the interview, Dagher said he believed Maliki, a Shiite who has been accused of fostering sectarianism, "has been using ISIL to terrify the international community and to tell the international community that Maliki is fighting against the terrorists." He argued that a comprehensive U.S. response to the crisis in Iraq had to include moderate Sunnis and empower them to fight back against ISIS and Maliki at the same time. Dagher said he wanted neither for the U.S. to completely stay out of the situation nor direct U.S. military action, which he feared would fuel ISIS' propaganda campaign.
"People on the ground, Sunnis themselves, can defeat ISIL but they have to be given the right reason to defeat ISIL," he said, using an alternate acronym for the group, the Islamic State in Iraq and Syria, which seeks to create a cross-border caliphate.
Dagher suggested that though they mostly don't support ISIS, Sunnis see it as a means of getting rid of the Maliki government, whose increasingly sectarian mien is widely thought to have precipitated the current crisis and who is hated by Sunnis.
"These people recognize ISIL as a terrorist organization and they have the willingness to kick ISIL out of Iraq or to defeat ISIL, and as they say that we are the only capable people to defeat ISIL because ISIL is in our land and we can defeat them as it happened before, as we defeated Al-Qaeda in 2010 in cooperation with General Petraeus and the US administration," he said. Allowing ISIS to take down Maliki's government would be a "temporary agreement and as soon as we witness that we are control, we have a reason to kick them out, we will kick them out."
"it's like when you see someone is beating your enemy, well you don't mind," Dagher said. "This is what's going on."
The right role for the U.S., Dagher said, is one of political mediation and being "an honest broker who can play the role of mediation between different segments in Iraq, bringing them together and making tradeoffs," he said.
Powerful Sunnis have reportedly been making a similar argument to Americans on the ground — that after ISIS defeats Maliki, moderate Sunni factions will defeat ISIS.
The U.S. has already committed to some military aid to Iraq, including the deployment of 300 military advisors to assist Iraqi forces against ISIS, and has left the door open to air strikes. Iraq's parliament has been called to meet next week to form a new government as sectarian tensions run higher than ever — Maliki accused Iraq's Sunnis this week of cooperating with ISIS and and "coordinating" the crisis.