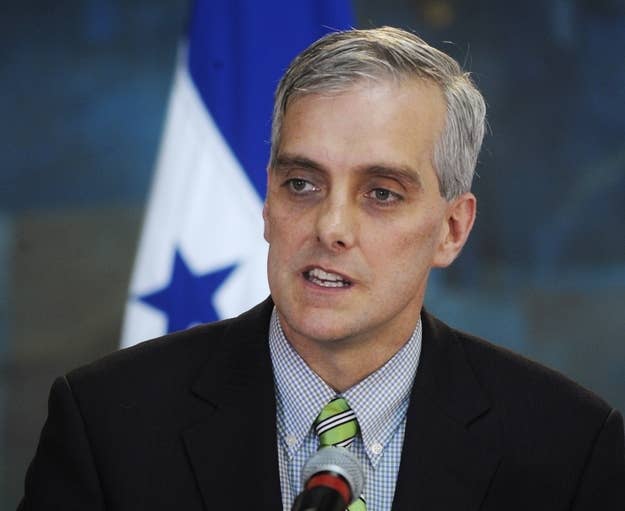 The new White House chief of staff, Denis McDonough, shares with his boss a key political experience: Both were shaped by the bitter domestic debate around the Iraq War.
But while President Barack Obama made his name as an opponent of the war, McDonough had a far more complex role: As the top foreign policy aide to then-Senate Majority Leader Tom Daschle, he was crucially involved in crafting the legislation to authorize the use of force in Iraq. The resolution passed the Senate on Friday, Oct. 11, 2002, with 29 Democrats voting for it; many would later say they regretted the vote, or the way the Bush administration used it.
McDonough has not spoken publicly about a period many Democrats would like to forget, but people close to him say the episode was one that shaped his views, which include a firm attachment to "regular order" — the consultative process that critics say the Bush administration ignored in the march to war.
Daschle, in an interview with BuzzFeed, recalled that McDonough played a lead role in hammering out the resolution.
"These were very, very tough calls and our caucus was almost evenly divided on the war," Daschle said in an interview with BuzzFeed. "It was a real challenge. I had many very serious reservations myself."
"Denis has had those experiences and I think in some ways it points to why he'll make such a good chief of staff," Daschle said. "He knows the pitfalls, he knows the emotion and the extraordinary difficulty that the country has to address as we face these issues. God forbid we find ourselves in a similar situation in next three or four years, but I would have full faith in Denis."
"I can't imagine that he would not be affected by all of that," Daschle said.
Anti-war figures from the time also said they recalled McDonough's role in crafting the resolution, but said he later emerged as an ally.
"I think that he was working for Tom Daschle, and Tom Daschle had certain views abut the war, and as his staff member, it was his responsibility to carry those out," said former Wisconsin Senator Russ Feingold, a staunch "no" vote. "I'm sure he'll follow the wishes of the president and not distort them. Barack Obama founded a great deal of his campaign on ending the war."
McDonough avoided making enemies on the left during that difficult moment.
"My feeling with Denis both there and on the Senate Foreign Relations Committee was that he was consistently inclusive and polite and effective," said Feingold. "He made sure that people with opposing viewpoints felt included."
Other Democrats also said the bitter debate had prepared McDonough well and that it was a mistake he would never repeat.
"There's no question that Denis has an intense concern for getting the facts right and making sure that the bureaucracy is serving the White House well — as was not the case during the Iraq debate — which will serve him well as chief of staff," said Heather Hurlburt, who heads the National Security Network, a Democratic group.
McDonough, a devout Catholic originally from Minnesota, traveled throughout Latin America and was an aide to the House International Relations Committee before becoming the senior foreign policy advisor to Senator Tom Daschle in 1999, staying in that post until Daschle's defeat in 2004. As national security adviser to the president, he was in the situation room when Navy SEALs killed Osama bin Laden and sits third from right in the famous photo of the president and his advisers watching the raid.
In a press conference on Friday, President Obama called McDonough "not just one of my closest friends but one of my closest advisors" and said that he had played a "key role" in all the major national security decisions of his presidency, including the end of the Iraq War. Obama praised him for "being mentored by the likes of Lee Hamilton and Tom Daschle."
"Denis insists on knowing for himself the real-world impacts of the decisions that we make," Obama said.