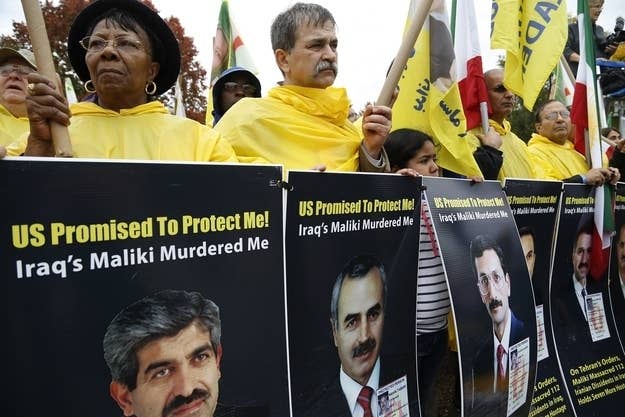 WASHINGTON — Four high-profile American supporters of an Iranian dissident group that was until recently designated a terrorist organization gathered on Capitol Hill on Wednesday to criticize American diplomacy with Iran amid disillusionment in Congress over the recent interim nuclear deal, which has prompted an effort in the Senate to pass new sanctions during negotiations.
The Iranian-American Community of Arkansas, a branch of the Organization of Iranian-American Communities, an Iranian exile group related to the Mujahedin-e-Khalq (MEK), sponsored a briefing in the Dirksen Senate office building that featured former Vermont Governor Howard Dean, former Ambassador to Morocco Marc Ginsberg, General James L. Jones, and and former US Special Envoy for Nuclear Nonproliferation Robert Joseph.
"I support the president's willingness to negotiate," Dean said in his speech. "What I don't support, however, is any cynicism in those negotiations."
Dean said that no agreement should be signed until the administration agrees to take in 3,000 MEK refugees from Camp Ashraf, where they had been living in exile and have been attacked by the Iraqi government. MEK's U.S. supporters have accused the U.S. government of forcing the dissidents forced out of Camp Ashraf to live in inhumane conditions in Camp Liberty, a former U.S. military base.
"We ought to sign no agreement until those 3000 people are safe," Dean said.
Asked after his speech whether he was still being paid by the MEK, as he has acknowledged in the past, Dean said "I don't answer questions like that. I'm interested in human rights, reporters are always interested in that. I don't play the game, sorry."
"I said I was for it, but as a condition of signing the nuclear agreement, we ought to make sure these 3,000 people are safe and they ought to be out of Iraq," Dean said of his stance on negotiating with Iran.
"That's your story, my story is what's going on in here," Dean said when pressed on the question of compensation.
Joseph strongly criticized the nuclear deal and said the current iteration of the deal would move Iran closer to being a nuclear threshhold state.
"Appeasement will not assist our efforts," he said. "The stakes are enormous if we fail in stopping Iran's nuclear quest."
"I think it's exactly the right thing to do," Joseph said of the Kirk-Menendez sanctions bill currently stalled in the Senate. "It is sanctions that got us to where we are."
Menendez and other supporters of the bill "have understandably taken a position that it's best to keep the pressure on the Iranian regime by having more sanctions ready at the cusp in the event that these negotiations do not succeed," Ginsberg said. "As I said earlier, if it hadn't been for the Congress' leadership, it's very doubtful that the Iranian government would have come to the table."
Jones said that the group had covered his travel expenses to appear at the event. "I'm not here for the money, if that's what you're asking," he said.
The MEK was de-listed from the list of officially designated terrorist organizations in 2012, after an intense multimillion lobbying campaign in which the organization gave donations to Congress and recruited a number of high-profile former officials, including Dean and former New York City mayor Rudy Giuliani, as supporters. Dean and Giuliani have both been paid to speak at MEK events.