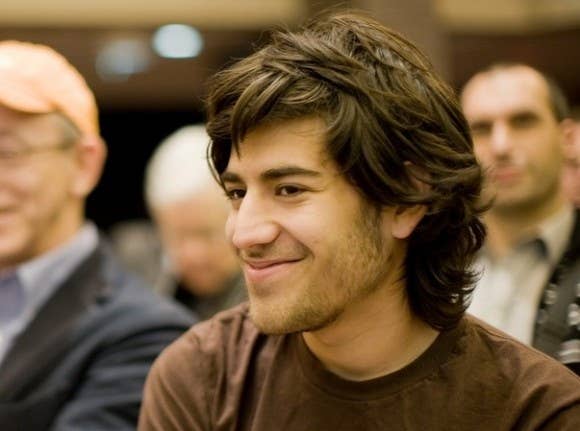 After the suicide of 26-year-old programmer and free internet activist Aaron Swartz, conspiracy theorists — including Iranian state television — are promoting the idea that the death was actually a hit job by the Obama administration.
Swartz, who was largely responsible for inventing RSS and was at the time of his death being prosecuted for illegally downloading academic files from online library JSTOR, was found dead in his Brooklyn apartment on January 11, his death reportedly a suicide by hanging.
In a story on the suicide headlined "Obama's 'kill list' critic found dead in New York City," Iran's Press TV suggests that the Obama administration was behind the death without outright saying it: "Last year, Swartz openly criticized the US and the Israeli regime for launching joint cyber attacks against Iran," the article notes in the third paragraph. The story, which Alex Jones' Infowars website reposted, has a link on the Drudge Report under a picture of Swartz.
Though the involvement of the Iranian government in the rumor-mongering ratchets up the volume on these theories, Western conspiracy theorists are in on the act as well. Various theories are floating around on Reddit threads, and there's talk in the extremist fever swamps of a report circulating in the Kremlin that "is saying that one of the United States top computer geniuses, named Aaron Swartz (1986-2013) [photo 2nd left], was, 'in all probability,' suicided by forces loyal to the Obama regime seeking to 'set an example' for other dissident forces opposed to the American governments continued crackdown on leakers of US secrets."
The apocryphal report says that agents from the GRU (the Russian intelligence agency) have been tracking "death squads" sent by the Obama administration to kill Swartz, and "indentified one of these VIPER teams 'operating' in the Crown Heights, Brooklyn, section of New York City this past week where shortly afterwards Swartz was discovered dead of an apparent hanging."
Other sites are slightly more circumspect. Alex Jones' Prison Planet site merely states that the Secret Service took over the MIT investigation two days before Swartz's death, which "makes it clear that this was a nationally directed effort to take down Swartz."
Swartz's suicide came after nearly two years of legal battles with the government; he was arrested in 2011 for illegally downloading millions of files from JSTOR using MIT equipment. The prosecution sought a lengthy prison term of 35 years. In life, Swartz was a hero to Internet activists who support a free and open Internet, and in his death, he's become a flash point for the feverish conspiracy theorists who represent the extreme end of that openness.
The case against Swartz was dropped on Monday.